1922 in Aviation - Picture
1922 in Aviation Information
1922 in aviation
This is a list of aviation-related events from 1922:
Events
The Irish Air Corps formed at Baldonnel Aerodrome. First aircraft is a Martinsyde Type A
The Persian Army forms an air department.
The Argentine Navy opens a naval aviation school.
Brazil studies the possibility of converting two merchant ships into aircraft carriers. Although nothing comes of the idea, it is the first time a Latin American country considers the acquisition of an aircraft carrier.
The first commercial night flight between London and Paris takes place.
The Imperial Japanese Navy attaches rigid airships to the Combined Fleet, and they begin to participate in the fleet's exercises.
During an exercise in Tokyo Bay, Imperial Japanese Navy aircraft drop torpedoes for the first time.
The Spanish Navy commissions Dédalo, its only aviation ship until after the end of World War II and the only ship in history equipped to operate airships, balloons, and seaplanes. She and USS Patoka (AO-9) are the only ships ever fitted with an airship mooring mast.
No. 60 Squadron RAF sees active service against rebel tribesmen in the Northwest Frontier Province of India.
Hermann Oberth's submits his dissertation, which is rejected as "too fantastic." It will be published in 1923 as The Rocket to Planetary Spaces and will become a major work in spaceflight history.

March
March 13 - Portuguese pilots Captain Gago Coutinho and Captain Sacadura Cabral leave Lisbon to attempt the first aerial crossing of the South Atlantic. They arrive in Brazil on June 16, in the third Fairey III they use for the trip.
March 20 - The United States Navy commissions its first aircraft carrier, USS Langley (CV-1), a converted collier.

April
April 4 - The Colombian Ministry of War opens a flying school, the Escuela de Aviacix³n ("School of Aviation"), at Flandes.
April 7 - A Daimler Airway de Havilland DH.18 collides with a Companie des Grands Express Aériens Farman Goliath over France. All seven people aboard the two aircraft are killed in the first mid-air collision of two airliners.
April 16 - Secretly taking advantage of the Treaty of Rapallo with Bolshevik Russia and in violation of the Treaty of Versailles, Germany sets up a flying school for German pilots at Lipetsk in Russia. By 1933, 450 German military pilots will have trained there,

May
May 1 - Deruluft (Deutsche-Russische Luftverkehrs, "German-Russian Airlines") commences operations.
May 15 - Instone Air Line commences flights between London and Brussels.

June
June 16 - Henry Berliner demonstrates a primitive helicopter to the United States Army.

July
The first Coast Guard Air Station, Coast Guard Air Station Morehead City at Morehead City, North Carolina, closes, leaving the United States Coast Guard without an air base until 1926.
July 1 - The United States Navy orders the incomplete battlecruisers USS Lexington and USS Saratoga to be completed as aircraft carriers.
July 6 - The first use of naval aircraft in combat in Latin America takes place in Brazil during the first Tenente revolt when two Brazilian Navy aircraft bomb the rebellious Fort Copacabana in Rio de Janeiro.
July 10 - The Aircraft Development Corporation is incorporated in Michigan in the United States. It later changes its name to Detroit Aircraft Corporation.
July 16 - At Hampton Roads, Virginia, the United States Navy's only balloon ship, the lighter-than-air craft tender USS Wright (AZ-1), flies her balloon for the last time. She soon is rebuilt as a seaplane tender (AV-1) with no balloon capability.

August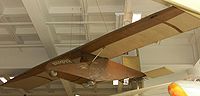 Picture - HAWA Vampyr
Britain's Air Ministry issues its first requirement for a purpose-designed night fighter. Specification 25/22 will eventually be filled by the Hawker Woodcock.
August 10 - The Schneider Trophy race is flown at Naples, Italy. It is won by the only non-Italian competitor, H.C. Biard in a British Supermarine Sea Lion II, with a winning speed of 234.5 km/h (145.7 mph).
August 18 - Arthur Martens makes the first sailplane flight of over one hour at the Wasserkuppe. His aircraft, named Vampyr ("Vampire") is designed by Wolfgang Klemmperer.
August 25 - Captain Norman MacMillan and cine-photographer Geoffrey Mallins are rescued from the Bay of Bengal when their round-the-world attempt in a civilianised Fairey IIIC is thwarted by engine failure.

September
September 4 - United States Army Lieutenant Jimmy Doolittle flies across the United States in under a day in a de Havilland DH.4. He takes 21 hours 19 minutes to fly from Pablo Beach, Florida, to Rockwell Field, California.
September 9 - Captain Frank Barnard wins the first King's Cup Race air race, flying from England to Scotland and back in 6 hours 32 minutes in a de Havilland DH.4.
September 20 - Sadi Lecointe makes the first flight of over 200 mph (322 km/h), flying a Nieuport-Delage NiD 29.
September 27 - The United States Navy conducts the first large-scale torpedo bombing exercises. Eighteen Naval Aircraft Factory PTs attack three battleships and score eight hits in 25 minutes.

October
Under the terms of the secret Treaty of Rapallo with Bolshevik Russia and in a violation of the Treaty of Versailles, the German Junkers company secretly establishes an aircraft factory at Fili in the Soviet Union.
October 6 - United States Army Air Service Lieutenants John Macready and Oakely G. Kelley set a flight endurance record of 35 hours 18 minutes in a Fokker T-2.
October 17 - United States Navy Lieutenant Virgil Griffin makes the first take-off from a U.S. aircraft carrier, taking off from USS Langley (CV-1) in a Vought VE-7.
October 20 - United States Army Air Service Lieutenant Harold Harris makes the first parachute escape from a stricken aircraft, bailing out of a Loening PW-2 over Dayton, Ohio.
October 26 - United States Navy Lieutenant Commander Godfrey Chevalier makes the first landing on the aircraft carrier USS Langley (CV-1), flying an Aeromarine 39.

November
The seventh Salon d'Aéronautique is held in Paris
November 2 - Qantas begins its first scheduled flights, between Charleville, Queensland and Cloncurry, Queensland.
November 11 - Etienne Oehmichen reaches an altitude of 525 m (1,722 ft) in a helicopter.
November 12 - Japan's first airmail service commences, linking Sakai, Osaka, and Tokushima.
November 19 - Malert (Magyar Legiforgalmi), a forerunner of MALx‰V Hungarian Airlines, is formed.

December
The United States Navy's first aircraft carrier, USS Langley (CV-1), embarks her first standard air complement, Fighter Squadron 1 (VF-1), equipped with Naval Aircraft Factory/Curtiss TS-1 fighters.
December 27 - Hōshō, Japan's first aircraft carrier, is commissioned. She is the world's first aircraft carrier designed and built as such to be commissioned.
December 31 - A Deutsche Luft-Reederei Dornier Komet becomes the first German aircraft to fly over the United Kingdom since the end of World War I.

First flights
January
January 3 - Aero A.10

March
March 26 - de Havilland DH.34

July
Bristol Racer

August
August 22 - Vickers Victoria

October
October 13 - Curtiss R-6

November
November 18 - Dewoitine D.1
November 24 - Vickers Virginia
November 28 - Fairey Flycatcher

Entered service
Vickers Vernon with the Royal Air Force.

Taylor, H.A. Fairey Aircraft since 1915. London:Putnam, 1988. ISBN 0-370-00065-X.

1922 in Aviation Pictures
More aircraft.
Source: WikiPedia