North American A-27 Video - Picture
North American A-27 Aircraft Information
North American A-27
A-27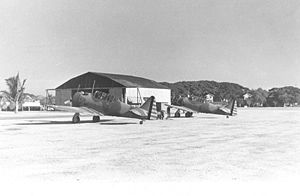 Picture - Two A-27s of the 17th Pursuit Squadron at Nichols Field, Philippines, in 1941.
Role: Ground attack
Manufacturer: North American Aviation
Primary user: United States Army Air Corps
Number built: 10
Developed from: North American BC-1

The North American Aviation A-27 was an attack version of the BC-1A. Ten aircraft were ordered by Thailand as NA-69 light attack aircraft. The aircraft were impressed by the United States Army Air Corps (USAAC) to keep them out of Japanese hands and redesignated A-27. Assigned to Nichols Field in the Philippines, all A-27s were destroyed in the opening days of World War II. Aircraft s/n: 41-18890 / 41-18899 (c/n: 69-3064 / 69-3073).
Specifications (A-27)
General characteristics
Crew: 2
Capacity: 2
Length: 29 ft 0 in (8.84 m)
Wingspan: 42 ft 0 in (12.8 m)
Height: 12 ft 2 in (3.71 m)
Max takeoff weight: 6,730 lb (3053 kg)
Powerplant: 1x— Wright R-1820 Radial, 785 hp (585 Kw)

Performance
Maximum speed: 250 mph (402 km/h)
Range: 800 miles (1287.5 km)
Service ceiling: 28,000 ft (8534.4 m)

Armament
2 x nose-mounted 7.62 mm machine guns
1 x rear-mounted 7.62 machine gun
4 x 100lb bombs on underwing racks

Related development
North American NA-16
North American BC-1
North American P-64
T-6 Texan

Living Warbirds: The best warbirds DVD series.
Source: WikiPedia