North American AJ Savage Videos
North American AJ Savage Video - Documentary
North American AJ Savage Aircraft Information
North American AJ Savage
AJ (A-2) Savage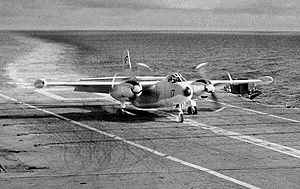 Role: Bomber
National origin: United States
Manufacturer: North American Aviation
First flight: 3 July 1948
Introduced: September 13, 1949
Primary user: United States Navy
Number built: 143
Developed into: A2J Super Savage

The North American AJ Savage (later A-2 Savage) was a carrier-based bomber aircraft built for the United States Navy by North American Aviation. The original contract was awarded in June 1946, first flight 3 July 1948, and the plane entered service in 1949.
Design and development
The AJ Savage was a large composite-powered carrier-borne Attack Bomber designed to deliver nuclear ordnance. It also performed photo reconnaissance duties and later on was used as an aerial refuelling platform. The North American AJ-1/2 and AJ-1/2P Savage aircraft were in a number of USN Heavy Attack Composite squadrons from 1948-1956, as well as in several Photographic Reconnaissance squadrons. The Heavy Attack versions were the first nuclear bomb carrying bombers able to be launched from and recovered on aircraft carriers.
The date of its design inception was a time where the US Navy was faced with procuring the nascent jet engine, while still having to rely upon the simple yet well proven reciprocating engine. Jets at this time were unreliable and used large quantities of fuel; however, once they were developed, they produced performance that no piston engine could ever provide. A compromise was made to include in the Savage two Pratt & Whitney R-2800 piston engines, with a large turbocharger fitted inside each engine nacelle. This combination made it possible for the R-2800 engines to produce rated power (2,500 hp/1,864 kW) up to 42,000 ft (12,802 m) altitude. An Allison J33 turbojet was fitted in the rear fuselage. Interestingly, both engine types used the same fuel. The piston-turbojet arrangement was intended to give added power on take-off and extra dash speed while in combat. At high altitude, this 'boxy' looking (but aerodynamically very clean) airplane was remarkably fast - more than 460 mph (740 km/h), when the jets of that era were not very much faster.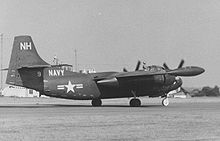 Picture - AJ-2 Savage of VC-7 Squadron U.S. Navy from NAS Port Lyautey, Morocco, at Blackbushe Airport, England in September 1955
The first production Savage flew in May 1949, with the first carrier landing of the type taking place on the USS Coral Sea on 31 August 1950.
Early model Savages (AJ-1) were converted to the air tanker role, with the bomb bay filled with all the necessary equipment, including hoses, fuel pumps, electric power drive, and the drogue. Additional fuel was provided in drop tanks. AJ-1 tankers were used to refuel John Glenn's F8U Crusader during the Project Bullet transcontinental speed record flight.
The AJ-2 first flew on 19 February 1953 and had uprated engines and a taller vertical stabilizer and non-dihedral tailplane.
The AJ-2P was the photographic reconnaissance version of the Savage. It carried photo-flash bombs for night missions, with most of the plane's 18 cameras being operated automatically. It was capable of night and low-level reconnaissance. The -2P also had additional fuel capacity.
Variants
XAJ-1 Prototype with two 2,300 hp (1,715 kW) Pratt & Whitney R-2800-44 radial engines and one Allison J33-A-19 turbojet, three built. AJ-1 (A-2A) Initial production version with two 2,400 hp (1,790 kW) R-2800-44W radial engines and one J33-A-10 turbojet, 55 built, survivors re-designated A-2A in 1962. AJ-2 (A-2B) Updated production version with two 2,500 hp (1,864 kW) R-2800-48 radial engines and one J33-A-10, taller fin slightly longer fuselage and increased fuel capacity, 55 built, survivors re-designated A-2B in 1962. AJ-2P Photo-reconnaissance version of the AJ-2 with array of cameras, 30 built.
Operators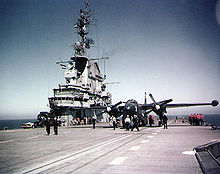 Picture - AJ-1 Savage attack plane on the USS Oriskany's flight deck
United States
United States Navy
VAH-15 13 July 49
VAH-16
VJ-61/VAP-61
VJ-62/VAP-62
VC-5/VAH-5
VC-6/VAH-6
VC-9/VAH-9
VC-7/VAH-7
VC-8/VAH-11

Survivors
A-2B Savage, BuNo 130418, is displayed at the National Museum of Naval Aviation at Naval Air Station Pensacola in Pensacola, Florida. Of 143 examples built, it is the only surviving airframe.
Specifications (AJ-1)
Source: USN
General characteristics
Crew: 3
Length: 63 ft 1 in (19.2 m)
Wingspan: 71 ft 5 in (21.8 m)
Height: 20 ft 5 in (6.2 m)
Wing area: 836 ft² (78 m²)
Empty weight: 27,558 lb (12,500 kg)
Loaded weight: 47,000 lb (21,363 kg)
Max takeoff weight: 50,954 lb (23,161 kg)
Powerplant:
1x— Allison J33-A-1 turbojet, 4,600 lbf (20 kN)
2x— Pratt & Whitney R-2800-44W radial engines, 2,400 hp (1,790 kW) each

Performance
Maximum speed: 471 mph (409 kn, 758 km/h)
Range: 1,731 mi (1,505 nmi, 2,787 km)
Service ceiling: 40,800 ft (12,440 m)
Rate of climb: 2,900 ft/min (14.7 m/s)
Wing loading: 63.2 lb/ft² (309 kg/m²)
Power/mass (prop): 0.091 hp/lb (150 W/kg)
Thrust/weight (jet): 0.087

Armament
Bombs: 12,000 lb (5,400 kg) conventional bombs, or 1x— nuclear bomb

Related development
A2J Super Savage

Comparable aircraft
Ryan FR Fireball

Grossnick, Roy A. Dictionary of American Naval Aviation Squadrons:Volume 1 The History of VA, VAH, VAK, VAL, VAP and VFA Squadrons. Washington, DC:Naval Historical Center, 1995. ISBN 0-945274-29-7.
Swanborough, Gordon and Peter M. Bowers. United States Navy Aircraft since 1911. London:Putnam, Second edition, 1976. ISBN 0 370 10054 9.

Living Warbirds: The best warbirds DVD series.
Source: WikiPedia