North American XA2J Super Savage Video - Picture
North American XA2J Super Savage Aircraft Information
North American XA2J Super Savage
XA2J "Super Savage"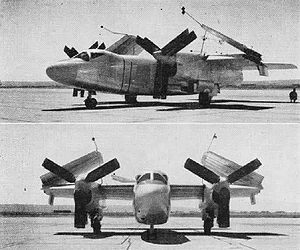 Picture - The XA2J-1 with folded wings
Role: Attack aircraft
Manufacturer: North American Aviation
First flight: 4 January 1952
Status: Cancelled
Produced: 1
Developed from: AJ Savage

The North American Aviation XA2J "Super Savage" was a prototype carrier-based attack aircraft built in the early 1950s developed from the smaller AJ Savage.
Design and development
The XA2J was intended to replace the AJ Savage which was deficient in performance and was a less than satisfactory carrier plane. It was essentially an 'enlarged' AJ Savage with the two reciprocating engines replaced with two Allison T40 turboprop engines and removal of the tail-mounted turbojet. Construction of two prototypes started 1 October 1948. but due to delays developing the engines, the first flight was not until 4 January 1952. The competing XA3D, the prototypes of which were ordered the year after construction had begun on the XA2J prototypes, first flew in October 1952. The A3D had far superior performance, and that doomed the XA2J.
The root cause for the failure of the XA2J was the protracted development and poor reliability of the Allison T40 engines. The T40 engine was an advanced engine design of joining two T38 turboprop engines to drive two large contra-rotating propellers through a combining gearbox, proved to be very unreliable. The T40 engine was also used in the developmental A2D Skyshark, and the XF-84H Thunderscreech. After a number of engine related mishaps the XA2J project was abandoned.
Operators
United States
United States Navy

Specifications (XA2J-1)
General characteristics
Length: 70 ft 3 in (21.42 m)
Wingspan: 71 ft 6 in (21.80 m)
Height: 24 ft 2 in (7.37 m)
Wing area: 836 ft² (77.7 m²)
Empty weight: 35,350 lb (16,035 kg)
Loaded weight: 46,890 lb (21,269 kg)
Max takeoff weight: 61,200 lb (27,760 kg)
Powerplant: 2x— Allison T40-A-6 turboprops, 5,035 eshp (3,756 kW) each

Performance
Maximum speed: 451 mph (726 km/h)
Range: 2,180 miles (3,508 km)
Service ceiling: 37,500 ft (11,400 m)
Rate of climb: 6,820 ft/min (34.7 m/s)
Wing loading: 56 lb/ft² (274 kg/m²)
Power/mass: 0.21 hp/lb (350 W/kg)

Armament
10,500 lb (4,763 kg) of disposable stores
2x 20 mm cannons in tail (never fitted)

Related development
AJ Savage

Bibliography
Wagner, Ray, "American Combat Planes," third edition, Garden City, NY, Doubleday & Company, 1982, ISBN 0-385-13120-8
Miller, Jerry, "Nuclear Weapons and Aircraft Carriers," Washington D.C., Smithsonian institution Press, 2001, ISSBN 1-56098-944-0

Living Warbirds: The best warbirds DVD series.
Source: WikiPedia