Aermacchi AL-60 Video - Picture
Aermacchi AL-60 Aircraft Information
Aermacchi AL-60
LASA-60 / AL-60 / C4M Kudu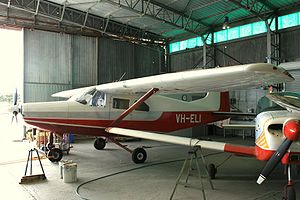 Picture - Aermacchi AL-60A1
Role: Utility aircraft
Manufacturer: Lockheed-Azcarate Aermacchi Atlas Aircraft
Designed by: Al Mooney
First flight: 1959
Primary users: Mexican Air Force South African Air Force

The AL-60 was a light civil utility aircraft of the late 1950s and early 1960s, originally designed by Al Mooney of Lockheed in the United States. After the company decided not to built the aircraft in the US, it was manufactured in small quantities in Mexico and also planned in Argentina (Santa Isabel, Cx³rdoba, by Aviones Lockheed-Kaiser Argentina but the new factory was never built), and under licence in Italy.
Development
Lockheed flew only two prototypes of the AL-60 (in 1959) before deciding that it would be unprofitable in the US marketplace. Instead, the company chose to manufacture it under a joint venture in Mexico as Lockheed-Azcarate (LASA). 18 were produced in 1960 for the Mexican Air Force, as the LASA-60.
In Italy, Aermacchi purchased a licence to produce the type, first in its original configuration as the AL-60B, then in a modified version for various African customers as the AL-60C. This latter version changed from the original tricycle undercarriage to a taildragger arrangement.
Variants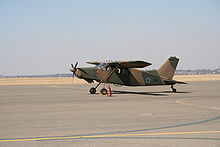 Picture - An Atlas C4M Kudu at the South African Air Force Museum
L-402 - Lockheed prototypes
LASA-60 - Mexican production model (44 built)
AL-60B-1 Santa Maria - original Aermacchi-built version (4 built)
AL-60B-2 Santa Maria - production Aermacchi version (81 built)
AL-60C-5 Conestoga - Aermacchi-built version for the Central African Republic
AL-60F-5 Trojan - Aermacchi-built version for Rhodesia
Atlas C4M Kudu - Atlas-built version for South Africa

Military operators
Central African Republic
Mexico
Mauritania
Rhodesia
South Africa
Tunisia

Specifications (AL-60F-5 Trojan)
General characteristics
Crew: One
Capacity: Seven passengers
Length: 8.80 m (28 ft 10 in)
Wingspan: 11.9 m (39 ft 4 in)
Height: 3.30 m (10 ft 10 in)
Wing area: 19.6 m² (210 ft²)
Empty weight: 1,068 kg (2,394 lb)
Max takeoff weight: 2,051 kg (4,500 lb)
Powerplant: 1x— Lycoming IO-720-A1A piston engine, 298 kW (400 hp)

Performance
Maximum speed: 251 km/h (156 mph)
Range: 1,037 km (560 miles)
Service ceiling: 4,150 m (13,615 ft)
Rate of climb: 5.5 m/s (1,085 ft/min)

Aermacchi AL-60 Pictures and Aermacchi AL-60 for Sale.
Living Warbirds: The best warbirds DVD series.
Source: WikiPedia