Aermacchi M-290 RediGO Video - Picture
Aermacchi M-290 RediGO Aircraft Information
Aermacchi M-290 RediGO
M-290 RediGO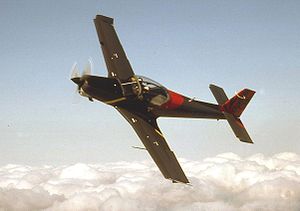 Role: Trainer
Manufacturer: Aermacchi Valmet
First flight: February 12, 1985
Status: Operational
Primary users: Finnish Air Force Eritrean Air Force Mexican Navy
Developed from: Valmet L-70 Vinka
Variants: Valmet L-80 Turbo-Vinka

The Aermacchi M-290 TP RediGO is a turboprop-powered military basic trainer aircraft. It was originally manufactured by Valmet of Finland as the L-90 TP Redigo, a development of their earlier training aircraft for the Finnish Air Force.
The prototype, a modified L-80 first flew on February 12, 1985. Aermacchi purchased the manufacturing rights in 1996.
The aircraft is of conventional configuration, with retractable tricycle gear and a low wing. The student and instructor sit side-by-side. As is typical with many military trainers, it can also carry light armament for weapons training, or potentially, for use in a close-support role.
Users
Eritrea Eritrean Air Force (8) L-90 in service Finland Finnish Air Force (9) L-90 in service Mexico Mexican Navy (7) L-90 in service
Specifications (M-290 TP)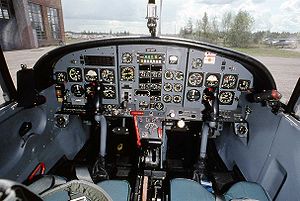 Picture - Redigo cockpit
Data from Brassey's World Aircraft and Systems Directory 1999/2000
General characteristics
Crew: two, student and instructor
Capacity: Can accommodate additional two passengers or stretcher with patient
Length: 8.53 m (28 ft 0 in)
Wingspan: 10.60 m (39 ft 4 in)
Height: 3.20 m (10 ft 6 in)
Wing area: 14.8 m² (159 ft²)
Airfoil: NACA 63-218 mod at root, 63-412 mod at tip
Empty weight: 970 kg (2,138 lb)
Max takeoff weight: 1,900 kg (4,190 lb) (with external stores)
Powerplant: 1x— Allison 250-B17F turboprop, 336 kW (450 hp)

Performance
Maximum speed: 352 km/h (219 mph, 190 knots)
Cruise speed: 326 km/h (202 mph, 176 knots)
Stall speed: 93 km/h (58 mph, 50 knots)
Range: 1,400 km (870 mi, 755 NM)
Service ceiling: 7,620 m (25,000 ft)
Rate of climb: 11.6 m/s (2,280 ft/min)
Wing loading: 91.6 kg/m² (18.8 lb/ft²)
Power/mass: 0.25 kW/kg (0.15 hp/lb)

Armament
Six hardpoints for a maximum of 800 kg (1760 lb) of weapons
Related development
Valmet L-70 Vinka
Valmet L-80 Turbo-Vinha

Comparable aircraft
Aermacchi SF.260
Beech T-34
Enaer T-35 Pillan

Bibliography
Taylor, Michael, J.H. (ed.). Brassey's World Aircraft & Systems Directory: 1999/2000 Edition. London: Brassey's. 1999. ISBN 1 85753 245 7.

Aermacchi M-290 RediGO Pictures and Aermacchi M-290 RediGO for Sale.
Living Warbirds: The best warbirds DVD series.
Source: WikiPedia