Aermacchi S-211 Video - Combat approach
Aermacchi S-211 Video - Bitburg Airshow
Aermacchi S-211 Aircraft Information
Aermacchi S-211
S-211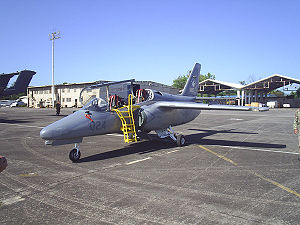 Picture - An S-211 from the 7th Tactical Fighter Squadron Squadron, Philippine Air Force
Role: Basic jet trainer / Light attack aircraft
National origin: Italy
Manufacturer: SIAI Marchetti (1981 - 1997) Alenia Aermacchi (1997 - present)
Designed by: SIAI Marchetti, 1976
First flight: 10 April 1981
Introduced: 1984
Status: Active service with the Philippine Air Force
Primary user: Republic of Singapore Air Force Philippine Air Force
Number built: ~60
Developed into: Alenia Aermacchi M-311

The Aermacchi S-211 is a jet-powered military trainer aircraft designed and originally marketed by SIAI Marchetti as the S.211. Some 60 aircraft have been sold to air forces around the world. Aermacchi bought the production rights in 1997. The redesigned M-311 is currently under development by Alenia Aermacchi.
Design and development
SIAI Marchetti began work on the aircraft in 1976 as a private venture basic trainer, hoping to offer it to the company's existing customer base of small air forces operating their piston-engined SF.260. Formally announced in Paris the following year, interest was strong enough to justify the construction of two prototypes, the first of which flew on 10 April 1981. The Singapore Air Force placed the first order for ten aircraft in 1983.
The S-211 is a small tandem two-seat shoulder-wing monoplane with a retractable tricycle landing gear and powered by a single Pratt & Whitney Canada JT15D-4C turbofan. The aircraft was designed with a secondary close air support capability with four underwing hardpoints.
The S-211A was a slightly modified and updated variant of the S-211, was a losing contender in the USA's Joint Primary Aircraft Training System (JPTATS) aircraft selection. Among the seven to enter, the Raytheon/Pilatus entry won, which became the T-6 Texan II. The S-211 team was partnered with Grumman, and then Northrop Grumman after 1994.
Like many military trainers, the S-211 can be armed for weapons training or light ground attack duties.
Variants
S-211 Original production version with total of approximately sixty built and were operated by the Air Forces of Haiti, Philippines and Singapore. S-211A Proposed version developed with input from Grumman for the JPATS (two prototypes, converted from two former Haitian S-211 aircraft). M-311 Modernized and uprated version announced by Aermacchi in 2004 (two prototypes built).
Operators
Philippines
Philippine Air Force (PAF) - 25 aircraft, including one partially completed airframe as spare parts and 15 assembled locally by Philippine Aerospace Development Corporation. Due to accidents, 15 remaining in service but only 6 are airworthy, as of December 2009.
105th Training Squadron
7th Tactical Fighter Squadron

Former operator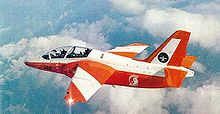 Picture - RSAF 130Sqn's S.211 in flight circa 1988, 382 was written off after an accident in 2006
Singapore
Republic of Singapore Air Force (RSAF) - total of 32 aircraft including 24 assembled locally by Singapore Aircraft Industries and two former Haitian aircraft were acquired as attrition replacements.
130 Sqn - 25 airframes in operational use (7 airframes were write offs due to accidents). These were replaced by the Pilatus PC-21 from end 2008. After retirement, 4 airframes were shipped back to Singapore and preserved as museum display pieces, while the remaining 21 airframes (including one airframe that had been used for spare parts) were sold off to International Air Parts (IAP) Group Australia Pty Ltd in 2009.
131 Sqn - disbanded in 1996, following the move of RSAF Flight Training School to Pearce Airbase (Australia), all remaining aircraft transferred to the former.

Haiti
Haitian Air Force (HAF) - Four aircraft were delivered in June 1985 , they were retired and put up for sale on 23 April 1990.

Picture - After retirement 384 was preserved as a museum piece at the Republic of Singapore Air Force Museum at Paya Lebar Air Base
Civilian
Australia
21 ex-RSAF S-211s were retired and sold to the IAP Group Australia in December 2009 (including a cannibalised airframe), ten have since been sold off and placed on the Australian civil registry.

United States
Two second-hand aircraft (ex-Haitian AF) are operated by private companies.

Accidents and incidents
On 14 January 2002, Philippine Air Force S-211 #017 crashed into houses inside the National Food Authority compound in Brgy. M.S.Garcia, Cabanatuan City, Nueva Ecija, due to mechanical problems after making several low passes over Cabanatuan during a "contact proficiency" flight from Basa AB. Both pilots and 3 civilians on the ground were killed.
On 26 November 2007, Philippine Air Force S-211 #804 went missing after it failed to return to Palawan base after a security patrol and search mission over the disputed Kalayaan Islands in the south China sea, both pilots still missing and their fate remains unknown.
Specifications (S-211)
Data from Jane's All the World's Aircraft 1988-89
General characteristics
Crew: Two (student and instructor)
Length: 9.31 m (30 ft 6½ in)
Wingspan: 8.43 m (27 ft 8 in)
Height: 3.8 m (12 ft 5½ in)
Wing area: 12.6 m² (135.63 ft²)
Empty weight: 1,850 kg (4,070 lb)
Max takeoff weight: 2,750 kg (6,050 lb)
Powerplant: 1x— Pratt & Whitney JT15D-4C turbofan engine, 11.12 kN (2,500 lbf)

Performance
Never exceed speed: Mach 0.8 (740 km/h, 400 knots, 460 mph)
Maximum speed: 667 km/h (360 knots, 414 mph)
Stall speed: 138 km/h (74 knots, 86 mph)
Range: 1,668 km (900 nm, 1,036 miles)
Service ceiling: 12,200 m (40,000 ft)
Rate of climb: 21 m/s (4,200 ft/min)
Thrust/weight: 0.413:1
Acceleration limits: +6g (+58.9 m/s²) /−3.0g (−29 m/s²)

Armament
Hardpoints: 4x— under-wing pylon stations for mounting up to 660 kg (1,500 lb) of air-to-ground weaponry/payload, including gun pods, unguided bombs, and rocket launchers (such as the SNEB 68 mm rocket pods).

Related development
Alenia Aermacchi M-311

Comparable aircraft
CASA C-101
Dassault/Dornier Alpha Jet

Bibliography
The Illustrated Encyclopedia of Aircraft (Part Work 1982-1985). Orbis Publishing.
Taylor, John W R (1988). Janes All the World's Aircraft 1988-89. Coulsdon, Surrey, UK: Jane's. ISBN 0 7106-0867-5.

Aermacchi S-211 Pictures and Aermacchi S-211 for Sale.
Living Warbirds: The best warbirds DVD series.
Source: WikiPedia