Aermacchi SF.260 Aircraft Information
Aermacchi SF.260
SF.260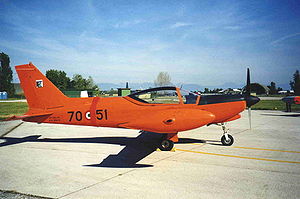 Picture - Aermacchi SF.260
Role: Trainer Light attack
Manufacturer: SIAI Marchetti/Aermacchi
Designed by: Stelio Frati
First flight: 15 July 1964
Number built: 860

The Aermacchi SF.260 is a light aircraft marketed as an aerobatics plane and a military trainer. It was designed by Stelio Frati, originally for Aviamilano, which flew the first prototype of it (then designated F.260) on July 15, 1964. Actual production was undertaken when SIAI Marchetti purchased the design soon thereafter and continued with this firm until the company was bought by Aermacchi in 1997. The military versions are popular with smaller air forces, which can also arm it for use in the close-support role. The SF.260 was seen in the movie Quantum of Solace.
Design and development
The design is a conventional one, featuring a low wing and tricycle undercarriage, and is often praised for its sleek lines and sporty appearance. The pilot and up to two passengers (or pilot and one student in trainer versions) are accommodated under a broad, extensively glazed canopy.
The SF.260 holds the airspeed records for aircraft in its class over the 100 km (62 mile) and 1,000 km (621 mile) closed circuits.
The aircraft was marketed in the United States in the late 1960s as the Waco Meteor, although it was in no way connected with the Waco aircraft company. Thirty SF.260EA - the most recent version - were delivered to the Italian Air Force in 2005 for a total price of €33 million ($40 million).
On 2010 was announced Alenia request conditions to assembly the aircraft at the Argentine factory Fx¡brica de Aviones Cx³rdoba
Variants
Aviamilano
F.250 - first prototype powered by 187 kW (250 hp) Lycoming O-540-AID
F.260 - two prototypes powered by 194 kW (260 hp) Lycoming O-540-E4A5

SIAI Marchetti
SF.260 - Production version of the F.260
SF.260A - Initial production version. Built in small numbers.
SF.260M - Militarised version with strengthened airframe and improved aerodynamics
SF.260AM - Italian Air Force version. 33 built.
SF.260ML - Export version for Libya. 240 built.
SF.260W Warrior - Military version with weapons hardpoints
SF.260SW Sea Warrior - Coast patrol, fishery protection aircraft. One built.
SF.260B - Civilian version incorporating improvements of the SF-260M. Introduced 1974
SF.260C - Improved version of the SF.260B. Introduced in 1977
SF.260TP - Allison 250-B17D turboprop version of the SF.260C; first flown in 1980
SF.260D - SF.260C with uprated engine and other refinements. Introduced in 1985
SF.260E - Uprated SF.260D to compete for a USAF contract but later marketed to other military buyers
SF.260F - As above, with fuel-injected engine(8 delivered Nov.2010 to PAF)
SF.260EA - Most recent variant for Italian Air Force. 30 built

Operational history
Sri Lanka
Six SF.260TP's were delivered in 1985, to be used in the pilot training role. But were also later employed in the light attack role in the governments war against the Tamil Tigers. Two former factory demonstration aircraft were delivered in 1986 to replace lost aircraft, added by three new built aircraft in 1988. All SF.260 aircraft are based with No. 1 Flying Training Wing on the airbase SLAF Anuradhapura. The SF.260TP fleet was expanded in 1990-91 with the delivery of twelve former Myanmar SF.260W. The SF.260W fleet was withdrawn from use in 2001, being replaced by Chinese build Nanchang PT-6 aircraft. The SF.260TP fleet retired as few years later.
2 aircraft were lost in combat, listed as they follow:
September 13, 1990: A SLAF SF.260TP was shot down near Palay. The pilot was killed.
July 14, 1992: A SLAF SF.260TP was shot down by LTTE. Pilot killed.

Chad
Chad informed the United Nations that during the conflict with Libya, it had destroyed eight Libyan Air Force SF.260WL's and captured nine others besides destroying and capturing other equipment. May be as many as six former Libyan SF.260WL's were pressed in the Air Force of Chad. Additional information requested. By 1988 four SF.260W's were identified as being in service, two of them were overhauled one year later in France.
In November 2006 Libya supplied Chad with four SF.260W aircraft, including crew, due to tentions between Chad and Sudan over the Dafur area. One newly supplied SF.260W was shot down on 28 November its first mission in Chad by rebel forces, killing the crew.
Libya
Became a major customer of the SIAI Marchetti SF.260 with an order of 240 Warriors, partially to be assembled in a new plant near Tripoli. How many SF.260W's were actually delivered is unknown, but deliveries started in 1977 or 1978. During the delivery, problems appeared by a US embargo on avionics. Reportedly the US made avionics were replaced by French made, which gave delays in the delivery. In the late 1970s large numbers of SF.260's were parked on Vergiate awaiting delivery. The SF.260WL was intended for use by the Air Force Academy for pilot training, but was also used for ground support of army troops during the border war with Chad. Overall not much in known about the service life of the aircraft. The Libyan government supported friendly countries with arms, and a number of SF.260W's were handed over to air forces like: Burkino Faso; Burundi; Nicaragua; Uganda and may be others. In 1987 Chad reported to the United Nations the destruction of 8 F.260's and the capture of 9 others during its border war with Libya. Some of these secondhand Libyan aircraft may even found their way to the US market.
Alenia Aermacchi is to support refurbishment of 12 SF.260 primary trainers for the Libyan Air Force. The work will be carried out jointly by Alenia Aermacchi and Tripoli based Libyan Italian Advanced Technology. Alenia Aermacchi says the contract covers the overhaul of the airframe and systems of the SF.260 aircraft, including their propellers and engines. Work is to start late 2007 and is expected to be completed by the end of 2008.
Nicaragua
Between four to six SF.260W's were received by the Fuerza Aérea Sandinista as support from Libya. They may have been used in the COIN role against the Contras and in the pilot training role. No further details known. Three SF.260s surfaced in the USA on the secondhand market, a fourth is slowly being rebuilt in Guatemala. No longer in service.
Rhodesia
Despite an arms embargo, two batches of SF.260 aircraft were delivered in 1977. Because of the embargo several buying teams were travelling the world looking for suitable equipment. Through various routes 17 SF.260C and 14 SF.260W aircraft arrived. The former to be used in the training role, while the warriors were being used for light attack duties and escort of convoys. In 1984-85 a reportedly 8 SF.260W's were converted to SF.260TP standard by replacing the piston engine with a turboprop engine.
Zimbabwe
It was announced at the 1997 Paris Salon that the Air Force of Zimbabwe had ordered six F.260F aircraft, thus becoming the first operator of this new model. In June 1998 three F.260F's were seen test flying at the Aermacchi homebase of Venegono. All six should have been delivered in 1998. Little is known yet about their serials and construction numbers.
Philippines
In the early 1970s an order was placed for 48 SF.260's divided between 32 SF.260M's and 16 SF.260W's. The first six SF.260's were delivered in May 1973, replacing the Beech T-34A Mentor with 100th Training Wing at airbase Fernando.
The 15th Strike Wing on airbase Sangley Point received the SF.260W Warrior as an addition to the North American T-28 Trojans. They were possibly used in combat against rebel forces in the south of the Philippines. But little is known about its service life. In the early 1980s, the surviving Warriors were disarmed and transferred to the training role with 100th TW. The Philippines Air Force signed with Agusta a contract for the delivery of 18 SF.260TP turboprops on December 31, 1991, replacing the SF.260M/W's in the training role. The first SF.260TP was noted in country on July 1, 1993.
Under "Project Layang" the air force plans to upgrade 18 SF.260M/W aircraft to the SF.260TP standard, by replacing the Lycoming piston engine with the Allison 250-B17D turboprop engine and newer avionics. The first upgraded SF.260 was delivered in 1996, no further upgraded SF.260's are reported yet.
The Philippines has finalized a deal with Alenia Aermacchi for 18 new-build SF.260E primary/basic trainers. Deliveries are expected to start in late 2010.
8 brand new SF 260F have been delivered to the PAF as of Nov.2010 by Aermacchi Italy which was locally assembled by Aerotech Industries Philippines with the remaining 10 units to be deliver by April 2011.
Operators
Military Operators
Belgium: Belgian Air Component
Brunei: Royal Brunei Air Force
Burundi: Burundi Air Force
Burkina Faso: Burkina Faso Air Force
Burma: Burma Air Force - Retired
Chad: Chad Air Force
Comoros: Comoros Military Aviation
Ethiopia: Ethiopian Air Force
Haiti: Haitian Air Force - Retired
Indonesia: Indonesian Air Force
Ireland: Irish Air Corps - Retired
Italy: Italian Air Force
Morocco: Moroccan Air Force
Libya: Libyan Air Force
Mauritania: Mauritanian Air Force
Mexico: Mexican Air Force
Nicaragua: Fuerza Aérea Sandinista - Retired
Philippines: Philippine Air Force- 8 Brand new SF-260F delivered Nov.2010 by Aerotech Industries, with remaining 10 units due by April 2011.
Rhodesia: Rhodesian Air Force
Singapore: Republic of Singapore Air Force - 14x— SF.260Ms delivered in 1971 plus 12x— SF.260Ws delivered in 1979 and 1981. The remaining 19 airworthy airframes were phased out in 2002 and was transferred to the Indonesian Air Force.
Somalia: Somali Aeronautical Corps - Retired
Sri Lanka: Sri Lanka Air Force - Retired
Thailand: Royal Thai Air Force
Tunisia: Tunisian Air Force
Turkey: Turkish Air Force
Uganda: Ugandan Air Force
United Arab Emirates (Abu Dhabi): United Arab Emirates Air Force
Uruguay: Uruguayan Air Force
Venezuela: Venezuela Air Force
Zaire: Zaire Air Force - Retired
Zambia: Zambian Air Force
Zimbabwe: Air Force of Zimbabwe

Civil Operators
Out of some 860 SF-260s produced, around 180 have been sold to civil users. Most of these are in private hands, although at least three airlines, Alitalia, Sabena and British Midland Airways purchased the aircraft as a trainer for airliner pilots. Air Combat USA operates 9 SF-260's.
Specifications (SF-260)
Data from Observer's book of Aircraft.
General characteristics
Crew: One
Capacity: Two passengers
Length: 7 m (23 ft 0 in)
Wingspan: 8.22 m (26 ft 11.75 in)
Height: 2.6 m (8 ft 6 in)
Wing area: 10.1 m² (109 ft²)
Empty weight: 675 kg (1,488 lb)
Loaded weight: 1,100 kg (2,425 lb)
Powerplant: 1x— Lycoming O-540-E4A5, 195 kW (260 hp)

Performance
Maximum speed: 441 km/h (237 knots, 276 mph)
Range: 2,050 km (1,107 NM, 1,274 mi)
Service ceiling: 5,790 m (19,000 ft)
Rate of climb: 546 m/min (1,791 ft/min)

Comparable aircraft
PAC CT/4 (Pacific Aerospace Limited)
Sequoia Falco (F.8L Falco non military kitplane)
Scottish Aviation Bulldog
Saab Supporter

Bibliography
Arys, Marc & Heerthum, Serge van. SIAI Marchetti, Agile Penguins in Belgian Skies, 'Flash Aviation', 2009, 978-9-0715-5322-6.
Green, William. The Observer's Book of Aircraft. London. Frederick Warne & Co. Ltd., 1968.

Aermacchi SF.260 Pictures and Aermacchi SF.260 for Sale.
Living Warbirds: The best warbirds DVD series.
Source: WikiPedia