Aero A.10 Video - Picture
Aero A.10 Aircraft Information
Aero A.10
Aero A.10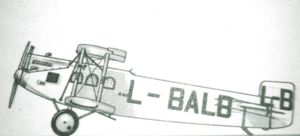 Role: Airliner
Manufacturer: Aero Letňany
First flight: January 3, 1922
Retired: 1928
Primary user: Czech Airlines

The Aero Letňany A.10 was a biplane airliner produced in Czechoslovakia shortly after World War I, the first example flying on 3 January 1922. Three passengers could be accommodated in an enclosed cabin, and three collapsible tables could also be used to seat another three if desired. The A.10 was important as one of Czech Airlines's first aircraft, with five examples in service with the airline from the time of its inception in 1923 until 1928.
Specifications (A.10)
General characteristics
Crew: One, pilot
Capacity: 6 passengers
Length: 10.14 m (33 ft 3 in)
Wingspan: 14.17 m (46 ft 6 in)
Height: ()
Wing area: 49 m² (527 ft²)
Empty weight: 1,472 kg (3,245 lb)
Max takeoff weight: 2,260 kg (4,980 lb)
Powerplant: 1x— Maybach Mb.IVa, 190 kW (260 hp)

Performance
Maximum speed: 160 km/h (90 knots, 100 mph)
Cruise speed: 130 km/h (70 knots, 80 mph)
Range: 520 km (280 nm, 330 mi)
Service ceiling: 5,800 m (19,000 ft)
Wing loading: 9.43 lb/ft² (46 kg/m²)

Living Warbirds: The best warbirds DVD series.
Source: WikiPedia