Aero A.101 Video - Picture
Aero A.101 Aircraft Information
Aero A.101
Aero A.101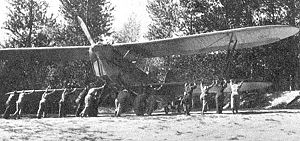 Role: Light bomber Reconnaissance aircraft
Manufacturer: Aero Vodochody
Produced: 1930s
Number built: 50

The Aero A.101 was a biplane light bomber and reconnaissance aircraft built in Czechoslovakia during the 1930s. It was an attempt to improve the Aero A.100 by enlarging it and fitting it with a more powerful engine. However, even with 33% more power, performance was actually inferior, and the Czech Air Force was not interested in the type. Production did result, however, when 50 were ordered by Spanish Republican forces for use in the Spanish Civil War. Some of these aircraft were captured by Nationalists while en route and used against their original buyers.
Local demand eventually was forthcoming, and a re-engined version was produced as the Ab.101.
Specifications (A.101)
General characteristics
Crew: 2
Length: 12.09 m (39 ft 8 in)
Wingspan: 16.99 m (55 ft 9 in)
Height: 3.73 m (12 ft 3 in)
Wing area: 58.7 m² (631 ft²)
Empty weight: 2,578 kg (5,671 lb)
Loaded weight: 4,345 kg (9,559 lb)
Powerplant: 1x— Praga-built Isotta-Fraschini, 738 kW (990 hp)

Performance
Maximum speed: 265 km/h (143 knots, 169 mph)
Range: 845 km (456 nm, 562 mi)
Service ceiling: 5,500 m (21,000 ft)
Rate of climb: 2.5 m/s (490 ft/min)
Wing loading: 74 kg/m² (15 lb/ft²)
Power/mass: 170 W/kg (0.10 hp/lb)

Armament
Guns:
2x— forward-firing 7.92 mm (0.312 in) wz.29 machine guns
2x— 7.92 mm Ckm wz.30 machine guns in ring mount for observer
Bombs: 500 kg (1,100 lb)

Operators
Spanish Republic
Spanish Republican Air Force

Related development
A.430
A.100
A.104

Living Warbirds: The best warbirds DVD series.
Source: WikiPedia