Aero A.11 Video - Picture
Aero A.11 Aircraft Information
Aero A.11
Aero A.11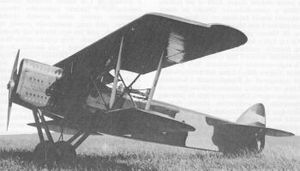 Role: Light bomber Reconnaissance aircraft
Manufacturer: Aero Vodochody
First flight: 1925
Introduced: 1920s
Retired: 1940s
Primary users: Czech Air Force Finnish Air Force
Number built: ~250

The Aero A.11 was a biplane light bomber and reconnaissance aircraft built in Czechoslovakia between the First and Second World Wars. It formed the basis for a large number of other Czechoslovakian military aircraft of the inter-war period. Around 250 were built, with some remaining in service at the outbreak of World War II.
Designed by Antonin Husnik, it was a development of the Aero A.12 (despite what the numbering of the designs might suggest). A Hispano-Suiza 8Fb-powered version, the A.11H-s was built for the Finnish Air Force, the only foreign operator of the type. The Finns had eight aircraft of this type and used them between 1927-39.
Variants
A.11 : Two-seat light bomber, reconnaissance biplane.
A.11HS : Export version for Finland.
A.11N : Night bomber version.
Ab.11 : Light bomber version.

Operators
Czechoslovakia Finland
Finnish Air Force

Specifications (A.11)
General characteristics
Crew: 2
Length: 8.2 m (27 ft)
Wingspan: 12.8 m (43 ft 0 in)
Height: 3.1 m (10 ft)
Wing area: 36.5 m² (393 ft²)
Empty weight: 1,080 kg (2,380 lb)
Loaded weight: 1,537 kg (3,381 lb)
Powerplant: 1x— Walter W IV, 180 kW (240 hp)

Performance
Maximum speed: 240 km/h (130 knots, 150 mph)
Range: 750 km (400 nm, 470 mi)
Service ceiling: 7,600 m (25,000 ft)
Rate of climb: 3.82 m/s (751 ft/min)
Wing loading: 42 kg/m² (8.6 lb/ft²)
Power/mass: 120 W/kg (0.071 hp/lb)

Armament
Guns:
1x— forward firing .303 in (7.7 mm) Vickers machine gun
2x— .303 in (7.7 mm) Lewis machine gun in flexible mount for observer
Bombs: 200 kg (441 lb)

Operators
Czechoslovakia
Finland

Related development
Aero A.12
Aero A.21
Aero A.22
Aero A.25
Aero A.29

Living Warbirds: The best warbirds DVD series.
Source: WikiPedia