Aero A.12 Video - Picture
Aero A.12 Aircraft Information
Aero A.12
Aero A.12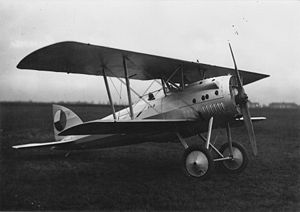 Role: Light bomber Reconnaissance aircraft
Manufacturer: Aero Vodochody
Status: Retired
Primary user: Czechoslovakia
Produced: early 1920s

The Aero A.12 was a Czechoslovakian biplane light bomber and military reconnaissance aircraft manufactured in small numbers shortly after World War I. Although reminiscent of the Hansa-Brandenburg-designed aircraft that Aero was building during the war under licence as the Ae.10, the A.12 was the company's own design. It is perhaps most significant as the direct ancestor of the highly successful A.11 and its various derivatives. An example of the type is preserved at the Letecké Muzeum in Kbely.
Specifications (A.12)
General characteristics
Crew: 2
Length: 8.30 m (27 ft 3 in)
Wingspan: 12.80 m (43 ft 0 in)
Height: 3.10 m (10 ft 2 in)
Wing area: 36.5 m² (393 ft²)
Empty weight: 1,080 kg (2,380 lb)
Loaded weight: 1,537 kg (3,381 lb)

Performance
Maximum speed: 201 km/h (109 knots, 126 mph)
Range: 760 km (410 nm, 475 mi)
Service ceiling: 7,500 m (25,000 ft)
Rate of climb: 3.47 m/s (683 ft/min)
Wing loading: 42 kg/m² (8.6 lb/ft²)

Armament
Guns:
1x— forward-firing .303 in (7.70 mm) Vickers machine gun
2x— .303 in Lewis machine gun in flexible mount for observer

Operators
Czechoslovakia.

Related development
Aero A.11

Living Warbirds: The best warbirds DVD series.
Source: WikiPedia