Aero A.18 Video - Picture
Aero A.18 Aircraft Information
Aero A.18
Aero A.18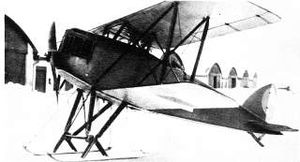 Role: Fighter aircraft
National origin: Czechoslovakia
Manufacturer: Aero Vodochody
Designed by: Antonin Vlasx¡k Antonin Husnik
First flight: March 1923
Retired: 1939 (due to German invasion)
Status: 1 preserved at the Letecke Muzeum
Primary users: Czech Air Force Czech Aero Club
Produced: 1920s
Number built: 20

The Aero A.18 was a biplane fighter aircraft built in Czechoslovakia in the 1920s. It was a development of the Ae 02 and Ae 04 fighters Aero had designed during World War I, but also borrowed from the more recent A.11 reconnaissance-bomber design.
The aircraft was designed by Antonin Vlasx¡k and Antonin Husnik and first flew in March 1923. It was only one of three prototype fighters that Aero flew that year, but this one was selected for production over the A.19 and A.20 that competed with it. Twenty machines saw service with the Czech air force in the period between the wars.
The A.18B and A.18C were specially modified racing variants that competed in the Czech Aero Club's first two annual air races, in 1923 and 1924 respectively. Both aircraft won their races, and the A.18C is preserved at the Letecke Muzeum in Kbely along with a replica of a standard A.18 fighter.
Specifications (A.18)
Data from
General characteristics
Crew: 1
Length: 5.90 m (19 ft 4 in)
Wingspan: 7.60 m (25 ft 0 in)
Height: 2.86 m (9 ft 5 in)
Wing area: 15.9 m² (171 ft²)
Empty weight: 637 kg (1,401 lb)
Max takeoff weight: 826 kg (1,817 lb)
Powerplant: 1x— BMW IIIa, 138 kW (185 hp)

Performance
Maximum speed: 229 km/h (124 knots, 143 mph)
Range: 400 km (220 nm, 250 mi)
Service ceiling: 9,000 m (30,000 ft)
Rate of climb: 9.8 m/s (1,930 ft)

Armament
Guns: 2x— .303 in (7.70 mm) Vickers machine guns

Operators
Czechoslovakia

Related development
Ae 02
Ae 04

Living Warbirds: The best warbirds DVD series.
Source: WikiPedia