Aero A.304 Video - Picture
Aero A.304 Aircraft Information
Aero A.304
A.304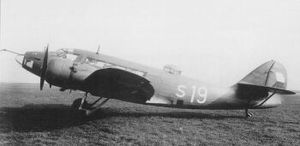 Role: Bomber
Manufacturer: Aero Vodochody
First flight: 1937
Primary users: Czechoslovak Air Force Germany, Bulgaria
Number built: 19
Developed into: Aero A.300

The Aero A.304 was a Czechoslovakian bomber aircraft that first flew in 1937. It had originally been developed as an airliner, the A.204, but when Aero could not find buyers for the design, it was militarised and successfully marketed to the Czechoslovak Air Force. It was also exported to Bulgaria, where it was known as the "Pelikan".
Operators
Bulgaria
(one unit in service)

Czechoslovakia
Czechoslovak Air Force

Germany
Luftwaffe(war plunder from Czechoslovak Air Force)

Specifications (A.304)
Data from War Planes of the Second World War: Volume Seven
General characteristics
Crew: three
Length: 13.21 m (43 ft 3¾ in)
Wingspan: 19.20 m (62 ft 11¾ in)
Height: 3.40 m (11 ft 1¾ in)
Wing area: 45.3 m² (487 ft²)
Empty weight: 3,006 kg (6,614 lb)
Loaded weight: 4,364 kg (9,601 lb)
Max takeoff weight: 4,670 kg (10,275 lb)
Powerplant: 2x— Walter Super Castor I MR 9-cylinder air cooled radial engine, 343 kW (460 hp) each

Performance
Maximum speed: 322 km/h (200 mph, 174 knots)
Cruise speed: 290 km/h (180 mph, 157 knots)
Range: 1,199 km (745 mi, 649 NM)
Service ceiling: 5,800 m (19,025 ft)
Rate of climb: 405 m/min (1,330 ft/min)

Armament
1 x— fixed forward-firing 7.92 mm ZB-30 machine gun
1 x— 7.92 mm vz30 machine gun in dorsal turret
1 x— 7.92 mm vs30 machine gun in rearward firing ventral position
Up to 300 kg (660 lb) of bombs

Related development
Aero A.204
Aero A.300

Green, William. War Planes of the Second World War: Volume Seven Bombers and Reconnaissance Aircraft. London:Macdonald, 1967.

Living Warbirds: The best warbirds DVD series.
Source: WikiPedia