Aero L-159 Alca Video - Airshow mishap
Aero L-159 Alca Aircraft Information
Aero L-159 Alca
L 159 ALCA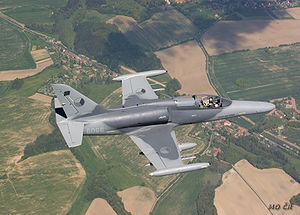 Picture - Czech Air Force L-159 ALCA
Role: Military Advanced Light Combat Aircraft
Manufacturer: Aero Vodochody
First flight: 2 August 1997
Status: Operational
Primary user: Czech Air Force
Produced: 72
Unit cost: US$13 million (2003), US$15 - 17 million
Developed from: Aero L-59 Super Albatros

Aero L 159 ALCA (Advanced Light Combat Aircraft) is a Czech-built multi-role combat aircraft. It is in service with the Czech Air Force.
Design and development
Operational history
Czech Air Force is the main operator.
The Albanian Air Force, Austrian Air Force, Bangladesh Air Force, Indonesian Air Force, Bolivian Air Force, Israeli Air Force and Spanish Air Force have expressed some interest in the aircraft.
Variants
L-159A
The L 159A is a single-seat light multi-role combat aircraft designed for a variety of air-to-air, air-to-ground and reconnaissance missions. The aircraft is equipped with a multi-mode Doppler Grifo-L radar (a variant of the Grifo-F x-band multi-mode, pulse-doppler radar), for all-weather, day and night operations. It can carry a wide range of NATO standard stores including air-to-air and air-to-ground missiles and laser guided bombs. The L-159A is in operational service with the Czech Air Force and in production.
L-159B
The L-159B is a two-seat derivative of the L159A primarily designed for Advanced and Operational/Lead-In Fighter Training. The L-159B configuration can also be tailored to customer specific requirements and adapted to needs of basic training as well as combat missions including air-to-Ground, patrol and reconnaissance missions.
Note: only one prototype (made by Aero Vodochody)
L-159T1
The L-159T1 is a two-seat trainer derivative used by the Czech air Force. All L-159T1 are modified L-159A airframes taken from storage. First flight 8 March 2007.
Operators
Czech Republic
Czech Air Force - 24 L-159A and 4 L-159T1,

Hungary
Hungarian Air Force, - 2 (+ 14 orders) L-159Z

Specifications (L-159A)
Data from Jane's All The World's Aircraft 2003-2004
General characteristics
Crew: one
Length: 12.72 m (41 ft 8¾ in)
Wingspan: 9.54 m (31 ft 3½ in)
Height: 4.87 m (16 ft)
Wing area: 18.80 m² (202.4 sq ft)
Airfoil: NACA 64A-012
Aspect ratio: 4.8:1
Empty weight: 4,350 kg (9,590 lb)
Max takeoff weight: 8,000 kg (17,637 lb)
Powerplant: 1x— Honeywell F124-GA-100 turbofan, 28.2 kN (6,330 lbf)

Performance
Never exceed speed: 960 km/h (518 knots, 596 mph)
Maximum speed: 936 km/h (505 knots, 581 mph) at sea level, clean
Stall speed: 185 km/h (100 knots, 115 mph)
Range: 1,570 km (848 nmi, 975 mi) max internal fuel
Combat radius: 565 km (305 nmi, 351 mi) lo-lo-lo, gun pod, 2x— Mark 82 bombs, 2x— AIM-9 Sidewinder and 2x— 500 L drop tanks
Service ceiling: 13,200 m (43,300 ft)
Rate of climb: 62 m/s (12,220 ft/min)

Armament
Guns: provision for ZVI Plamen PL-20 2x—20mm gun pod
Hardpoints: 7, 3 under each wing and 1 under the fuselage holding up to 2,340 kg (5,159 lb)
Missiles: **Air-to-air: AIM-9M Sidewinder, IRIS-T, AIM-132 ASRAAM
Air-to-surface: AGM-65 Maverick, AGM-88 HARM
Bombs: various laser-guided and unguided bombs GBU, CBU

Avionics Grifo-F Radar
Related development
Aero L-39 Albatros
Aero L-59 Super Albatros

Comparable aircraft
BAe Hawk
Dassault/Dornier Alpha Jet
FMA IA 63 Pampa
Kawasaki T-4

Jackson, Paul. Jane's All The World's Aircraft 2003-2004. Coulsdon, UK:Jane's Information Group, 2003. ISBN 0 7106 2537 5.

Living Warbirds: The best warbirds DVD series.
Source: WikiPedia