Aero L-29 Delfin Video - "Dolphin"
Aero L-29 Delfin Aircraft Information
Aero L-29 Delfin
L-29 Delfin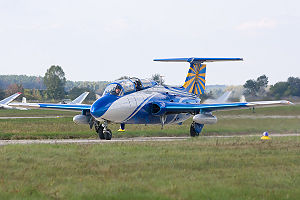 Picture - Aero L-29 Delfx­n
Role: Military trainer aircraft
Manufacturer: Aero Vodochody
Designed by: Z. Rublič and K. Tomx¡š
First flight: 5 April 1959
Introduced: 1961
Status: At least a few in service with the Mali Air Force; popular civilian warbird
Primary users: Soviet Air Force Czech Air Force
Produced: 1963-1974
Number built: 3,500

The Aero L-29 Delfx­n (English: Dolphin, NATO reporting name: Maya) is a military jet trainer aircraft that became the standard jet trainer for the air forces of Warsaw Pact nations in the 1960s. It was Czechoslovakia's first locally designed and built jet aircraft.
Design and development
In the late 1950s, the Soviet Air Force was seeking a jet-powered replacement for its fleet of piston-engined trainers, and this requirement was soon broadened to finding a trainer aircraft that could be adopted in common by Eastern Bloc air forces. Aero's response, the prototype XL-29 designed by Z. Rublič and K. Tomx¡š first flew on 5 April 1959, powered by a British Bristol Siddeley Viper engine. The second prototype was powered by the Czech-designed M701 engine, which was used in all subsequent aircraft.
The basic design concept was to produce a straightfoward, easy-to-build and operate aircraft. Simplicity and ruggedness were stressed with manual flight controls, large flaps and the incorporation of perforated airbrakes on the fuselage sides providing stable and docile flight characteristics, leading to an enviable safety record for the type. The sturdy L-29 was able to operate from grass, sand or unprepared fields. Both student pilot and instructor had ejection seats, and were positioned in tandem, under separate canopies with a slightly raised instructor position.
In 1961, the L-29 was evaluated against the PZL TS-11 Iskra and Yakovlev Yak-30 and emerged the winner. Poland chose to pursue the development of the TS-11 Iskra anyway, but all other Warsaw Pact countries adopted the Delfin under the agreements of COMECON.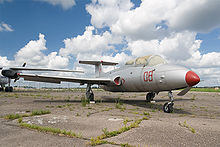 Picture - Aero L-29 at Kaunas airport
Production began April 1963 and continued for 11 years, with 3,500 eventually built. A dedicated, single-seat, aerobatic version was developed as the L-29A Akrobat. A reconnaissance version with nose-mounted cameras was built as the L-29R.
Operational history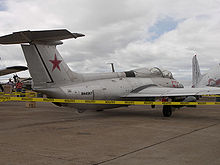 Picture - A private L-29 Delfin at the 2006 Miramar Air Show.
The Delfin served in basic, intermediate and weapons training roles. For this latter mission, they were equipped with hardpoints to carry gunpods, bombs or rockets, and thus armed, Egyptian L-29s were sent into combat against Israeli tanks during the Yom Kippur War. The L-29 was supplanted in the inventory of many of its operators by the Aero L-39 Albatros. More than 2,000 L-29s were supplied to the Soviet Air Force, acquiring the NATO reporting name "Maya."
As a trainer, the L-29 enabled air forces to adopt an "all-through" training on jet aircraft, replacing earlier piston-engined types.
On July 16th, 1975, a Czechoslovakian Air Force L-29 shot down a Polish civilian biplane piloted by Dionizy Bielański that was attempting to defect to the West.
On October 2, 2007, an unmodified L-29 was used for the world's first jet flight powered solely by 100% biodiesel fuel. Pilots Carol Sugars and Douglas Rodante flew their Delphin Jet at Stead Airport, Reno, Nevada in order to promote environmentally friendly fuels in aviation.
Between September 10-14, 2008, two L-29s took first and second at the Reno Air Races. Both L-29s consistently posted laps at or above 500 miles per hour. Former Astronaut Curt Brown took first in "Viper," followed by Red Bull Racer Mike Mangold in "Euroburner."
Russia says it destroyed 2 Georgian L-29s during the 2008 South Ossetia war.
Operators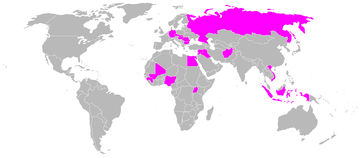 Picture - L-29 Delfin operators
Afghanistan
The Afghan Air Force operated as many as 24 from 1978 to as late as 1999.
Azerbaijan
The Azerbaijani Air and Air Defence Force
Armenia
The Armenian Air Force operated a few, which were withdrawn from service in 1996.
Bulgaria
Bulgarian Air Force operated 102 examples, delivered between 1963-1974, retired from service in 2002.
Czechoslovakia
The Czech Air Force operated as many as 400
East Germany
East German Air Force
Egypt
Egyptian Air Force - withdrawn
Gabon
Gabonese Air Force
Georgia
Georgian Air Force
Ghana
Ghana Air Force
Guinea
Hungary
Hungarian Air Force
Indonesia
Indonesian Air Force
Iraq
Iraqi Air Force - no longer operated
Mali
Nigeria
Nigerian Air Force
Romania
Romanian Air Force - all the L-29 have been retired in 2006
Uganda
Ugandan Air Force
Soviet Union
operated as many as 2,000
DOSAAF
Soviet Air Force

Slovakia
Slovak Air Force
Syria
Syrian Air Force
Tajikistan
Tajik Air Force
Vietnam
Vietnam People's Air Force
United States
United States Navy
Civil operators
Australia : One private L-29C,VH-BQJ. Based near Sydney, New South Wales.
Norway
Two L-29C, LN-ADA and LN-KJJ, operated by Russian Warbirds of Norway [1]
Czech Republic
One private L-29C, OK-ATS, Czech Jet Team Žatec - Macerka [2]
Slovakia
One private L-29C owned by Jx¡n Slota[3]
South Africa
Two Sasol Tigers aerobatic team flying the L-29
Ex-military L-29s are proving popular on the civil warbird market. [4]

United States
THUNDERDELFINS L-29 Demonstration Team, [5]
United States
Two University of Iowa, Operator Performance Laboratory Used as high dynamics flight research aircraft for development of pilot state characterization [6]
Specifications (L-29)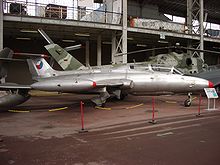 Picture - Another Delfin
Data from Jane's All The World's Aircraft 1971-72
General characteristics
Crew: 2: student and instructor
Length: 10.81 m (35 ft 5½ in)
Wingspan: 10.29 m (33 ft 9 in)
Height: 3.13 m (10 ft 3 in)
Wing area: 19.8 m² (213 ft²)
Empty weight: 2,280 kg (5,027 lb)
Loaded weight: 3,280 kg (7,231 lb)
Max takeoff weight: 3,540 kg (7,804 lb)
Powerplant: 1x— Motorlet M-701C 500 turbojet, 8.7 kN (1,960 lbf)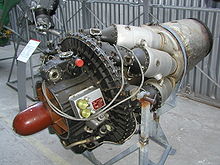 Picture - Motorlet M701 turbojet engine
Performance
Never exceed speed: 820 km/h (442 knots, 510 mph)
Maximum speed: 655 km/h (353 knots, 407 mph) at 5,000 m (16,400 ft)
Stall speed: 130 km/h (71 knots, 81 mph) flaps down
Range: 894 km (480 nmi, 555 mi) with tip tanks
Endurance: 2 hours 30 min
Service ceiling: 11,000 m (36,100 ft)
Rate of climb: 14.0 m/s (2,755 ft/min)

Armament
200 kg (440 lb) of various guns, bombs, rockets, and missiles on external hardpoints

Related development
Aero L-39 Albatros
Aero L-59 Super Albatros

Comparable aircraft
Aermacchi MB-326
Fouga Magister
PZL TS-11 Iskra
Soko G-2

Gunston, Bill, ed. "Aero L-29 Delfin." The Encyclopedia of World Air Power. New York: Crescent Books, 1990. ISBN 0-517-53754-0.
Taylor, John W. R. Jane's All The World's Aircraft 1971-72. London:Jane's Yearbooks,1971. ISBN 0 354 00094 2.

Living Warbirds: The best warbirds DVD series.
Source: WikiPedia