Aichi E16A Video - Picture
Aichi E16A Aircraft Information
Aichi E16A
E16A Zuiun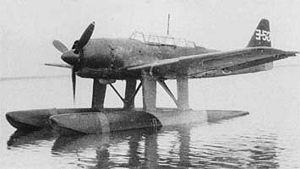 Picture - A E16A1 of the Yokosuka Kokutai (Naval Air Group), as can be seen by its tail markings.
Role: Reconnaissance Floatplane
Manufacturer: Aichi Kokuki
First flight: 1942
Introduced: 1944
Primary user: IJN Air Service
Produced: 1944-1945
Number built: 256

The Aichi E16A Zuiun (瑞雲 "Auspicious Cloud", Allied reporting name "Paul") was a two-seat reconnaissance seaplane operated by the Imperial Japanese Navy during World War II.
Design and development
The Aichi E16A originated from a 1939 specification for an replacement for the Aichi E13A, which at that time had yet to be accepted by the IJNAS. Disagreements about the requirements in the 14-Shi specification led prevented most manufacturers to submit designs, but in 1941 a new 16-Shi specification was drafted by the IJNAS around the Aichi AM-22 design which had already been made by Aichi engineers Kishiro Matsuo and Yasuhiro Ozawa. The first AM-22, which first got the experimental designation Navy Experimental 16-Shi Reconnaissance Seaplane and later the short designation E16A1, was completed by May 1942 and was a conventional, low-wing monoplane equipped with two floats and had the unusual (for a seaplane) feature of being equipped with dive brakes, located in the front legs of the float struts, to allow it to operate in a secondary role as a dive bomber.
Variants
E16A1 Main production version. E16A2 Single prototype with a 1,560hp Mitsubishi MK8P Kinsei 62 radial engine.
Operators
Japan
Imperial Japanese Navy Air Service
301st Kokutai
634th Kokutai
Yokosuka Kokutai

Specifications (E16A1)
Data from Japanese Aircraft of the Pacific War
General characteristics
Crew: 2 (pilot and observer)
Length: 10.83 m (35 ft 6 in)
Wingspan: 12.81 m (42 ft)
Height: 4.79 m (15 ft 9 in)
Wing area: 28 m² (300 ft²)
Empty weight: 2,945 kg (6,490 lb)
Loaded weight: 4,553 kg (10,000 lb)
Powerplant: 1x— Mitsubishi Kinsei 54 14-cylinder, air-cooled, twin-row radial engine, 970 kw (1,300 hp)

Performance
Maximum speed: 439 km/h (237 kn, 274 mph)
Range: 2,420 km (1,307 nmi, 1,510 mi)
Service ceiling: 10,000 m (33,000 ft)
Rate of climb: 10 m/s (1,970 ft/min)
Wing loading: 139.3 kg/m² (28.5 lb/ft²)
Power/mass: 0.21 kW/kg (0.29 hp/kg; 0.13 hp/lb)

Armament
2x— fixed, forward-firing 20 mm Type 99 cannons in wings
1x— flexible, rearward-firing 13 mm (.51 in) Type 2 machine gun for observer
250 kg (551 lb) of bombs

Comparable aircraft
Aichi E13A
Arado Ar 196
Vought OS2U Kingfisher

Bibliography
Francillon, Ph.D., René J. Japanese Aircraft of the Pacific War. London: Putnam & Company Ltd., 1979. ISBN 0-370-30251-6.
Green, William. "Aichi E16A1 Zui-un (Paul)" War Planes of the Second World War, Volume Six: Floatplanes. London: Macdonald & Co.(Publishers) Ltd., 1962, pp. 116-118.
Taylor, Michael J.H. Jane's Encyclopedia of Aviation. London: Studio Editions, 1989, p. 43.

Aichi E16A Pictures and Aichi E16A for Sale.
Living Warbirds: The best warbirds DVD series.
Source: WikiPedia