Aichi H9A Video - Picture
Aichi H9A Aircraft Information
Aichi H9A
H9A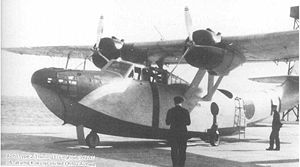 Picture - Aichi H9A1 Navy Type 2 Training Flying Boat
Role: Flying boat trainer
Manufacturer: Aichi
First flight: September 1940
Introduced: 1942
Retired: 1945
Primary user: IJN Air Service
Number built: 31

The Aichi H9A (二式練習飛行艇, Navy Type 2 Training Flying Boat) was an Imperial Japanese Navy Air Service flying boat used during the first years of World War II for crew training. An uncommon type, it was not encountered by Allied forces until spring 1945, and was never assigned an Allied reporting name.
Design and development
The H9A was a twin-engined, parasol-wing flying boat, designated by Aichi as their AM-212 design, and was designed in response to an Imperial Japanese Navy requirement for an advanced seaplane trainer for future crew members of the four-engined Kawanishi H8K "Emily" flying boat. Design work started in January 1940 and the first of three prototypes was flown in September 1940. The aircraft had a normal crew of five (pilot, co-pilot, observer, flight engineer and a radio-operator) but seating was provided for an additional three pupil crew members.
Operational history
From May-June 1942, the Aichi H9A was employed in a variety of second-line roles, including anti-submarine missions along the Japanese coasts, transport, paratroop training and liaison.
Variants
H9A Prototypes 3 aircraft built by Aichi. H9A1 Serial version, 24 aircraft built by Aichi and an additional 4 by Nippon Hikoki.
Operators
Japan
Imperial Japanese Navy Air Service

Specifications (H9A1)
Data from Japanese Aircraft of the Pacific War; Warplanes of the Second World War, Volume Five: Flying Boats
General characteristics
Crew: Normal crew of 5 (and up to 3 pupils)
Length: 16.95 m (55 ft 7.3 in)
Wingspan: 24 m (78 ft 9 in)
Height: 5.25 m (17 ft 2¾ in)
Wing area: 63.3 m² (681.353 ft²)
Empty weight: 4,900 kg (10,803 lb)
Loaded weight: 7,000 kg (15,432 lb)
Useful load: 2,100 kg (4,629 lb)
Max takeoff weight: 7,500 kg (16,535 lb)
Powerplant: 2x— Nakajima Ha-1 Kotobuki 42 nine-cylinder air-cooled radial engines, 529 kW (710 hp) each

Performance
Maximum speed: 317 km/h (197 mph; 171 kt) at 3,000 m (9,845 ft)
Cruise speed: 222 km/h (138 mph; 120 kt) at 1,000m (3,280 ft)
Range: 2,150 km (1,340 mi; 1,160 nmi)
Service ceiling: 6,780 m (22,245 ft)
Rate of climb: 4.5 m/s (876 ft/min)
Wing loading: 110.6 kg/m² (22.6 lb/ft²)
Power/mass: 0.15 kW/kg (0.20 hp/kg; 0.09 hp/lb)

Armament
Guns: 1x— flexible, 7.7 mm (.303 in) Type 92 machine gun in bow and dorsal hatches
Bombs: 2x— 250 kg (551 lb) bombs or depth-charges

Bibliography
Francillon, Ph.D., René J. Japanese Aircraft of the Pacific War. London: Putnam & Company Ltd., 1979. ISBN 0-370-30251-6.
Green, William. Warplanes of the Second World War, Volume Five: Flying Boats. London: Macdonald & Co. (Publishers) Ltd., 1962 (5th impression 1972). ISBN 0-356-01449-5.

Aichi H9A Pictures and Aichi H9A for Sale.
Living Warbirds: The best warbirds DVD series.
Source: WikiPedia