Albatros C.III Video - Experimental Aircraft of World War I - Pictures
Albatros C.III Video - RC Model
Albatros C.III Aircraft Information
Albatros C.III
Albatros C.III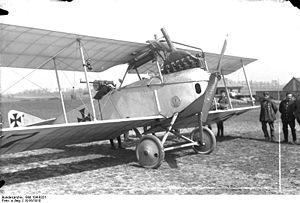 Role: General purpose
Manufacturer: Albatros Flugzeugwerke
Primary users: Luftstreitkrx¤fte Polish Air Force Finnish Air Force Bulgarian Air Force Lithuanian Air Force

The Albatros C.III was a German two-seat general-purpose biplane of World War I, built by Albatros Flugzeugwerke. The C.III was a refined version of the successful Albatros C.I and was eventually produced in greater numbers than any other C-type Albatros. It was used in a wide variety of roles including observation, photo-reconnaissance, light-bombing and bomber escort. 18 C.IIIs were delivered in August 1916 to Bulgaria. They were destroyed in 1920 in accordance with the clauses of the Peace Treaty.[1]
Like its predecessor, the C.III was a popular aircraft with rugged construction and viceless handling. The most prominent difference between the two was the revised tail, the C.III having a lower, rounded tail compared to the large, triangular tail of the C.I, granting the C.III greater agility. The powerplant was either a 110 kW (150 hp) Benz Bz. III or a 120 kW (160 hp) Mercedes D.III inline engine and, like numerous other two-seaters of the war (such as the British Royal Aircraft Factory R.E.8) the cylinder head and exhaust manifold protruded above the front fuselage, limiting the pilot's forward visibility.
The observer, who occupied the rear cockpit, was armed with 7.92 mm (.312 in) Parabellum MG14 machine gun. Some C.III aircraft were fitted with interrupter gear and a single forward-firing 7.92 mm (.312 in) LMG 08/15 machine gun. The C.III could also carry a bombload of up to 90 kg (200 lb) in a small internal bomb bay.
Between 1926 and 1927, two Mercedes D.III engined copies were built from saved parts and components of the destroyed aircraft [1] by the Bulgarian state aircraft workshops as the DAR 2 for use as trainers.
Operators
Bulgaria
Bulgarian Air Force

Finland
Finnish Air Force

German Empire Lithuania
Lithuanian Air Force

Poland
Polish Air Force

Specifications (C.III)
Data from
General characteristics
Crew: two
Length: 8.0 m (26 ft 3 in)
Wingspan: 11.69 m (38 ft 4 in)
Height: 3.10 m (10 ft 2 in)
Wing area: 36.91 m² (397 ft²)
Empty weight: 851 kg (1,876 lb)
Max takeoff weight: 1,353 kg (2,983 lb)
Powerplant: 1x— Benz Bz.III, 112 kW (150 hp) or Mercedes D.III liquid-cooled inline engine, 120 kW (160 hp)

Performance
Maximum speed: 140 km/h (76 kn, 87 mph)
Service ceiling: 3,350 m (11,000 ft)
Endurance: 4 hours

Armament
Guns: 1 x— 7.92 mm (.312 in) Parabellum MG14 machine gun in observer's cockpit and 1 x— 7.92 mm MG 08 in the nose
Bombs: up to 200 lbs of bombs

Related development
Albatros C.I
Albatros C.V

Comparable aircraft
Royal Aircraft Factory R.E.8
Aviatik C.I
Rumpler C.I

[1] Y. MIlanov: The aviation in Bulgaria in the wars from 1912 to 1945, Vol.I. Sveti Gueorgui Pobedonosetz, Sofia, 1995 (in Bulgarian)
Bernx¡d, Dénes. "Balkan Birds: Thirty Five Years of Bulgarian Aircraft Production". Air Enthusiast (Stamford, Lincs, UK: Key Publishing) (94, July/August 2001): 18-30. ISSN 0143-5450.

Albatros C.III Pictures and Albatros C.III for Sale.
Living Warbirds: The best warbirds DVD series.
Source: WikiPedia