Albatros C.VII Video - Picture
Albatros C.VII Aircraft Information
Albatros C.VII
Albatros C.VII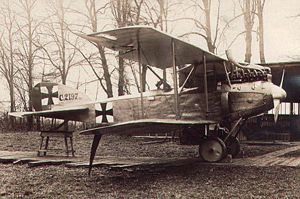 Role: Reconnaissance aircraft
Manufacturer: Albatros Flugzeugwerke
Primary user: Germany
Number built: 600+

The Albatros C.VII was a German military reconnaissance aircraft which saw service during World War I. It was a revised and re-engined development of the C.V that had proved disappointing in service.
The C.VII dispensed with the earlier type's unreliable Mercedes D.IV and also with the fixes that had been made to accommodate that powerplant, returning to the original C.V/16 design. Refinements were also made to the control surfaces, the overall effect being an aircraft of excellent handling qualities, and which soon made up the bulk of German reconnaissance aircraft, with some 350 in service at any one time.
Variants
C.VI N.I Night-bomber variant.
Operators
German Empire
Luftstreitkrx¤fte

Specifications (C.VII)
General characteristics
Crew: two, pilot and observer
Length: 8.70 m (28 ft 6 in)
Wingspan: 12.78 m (41 ft 11 in)
Height: 3.8 m (12 ft 6 in)
Wing area: 43.4 m² (467 ft²)
Empty weight: 989 kg (2,180 lb)
Gross weight: 1,550 kg (3,420 lb)
Powerplant: 1 x— Benz Bz.IV, 150 kW (200 hp)

Performance
Maximum speed: 170 km/h (110 mph)
Endurance: 3 1/3 hours
Service ceiling: 5,000 m (16,500 ft)
Rate of climb: 3.2 m/s (630 ft/min)

Armament
1 x— forward-firing 7.92 mm (.312 in) Spandau LMG 08/15 machine gun
1 x— 7.92 mm (.312 in) Parabellum MG14 machine gun for observer
90 kg (200 lb) of bombs

Taylor, Michael J. H. (1989). Jane's Encyclopedia of Aviation. London: Studio Editions. pp. 52-53.

Grosz, Peter M. (1999). Windsock Datafile 77 Albatros C.VII. Berkhamsted: Albatros Productions Ltd..

Albatros C.VII Pictures and Albatros C.VII for Sale.
Living Warbirds: The best warbirds DVD series.
Source: WikiPedia