Albatros C.X Video - Picture
Albatros C.X Aircraft Information
Albatros C.X
Albatros C.X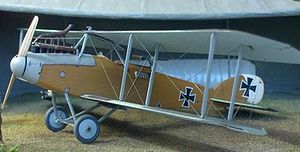 Picture - Scale model of an Albatros C.X
Role: Reconnaissance aircraft
Manufacturer: Albatros Flugzeugwerke
Primary user: Germany
Number built: ;300

The Albatros C.X was a German military reconnaissance aircraft which saw service during World War I.
Design and development
It was essentially an enlarged development of the C.VII designed to take advantage of the new Mercedes D.IVa engine that became available in 1917. Unlike the C.VII that preceded it in service, the C.X utilised the top wing spar-mounted radiator that had first been tried on the C.V/17. Other important modernisation features included the carriage of oxygen for the crew, and radio equipment.
Operators
German Empire
Luftstreitkrx¤fte

Specifications (C.X)
General characteristics
Crew: two, pilot and observer
Length: 9.15 m (30 ft 0 in)
Wingspan: 14.36 m (47 ft 1 in)
Height: 3.4 m (11 ft 2 in)
Wing area: 42.7 m² (459 ft²)
Empty weight: 1,050 kg (2,320 lb)
Gross weight: 1,668 kg (3,677 lb)
Powerplant: 1 x— Mercedes D.IVa, 190 kW (260 hp)

Performance
Maximum speed: 175 km/h (110 mph)
Endurance: 3 hours 25 min
Service ceiling: 5,000 m (16,500 ft)
Rate of climb: 3.3 m/s (660 ft/min)

Armament
1 x— forward-firing 7.92 mm (.312 in) Spandau LMG 08/15 machine gun
1 x— 7.92 mm (.312 in) Parabellum MG14 machine gun for observer

Taylor, Michael J. H. (1989). Jane's Encyclopedia of Aviation. London: Studio Editions. pp. 53.

Grosz, Peter M.. Windsock Datafile 114 Albatros C.X. Berkhamsted: Albatros Productions Ltd..

Albatros C.X Pictures and Albatros C.X for Sale.
Living Warbirds: The best warbirds DVD series.
Source: WikiPedia