Albatros C.XII Video - Picture
Albatros C.XII Aircraft Information
Albatros C.XII
Albatros C.XII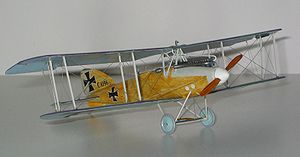 Picture - 1/72 scale model by Paul Thompson
Role: Reconnaissance aircraft
Manufacturer: Albatros Flugzeugwerke
Primary user: Germany

The Albatros C.XII was a German military reconnaissance aircraft which saw service during World War I. It differed markedly from previous Albatros C-type aircraft by adopting an elliptical-section fuselage similar to that of the Albatros D.V. The C.XII also featured a tailplane of reduced area, but it retained the wings of the earlier Albatros C.X.
Despite the aerodynamic advantages, no significant increase in performance was achieved over the C.X. Examples remained in service until the end of the War.
Operators
German Empire
Luftstreitkrx¤fte

Specifications (C.XII)
General characteristics
Crew: two, pilot and observer
Length: 8.84 m (29 ft 0 in)
Wingspan: 14.12 m (46 ft 4 in)
Height: 3.25 m (10 ft 8 in)
Wing area: 42.7 m² (459 ft²)
Empty weight: 580 kg (1,280 lb)
Gross weight: 1,061 kg (2,340 lb)
Powerplant: 1 x— Mercedes D.IVa, 190 kW (260 hp)

Performance
Maximum speed: 178 km/h (110 mph)
Endurance: 4 hours 20 min
Service ceiling: 5,640 m (18,500 ft)
Rate of climb: 4.2 m/s (820 ft/min)

Armament
1 x— forward-firing 7.92 mm (.312 in) Spandau LMG 08/15 machine gun
1 x— 7.92 mm (.312 in) Parabellum MG14 machine gun for observer

Taylor, Michael J. H. (1989). Jane's Encyclopedia of Aviation. London: Studio Editions. pp. 53.
Grosz, Peter M. (2007). Windsock Datafile 126 Albatros C.XII Vol.1. Berkhamsted: Albatros Productions Ltd..
Grosz, Peter M. (2008). Windsock Datafile 129 Albatros C.XII Vol.2. Berkhamsted: Albatros Productions Ltd..

Albatros C.XII Pictures and Albatros C.XII for Sale.
Living Warbirds: The best warbirds DVD series.
Source: WikiPedia