Albatros C.XV Video - Picture
Albatros C.XV Aircraft Information
Albatros C.XV
C.XV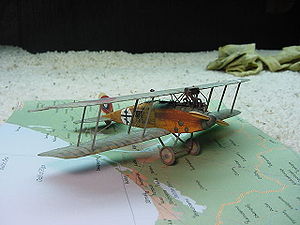 Picture - 1/72 scale model of an Albatros C.XV of the Russian Civil War by Buz Pezold
Role: Reconnaissance aircraft
Manufacturer: Albatros Flugzeugwerke
Primary user: Germany

The Albatros C.XV was a German military reconnaissance aircraft developed during World War I. It was essentially a refinement of the C.XII put into production in 1918. The war ended before any examples became operational, however some found their way into civilian hands and flew as transport aircraft in peacetime under the factory designation L 47. Others saw service with the air forces of Russia, Turkey, and Latvia.
Operators
German Empire
Luftstreitkrx¤fte

Latvia
Latvian Air Force

Soviet Union
Soviet Air Force

Turkey
Turkish Air Force

Specifications (C.XV)
General characteristics
Crew: two, pilot and observer
Length: 8.85 m (29 ft 0 in)
Wingspan: 14.37 m (47 ft 2 in)
Height: 3.25 m (10 ft 8 in)
Wing area: 42.7 m² (459 ft²)
Empty weight: 1,021 kg (2,250 lb)
Gross weight: 1,639 kg (3,613 lb)
Powerplant: 1 x— Mercedes D.IVa, 190 kW (260 hp)

Performance
Maximum speed: 175 km/h (110 mph)
Service ceiling: 5,000 m (16,400 ft)

Armament
1 x— forward-firing 7.92 mm (.312 in) Spandau LMG 08/15 machine gun
1 x— 7.92 mm (.312 in) Parabellum MG14 machine gun for observer

Taylor, Michael J. H. (1989). Jane's Encyclopedia of Aviation. London: Studio Editions. pp. 53.
luftfahrt-archiv.de

Albatros C.XV Pictures and Albatros C.XV for Sale.
Living Warbirds: The best warbirds DVD series.
Source: WikiPedia