Albatros J.I Video - Picture
Albatros J.I Aircraft Information
Albatros J.I
Albatros J.I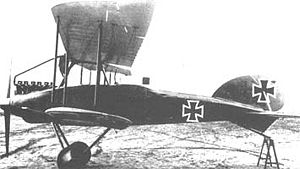 Role: Ground-attack aircraft
Manufacturer: Albatros Flugzeugwerke
First flight: 1917
Introduced: 1917
Retired: 1921
Primary users: Luftstreitkrx¤fte Polish Air Force
Number built: ~240

The Albatros J.I was a German ground-attack aircraft of World War I.
Design and development
The J.I utilized the wings and tail of the C.XII reconnaissance aircraft while adding a new slab-sided fuselage. The crew compartment was protected by 490 kg (1,080 lb) of steel armor plate, while the engine was left unprotected. Power was provided by the 150 kW (200 hp) Benz Bz.IV, which gave marginal performance when combined with the heavy J.I airframe. The fixed 7.92 mm (.312 in) machine guns fired downward to facilitate strafing ground targets.
Operationally a success, the main drawback of the type was that the armor was found to be inadequate for its role.
Operators
German Empire
Luftstreitkrx¤fte

Poland
Polish Air Force operated 10 aircraft postwar until 1921

Specifications (J.I)
General characteristics
Crew: two, pilot and observer
Length: 8.80 m (28 ft 10 in)
Wingspan: 14.14 m (46 ft 5 in)
Height: 3.37 m (11 ft 1 in)
Wing area: 43.0 m² (463 ft²)
Empty weight: 1,398 kg (3,082 lb)
Gross weight: 1,808 kg (3,986 lb)
Powerplant: 1 x— Benz Bz.IV, 150 kW (200 hp)

Performance
Maximum speed: 140 km/h (90 mph)
Range: 350 km (220 miles)
Service ceiling: 4,500 m (14,800 ft)
Rate of climb: 2 m/s (400 ft/min)

Armament
2 x— 7.92 mm (.312 in) Spandau LMG 08/15 machine guns, fixed downward
1 x— 7.92 mm (.312 in) Parabellum MG14 machine gun for observer

Related development Albatros C.XII - Albatros J.II Comparable aircraft AEG J.I - AEG J.II - Junkers J.I
Gray, Peter and Owen Thetford. German Aircraft of the First World War. London: Putnam, 1962. ISBN 0-93385-271-1.

Albatros J.I Pictures and Albatros J.I for Sale.
Living Warbirds: The best warbirds DVD series.
Source: WikiPedia