Albatros W.4 Video - Picture
Albatros W.4 Aircraft Information
Albatros W.4
W.4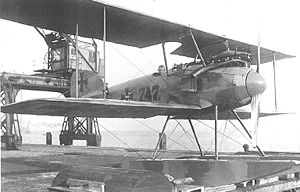 Picture - First prototype of Albatros W.IV, No.747
Role: Fighter
Manufacturer: Albatros Flugzeugwerke
First flight: 1916
Number built: 118

The Albatros W.4 was a German floatplane derivative of the D.I fighter with new wing and tail surfaces of greater span. 118 examples (including three prototypes) were built between June 1916 and December 1917, operating in the North Sea and Baltic theatres and later as trainers.
Powered by the same 120 kW (160 hp) Mercedes D.III engine fitted to the D.II and based around the same fuselage, the W.IV was armed with either one (first series) or two 7.92 mm (.312 in) machine guns lMG08.
Operators
German Empire
118 aircraft
Austria-Hungary
8 aircraft delivered in July 1918

Specifications (W.4)
General characteristics
Crew: one pilot
Length: 8.50 m (27 ft 11 in)
Wingspan: 9.50 m (31 ft 2 in)
Height: 3.7 m (12 ft 2 in)
Wing area: 31.6 m² (340 ft²)
Empty weight: 790 kg (1,740 lb)
Gross weight: 1,070 kg (2,360 lb)
Powerplant: 1 x— Mercedes D.III, 120 kW (160 hp)

Performance
Maximum speed: 160 km/h (100 mph)
Range: 450 km (280 miles)
Service ceiling: 3,000 m (9,840 ft)
Rate of climb: 3.3 m/s (650 ft/min)

Armament
2 x— forward-firing 7.92 mm (.312 in) lMG 08 machine guns

Green, W. & Swanborough, G. (1994). The Complete Book of Fighters. London: Salamander Books. ISBN 1-85833-777-1
Taylor, Michael J. H. (1989). Jane's Encyclopedia of Aviation. London: Studio Editions. p. 56.
luftfahrt-archiv.de
Grosz, Peter M. (1995). Albatros W4. Windsock Mini Datafile No. 1. Berkhamsted: Albatros Productions. ISBN 0-948414-64-2.

Albatros W.4 Pictures and Albatros W.4 for Sale.
Living Warbirds: The best warbirds DVD series.
Source: WikiPedia