Alenia Aermacchi M-311 Video - Takeoff
Alenia Aermacchi M-311 Aircraft Information
Alenia Aermacchi M-311
M-311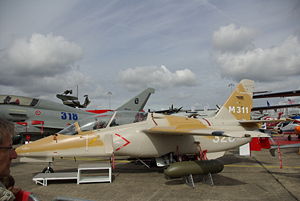 Picture - The M-311 at the Paris Air Show in 2007
Role: Light attack aircraft and advanced trainer
National origin: Italy
Manufacturer: Alenia Aermacchi
First flight: 1 June 2005
Status: Under development
Number built: 2
Developed from: Aermacchi S-211

The Alenia Aermacchi M-311 is a turbofan-powered military trainer aircraft. It is a development of the Aermacchi S-211.
Design and development
The M-311 is a small tandem two-seat shoulder-wing monoplane with a retractable tricycle landing gear, powered by a single Pratt & Whitney Canada JT15D-5C turbofan. It is based on the earlier S-211, with the addition of both structural and equipment improvements. The airframe has been strengthened, and a glass cockpit and modern avionics have been added. As a basic trainer, the aircraft is designed to complement the Aermacchi M-346 advanced trainer. The aircraft was designed with a secondary close air support capability with five underwing hardpoints.
The prototype aircraft first flew in June 2005.
In April 2008, Alenia and ENAER of Chile signed an agreement to jointly manufacture and sell the M-346 and M-311 in South America.
On 28 May 2008, Boeing and Alenia signed a joint agreement to cooperate on marketing, sales, training and product support for both the M-346 and M-311.
Variants
M-311 Modernized and uprated version announced by Aermacchi in 2004 (two protoypes built).
Specifications (M-311)
Data from Alenia Aermacchi official site
General characteristics
Crew: Two (student and instructor)
Length: 9.85 m (32 ft 32 in)
Wingspan: 8.47 m (27 ft 78 in)
Height: 3.74 m (12 ft 27 in)
Wing area: 12.6 m² (135.6 ft²)
Empty weight: 2,300 kg (5,070 lb)
Loaded weight: 3,200 kg (7,055 lb)
Useful load: 1,000 kg (2,205 lb)
Max takeoff weight: 4,100 kg (9,040 lb)
Powerplant: 1x— Pratt & Whitney JT15D-5C turbofan engine, 14.19 KN (3,190 lbf)

Performance
Never exceed speed: 795 km/h (430 knots, 495 mph)
Maximum speed: 740 km/h (400 knots, 460 mph)
Stall speed: 156 km/h (84 knots, 97 mph)
Range: 1,778 km (960 nm, 1,105 miles)
Service ceiling: 12,190 m (40,000 ft)
Rate of climb: 1,438 m/min (4,720 ft/min)
Thrust/weight: 0.452:1
Acceleration limits: +7.33g (+71.9 m/s²)/−3.5g (−34 m/s²)

Armament
Up to 1000 kg (2,205 lb) of weapons on five hardpoints, including gunpods, bombs, and rockets.

Related development
Aermacchi S-211

Alenia Aermacchi M-311 Pictures and Alenia Aermacchi M-311 for Sale.
Living Warbirds: The best warbirds DVD series.
Source: WikiPedia