Alenia Aermacchi M-346 Master Videos
Alenia Aermacchi M-346 Master Video - First flight
Alenia Aermacchi M-346 Master Aircraft Information
Alenia Aermacchi M-346 Master
M-346 Master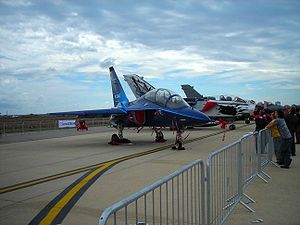 Picture - M-346 at "Giornata Azzurra" 2006 at Pratica di Mare AFB, Italy
Role: Advanced trainer / light attack
Manufacturer: Alenia Aermacchi
First flight: 15 July 2004
Status: Under development
Primary user: Italian Air Force Republic of Singapore Air Force
Unit cost: €20 million
Developed from: Yakovlev Yak-130

It may need copy editing for grammar, style, cohesion, tone or spelling. Tagged since July 2010.
It may require general cleanup to meet Wikipedia's quality standards. Tagged since July 2010.
Its lead section requires expansion. Tagged since July 2010.

The Alenia Aermacchi M-346 Master is a military transonic trainer aircraft. It is based on work done by Yakovlev and Aermacchi while working on the Yak-130 as a joint venture.
Development
In 1993, Aermacchi signed an agreement to partner with Yakovlev on the new trainer the firm had been developing since 1991 for the Russian Air Force. The resulting aircraft first flew in 1996 and was brought to Italy the following year to substitute the aging MB-339. At the time, the aircraft was marketed as the Yak/AEM-130, however, by 2000, differences in priorities between the two firms brought about an end to the partnership, with each developing the aircraft independently, with Aermacchi retaining worldwide marketing rights except for Russia and the other CIS nations. A Russian version is also being pursued by Yakovlev and Sokol, under a different time schedule.
The M-346 is a highly modified version of the aircraft the joint venture was producing, and uses equipment exclusively from Western manufacturers. The first prototype rolled out on 7 June 2003 and flew for the first time on 15 July 2004.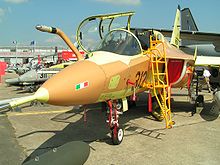 Picture - Prototype 002 at Le Bourget airshow, 2005
In January 2005, the Greek Ministry of Defence signed a Memorandum of Understanding (MOU) to become a partner in the programme and, in 2006, Aermacchi signed an industrial cooperation agreement with Hellenic Aerospace Industry.
In July 2007, the M-346 flew to the United Arab Emirates for hot weather tests and operational evaluation by the UAE Air Force.
In March 2008 the Chilean ENAER signed a Memorandum of Understanding (MOU) with Alenia Aermacchi at the FIDAE air show.
On 10 April 2008 one further prototype in the final configuration (new landing gear and air brake, more composite parts) was rolled out: first flight of this "Industrial Baseline Configuration" was expected in June. On 18 December 2008, the M-346 reached a maximum speed of Mach 1.15 (1,255 km/h, 678 knots, 780 mph).
In May 2008 Boeing signed a Memorandum of Understanding to cooperate on the marketing, sales, training and support of two Aermacchi trainers, the M-346 and the M-311.
The development of a full-mission simulator for the M-346 has been awarded to CAE and is under development.
The Italian air force intend to acquire a first batch of 15 low rate production M-346 aircraft. On 18 June 2009, Alenia Aermacchi announced they had received an order for the first six with an option for nine more.
The M-346 was named the winner of a competition by the United Arab Emirates at the IDEX 2009 defense show in Abu Dhabi on 25 February 2009. The official said the order involved delivery of 48 aircraft to be used for pilot training and light attack duties. A final request for proposals last year had set the requirement at 20 trainers, 20 aircraft for combat duties, and the remainder would go toward the creation of a formation flying team. However on 27 January 2010, negotiations to sign a contract have reportedly stalled over specifications.
In July 2010, the M-346 was selected by Republic of Singapore Air Force (RSAF) to replace the ST Aerospace A-4SU Super Skyhawks in the Advanced Jet Training (AJT) role, currently based at BA 120 Cazaux Air Base in France. And in a press release by the Singaporean Ministry of Defence on 28 September 2008, ST Aerospace had been awarded the contract to acquire twelve M-346 and a ground based training system on behalf of RSAF. As stipulated in the contract, ST Aerospace will act as the main contractor to maintain the aircraft after delivery by Alenia Aermacchi while Boeing would supply the training system. Delivery date is scheduled from 2012 onwards.
Design
Picture - A M-346 in flight
The M-346 is designed for training combat pilots for front line fighter aircraft. It is capable of transonic flight without using an afterburner, which is designed to reduce acquisition and operating costs. Two engines and triple-quadruple redundant systems enhance reliability.
The aerodynamic design of the M-346 uses vortex lift to provide manoeuvrability and controllability at very high angle of attack (up to 40° degrees) using a fly-by-wire control system.
The aircraft is powered by two Honeywell F124 engines, and uses a digital flight control system by Teleavio/Marconi in collaboration with BAE Systems, Dowty and Microtecnica for actuators.
The new IBC (Industrial Baseline Configuration) prototype includes a new air brake just behind the cockpit, similar to the Sukhoi Su-30, new landing gear and some structural changes, with the use of more titanium and composite parts in order to reduce weight and production costs. As a result, the prototype weighs 780kg less than the existing model, providing faster acceleration and climbing, increased maneuverability and max speed, as well as improved fuel capacity (200 kg) and cockpit visibility.
Operators
Italy
Italian Air Force (Aeronautica Militare) - 15 aircraft on order

Singapore
Republic of Singapore Air Force (RSAF) - 12 aircraft on order

Specifications (M-346)
Data from Alenia Aermacchi web page
General characteristics
Crew: two, student and instructor
Length: 11.49 m (37 ft 7 in)
Wingspan: 9.72 m (31 ft 9 in)
Height: 4.76 m (15 ft 6 in)
Wing area: 23.52 m² (253.2 ft²)
Empty weight: 4,610 kg (10,165 lb)
Loaded weight: 6,700 kg (14,770 lb)
Max takeoff weight: 9,500 kg (20,945 lb)
Powerplant: 2x— Honeywell F124-GA-200 , 27.8 kN (6,250 lbf) each

Performance
Never exceed speed: Mach 1.2 (1,460 km/h, 915 mph)
Maximum speed: 1,255 km/h (779 mph)
Stall speed: 166 km/h (104 mph)
Range: 1,890 km (1,181 miles)
Service ceiling: 13,715 m (45,000 ft)
Rate of climb: 6,401 m/min (21,000 ft/min)
Wing loading: 285 kg/m² (58.3 lb/ft²)
Thrust/weight: 0.84

Armament
Nine hardpoints for a variety of guns, bombs, rockets and missiles

Related development
Yakovlev Yak-130

Comparable aircraft
EADS Mako/HEAT
Hongdu L-15
HAL HJT-36
KAI T-50 Golden Eagle

Alenia Aermacchi M-346 Master Pictures and Alenia Aermacchi M-346 Master for Sale.
Living Warbirds: The best warbirds DVD series.
Source: WikiPedia