Aeritalia G.222 Video - Picture
Aeritalia G.222 Aircraft Information
Aeritalia G.222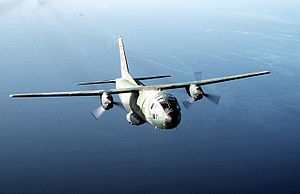 Picture - A USAF C-27A Spartan out of Howard AFB, Panama
Role: Military transport aircraft
Manufacturer: Fiat / Aeritalia / Alenia
First flight: 18 July 1970
Introduced: April 1978
Primary users: Italian Air Force Afghan National Army Air Corps Libyan Air Force United States Air Force
Variants: C-27J Spartan

The Aeritalia G.222 (formerly Fiat Aviazione, now Alenia) is a medium-sized STOL military transport aircraft. It was developed to meet a NATO specification, but Italy was initially the only NATO member to adopt the type. The United States purchased a small number of G.222s, designating them the C-27A Spartan. The C-27J Spartan is a more modern development with the engines and systems of the C-130J Super Hercules.
Development
In 1962, NATO issued a specification for a V/STOL transport aircraft (NATO Basic Military Requirement 4), capable of supporting dispersed V/STOL fighters, with Fiat's design team, led by Giuseppe Gabrelli, producing a design to meet this requirement, designated G.222, powered by two Rolls-Royce Dart turboprop engines and with six to eight Rolls-Royce RB162 lift engines to give VTOL capability. Although none of the submissions resulted in a production contract, the Italian Air Force, felt that the Fiat Aviazione proposal was worthy of development and ordered two prototypes plus a ground-test airframe in 1968. These aircraft were slightly simplified from the original proposal, omitting the lift engines and substituting a pair of General Electric T64s for the Darts. The first prototype flew on 18 July 1970, and the Air Force began evaluating the two prototypes at the end of December 1971. Testing proved successful, and a contract for 44 aircraft was issued to Aeritalia (of which Fiat Aviazione had since become a part), the first aircraft entering service in April 1978.
In 1977, Libya tried to buy 20 G.222s, but the U.S. Government, who had imposed an embargo on the supply of military equipment to Libya, vetoed the sale of T-64 engines. To get around this restriction, Aeritalia developed a version of the G.222 powered by the Rolls-Royce Tyne engine, and with other US supplied equipment replaced by European equivalents to avoid boycotts, the more powerful Tyne engine giving better "hot and high" performance. An order of 20 Tyne powered aircraft for Libya followed.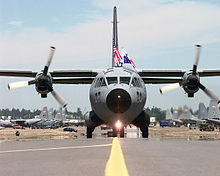 Picture - A C-27A from Howard AFB, Panama, taxies in after landing at McChord AFB, Washington.
In 1990, the United States Air Force selected the G.222 as the basis of a "Rapid-Response Intra-Theater Airlifter" (RRITA). Designated as the C-27A Spartan, ten G.222s were purchased and underwent avionics upgrades by Chrysler Aerospace. These aircraft were stationed at Howard AFB, Panama, but were withdrawn from service in 1999.
Design
The G.222 is of typical configuration for aircraft of its type, with high-mounted wings, twin turboprop engines, and a rear loading ramp. The cargo deck is sized to accommodate standard 463L pallets, has a door in the floor for airdropping, a built-in oxygen delivery system for medevac operations, and platforms at the side doors for paratroop deployment.
The G.222 is one of the few cargo planes capable of flying loops and other maneuvers such as flying at about 80-90 kts (with the cargo door in the back open) and short track landing (takes only about 300 m to stop the plane after touching the ground when empty).
Operational history
The G.222 was used in combat operations for the first time by the Ejército Argentino (Argentine Army) in the 1982 Falklands War. The aircraft has been widely engaged in all peace keeping/enforcing missions carried out by Italian armed forces between 1980 and 2005.
On 3 September 1992 one Italian Air Force (Aeronautica Militare Italiana) G.222 operating for a United Nations relief mission, was shot down when approaching Sarajevo airfield. The crash site was located 18 miles (29 km) away from the airfield; the NATO rescue mission aborted when the 2 USMC CH-53 helicopters were fired upon with small arms. The cause of the crash was determined to be a surface to air missile, but it was not clear who shot it. Everyone on board - the four Italian crew members and four French passengers - died in the crash.
Variants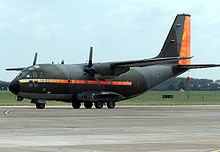 Picture - Italian Air Force Alenia G.222RM radio and radar calibration aircraft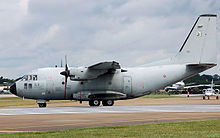 Picture - Italian Air Force G.222A at RIAT 2009
G.222TCM Initial designation, two prototypes for the Italian Air Force
G.222A Standard transport version for the Italian Air Force
G.222RM (Radiomisura - "radio measurements")- radio/radar calibration aircraft
G.222SAA (Sistema Aeronautico Antincendio - "aeronautical fire-fighting system") - fire-fighter equipped for dumping water or fire retardant chemicals. Four built for Italian Air Force
G.222T Version powered by the Rolls-Royce Tyne for the Libyan Air Force. Sometimes designated G.222L
G.222VS (Versione Speciale - "special version") ECM version - two built for Italian Air Force. Sometimes designated G.222GE.
C-27A Spartan Ten G.222s purchased for the United States Air Force.
C-27J Spartan
Operators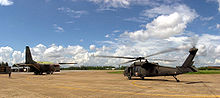 Picture - A Royal Thai Air Force G.222 during an emergency evacuation exercise at COBRA GOLD '01, with a US Army UH-60Q Black Hawk MEDEVAC helicopter
Afghanistan
Afghan National Army Air Force - 20 former Italian Air Force aircraft to be upgraded by Alenia and provided to the Afghan Air Force by the US. Deliveries began in 2009. Six C-27As in service as of September 2010.

Argentina
Argentine Army Aviation. 3 aircraft.

United Arab Emirates
Dubai - 1 aircraft.

Italy
Italian Air Force - Operated a total of 52 aircraft: 42 G.222A/TCM, 4 G.222RM, 5 G.222SAA, and 1 G.222VS. Officially retired from Air Force inventory, but at least 1 RM and 1 VS aircraft still operational.

Libya
Libyan Air Force - 20 aircraft.

Nigeria
Nigerian Air Force - 5 aircraft delivered during 1984-85. Alenia Aeronautica is currently updating this aircraft. 1 ex-Italian Air Force aircraft ordered in 2008.

Somalia
Somali Air Corps - 2 aircraft delivered, 4 ordered.

Thailand
Royal Thai Air Force - 6 aircraft.

Tunisia
Air Force - 5 aircraft.

Venezuela
Air Force - 2 aircraft.

United States
United States Air Force - Operated 10 C-27A (1990-99)
US Department of State - 4 C-27A (ex-USAF) based out of Patrick AFB, Florida, in support of counter-narcotics activities in South America, primarily Colombia transporting personnel and supplies.
United States Army - Operated 10 G.222VS (1995-2002)

Specifications (G.222)
Data from Jane's All The World's Aircraft 1988-89
General characteristics
Crew: Four - commander, co-pilot, radio-operator/flight engineer on flightdeck, loadmaster
Capacity: 9,000 kg (19,840 lb) of cargo, 53 troops or 36 litters
Length: 22.70 m (74 ft 5½ in)
Wingspan: 28.70 m (94 ft 2 in)
Height: 9.80 m (32 ft 1¾ in)
Wing area: 82.0 m² (893 ft²)
Empty weight: 14,590 kg (32,165 lb)
Max takeoff weight: 28,000 kg (61,730 lb)
Powerplant: 2x— General Electric T64-GE-P4D turboprop, 2,535 kW (3,400 shp) each

Performance
Maximum speed: 540 km/h (336 mph, 291 knots) at 4,575 m (15,000 ft)
Cruise speed: 439 km/h (273 mph, 237 knots) at 6,000 m (19,700 ft)
Range: 1,371 km (852 mi, 740 nmi) at max payload
Ferry range: 4,633 km (2,879 miles, 2,500 nmi)
Service ceiling: 7,620 m (25,000 ft)
Rate of climb: 8.7 m/s (1,705 ft/min)

Related development
C-27J Spartan
Alenia AC-27J

Comparable aircraft
Transall C-160
Antonov An-72

Bibliography
"Two Twenty Two - Aeritalia's Airlifter". Air International. April 1977, Vol 12 No. 4. pp. 163-170, 202.
"An Italian Mini-Hercules:The Versatile Two-Twenty-Two". Air International, April 1979, Vol 16 No. 4. pp. 170-173, 197-98.
Donald, David; Jon Lake (2000). The Encyclopedia of World Military Aircraft. NY, NY: Barnes & Noble. p. 426. ISBN 0-7607-2208-0.
Donald, David and Lake, Jon. Encyclopedia of World Aircraft. Single Volume Edition. London:Aerospace Publishing, 1996. ISBN 1-874023-95-6.
Eden, Paul, ed. "Alenia G222 and C-27, Mini-Hercules". Encyclopedia of Modern Military Aircraft. Amber Books, 2004. ISBN 1-904687-84-9.
Frawley, Gerard (2002). The International Directory of Military Aircraft, 2002-2003. Fyshwick, ACT, Australia: Aerospace Publications Pty Ltd. p. 44. ISBN 1-875671-55-2.
Taylor, John W.R. Jane's All The World's Aircraft 1988-89. Coulsdon, UK: Jane's Defence Data, 1988. ISBN 0-7106-0867-5.

Aeritalia G.222 Pictures
More airplane videos.
Source: WikiPedia