Alfred V. Verville - Picture
Alfred V. Verville Information
Alfred V. Verville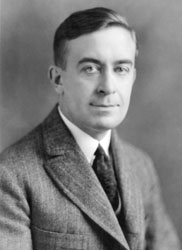 Born: 16 November 1890(1890-11-16) Atlantic Mine, Michigan
Died: 1970 (aged 79-80) La Jolla, California
Other names: Fred
Occupation: aviation design and development
Known for: innovative contributions to civil and military aviation design

Alfred Victor Verville (born November 16, 1890 in Atlantic Mine, Michigan, died 1970) was an aviation pioneer and designer who contributed to civilian and military aviation. During his 47 years in the aviation industry, he led the design and development of nearly a dozen commercial and military airplanes. He is known for his design of flying boats, a cantilever monoplane with retractable landing gear: the Verville-Sperry R-3, military racing airplanes, and a series of commercial cabin airplanes. His wife was Bertha M. Kamrath, married 1917, with whom he had two daughters, Betty and Janet and a son Bud. Verville worked for General William "Billy" Mitchell while working at the United States Army Air Service.
Early career
Early in life, Verville took a correspondence course in Electrical Engineering. His aviation career began in 1914, at the age of 24 after leaving the Hudson Motor Company. With Glenn Curtiss he helped design the Curtiss Jenny and Curtiss twin engine seaplane. Verville also worked for Curtiss Aeroplane and Motor Company, Thomas-Morse Airplane Company, General Aeroplane Company (1915-1917), and Fisher Body Corporation (as executive engineer, 1917-1918) before joining the Engineering Division of the U.S. Army Air Service as a civilian in 1918. In 1925, he left government service to co-found the Buhl-Verville Aircraft Company. In 1928, he left Buhl-Verville to establish Verville Aircraft Company, which failed in 1931 in part due to the difficult economic environment of the times.
Consulting and retirement
For the next two decades, he served as a consultant at the Bureau of Air Commerce (1932, 1939-41) and Department of Commerce (1933-36), at Douglas Aircraft (1937-38), at Curtiss-Wright (1941-42), at Snead Aircraft (1942), and at Drexel Aviation Co (1942-45). In 1945 he served as a member of the Naval Technical Mission to Europe and later joined the US Navy's Bureau of Aeronautics (1946-61). His retirement was in 1961, but he continued to support the field of aviation until his death in 1970.
Honors
Verville was selected as a fellow of the Smithsonian's National Air Museum in 1962. He was honored with ten Certificates or Letters of Commendations from the U.S. Armed Forces. He was an Honorary Fellow of the Society of Experimental Test Pilots, and was named an Elder Statesman of Aviation in 1956. He held eight aeronautical patents. A fellowship was established in his name at the Smithsonian National Air and Space Museum, which is a competitive nine- to twelve-month in-residence fellowship for researching the history of aviation. Verville has over 20 boxes of material at the Smithsonian Air and Space Museum - Garber Facility from his estate.
In Verville's honor, a 33 cent United States Postal Service airmail stamp was issued on February 13, 1985 bearing his name, picture, the text "Aviation Pioneer", and an image of his Verville-Packard R-1 low-wing monoplane.
Planes designed by Verville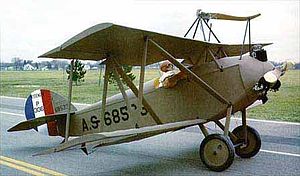 Picture - Verville Sperry M-1 Messenger
Most famous
Verville Sperry M-1 Messenger - this plane is on display in the National Air and Space Museum Steven F. Udvar-Hazy Center
Verville Sport Trainer - this plane is in storage in the Smithsonian Institution system, its engine was a Packard DR-980

General Aeroplane Company
Verville Flying Boat (1916)
2 passenger, open cockpit, biplane flying boat
100 hp Curtiss OX-5 or Maximotor pusher
Mahogany hull and wing floats constructed by Mayea Boat Co (Detroit)

Gamma S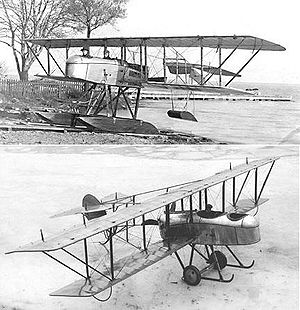 Picture - Verville's 2nd and 3rd Plane in 1915 while at General Aeroplane Company
Top: Gamma S, Two-blade prop and twin floats
Bottom: Gamma L, Wheeled with four-blade prop
a two seater, open cockpit, floatplane, bi-plane with a 80 hp Le Rhx´ne pusher engine

Gamma L
similar to Gamma S, but with wheels
Twin floats were replaced with wheels for winter operations off the ice of Lake St Clair

U.S. Military
Main articles: Verville VCP Fighter & Verville Racer Aircraft
Verville-Clark-Pursuit 1 & 2 (aka VCP-1 & VCP-2)
Function: fighter
two VCP-1 and two VCP-2 built
VCP-1 redesignated VCP-1A & R-1 Racer, VCP-2 redesignated PW-1 & PW-1A
while at Engineering Division & Aeronautical Systems Center of Signal Corps - Post-War, November 11, 1918 to September 1919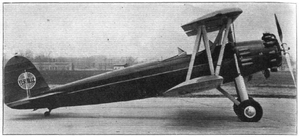 Picture - Verville Sport Trainer
Verville R-1 Racer (1920) (aka Verville-Packard R-1 or VCP-R)
Function: racing, crew: 1, engines: 1x 638 hp Packard 1A-2025 V-12
On November 27, 1920, Capt. Corliss Moseley, flying a Verville-Packard VCP-R racer won the Pulitzer Trophy Race at Mitchel Air Force Base with maximum speed 177 mph
while in Air Service

Verville-Sperry R-3 Racer (1922)
participated in the 1922,23,&24 Pulitzer Trophy Races, won first place in 1924

YPT-10 (1925-48), Primary Trainer
Similar design to Verville Sport Trainer AT
while at Air Corps

Buhl-Verville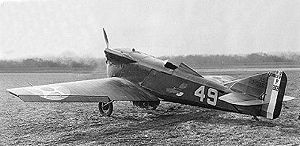 Picture - Verville R-3 Racer
Buhl-Verville CA-3/CW-3 Airster (also known as the J4/J5 Airster or B-V Airster)
CA-3 Airster, 200 hp Wright J-4 engine
CA-3A Airster, 225 hp Wright J-5 engine
CA-3B Airster
CW-3 OX5 Airster, 90 hp Curtiss OX-5 engine
CW-3 Wright Trainer, 220 hp Wright J-5 engine (short military trial)

Verville Aircraft Company
Verville Air Coach (1929)
Model 102 (104-W, Warner Engine)
Model 104-C
Model 104-P (Packard Diesel Coach)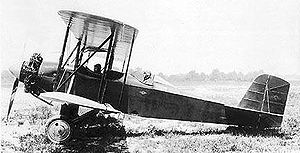 Picture - Buhl-Verville CA-3 Airster
Verville Smithsonian Fellowship
A fellowship was established in his name at the Smithsonian National Air and Space Museum, which is a competitive nine- to twelve-month in-residence fellowship for researching the history of aviation. The fellowship includes a $50,000 stipend with limited additional funds for travel and miscellaneous expenses.
Candidates for the fellowship should pursue programs of research and writing that support publication of works that are scholarly in tone and substance. These materials should appeal to an audience with broad interests. Outstanding manuscripts resulting from this program may be offered to the Smithsonian Institution Press for publication.
Fellowship selections
2007-2008 - Dr. Richard Hallion, Topic: role of NACA Technical Representative John Jay Ide in air intelligence and the transfer of technical information between Europe and America
2006-2007 - Dr. Christine Yano, Topic: Airborne Dreams: Japanese American Stewardesses with Pan American World Airways, 1955-1972
2005-2006 - Dennis R. Jenkins, Topic: Escaping the Gravity Well: A Policy History of Space Access
2004-2005 - Neil M. Maher
2003-2004 - Adnan Morshed
2002-2003 - Asif Azam Siddiqi
1996-1997 - John R. Breihan
1989-1990 - Daniel Ford
Unknown year - Michael J. Neufeld

List of people on stamps of the United States
List of United States airmail stamps - 1985 stamp of Verville
Mayea Boat & Aeroplane Works - production for Verville Flying Boat
Verville Aircraft - company bearing Verville's name
Buhl Aircraft Company
Sperry Corporation

More airplanes.
Source: WikiPedia