Alphonse Penaud - Picture
Alphonse Penaud Information
Alphonse Penaud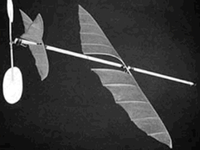 Picture - Planophore model airplane by Alphonse Pénaud , 1871
Alphonse Pénaud (May 31, 1850 - October 22, 1880), was a 19th-century French pioneer of aviation, inventor of the rubber powered model airplane Planophore and founder of the aviation industry.
Biography
Pénaud was born in Paris into a family of sailors. His father was an admiral. Because of health problems, he was not able to attend the Naval School. At 20, he began studying aviation and joined the Société aéronautique de France. He became vice-president of the society in 1876 and participated in the publication of the journal L'Aéronaute.
He built and sold ornithopters as well as propeller-driven models, and with Paul Gauchot designed an amphibious monoplane with retractable undercarriage. Alphonse Penaud was unable to obtain financial backing for his amphibious monoplane design and committed suicide at age 30.
Influence
In 1878 Milton Wright gave his two younger sons, Wilbur and Orville, a toy "helicopter" which was based on a design of Pénaud and the earlier British aviation scientist Sir George Cayley. In their adult years, the Wright brothers cited these toys as an early inspiration for their interest in flight. They were pioneers in aviation.
Aviation, The Pioneer Years, edited by Ben Mackworth-Praed, Studio Editions, Ltd., London, 1990
Article on Pénaud in the Encyclopédie Universalis
photo & bio on Alphonse Penaud
Kane, Robert M. (2002) [1967]. "Development of the Airplane". Air Transportation (14th ed.). Kendall Hunt. p. 45. ISBN 978-0-7872-8881-5. http://books.google.com/books?id=nCFYdB2H05UC&pg=PA45&lpg=PA45. Retrieved October 1, 2009.

Alphonse Penaud Pictures
More aircraft.
Source: WikiPedia