Antonov An-124 Video - Takeoff
Antonov An-124 Aircraft Information
Antonov An-124
An-124 Ruslan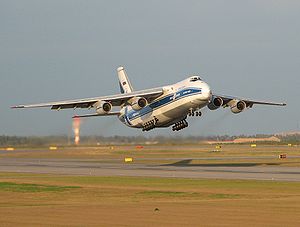 Picture - An An-124 taking off from Helsinki-Vantaa Airport
Role: Transport aircraft
Manufacturer: Antonov
First flight: 26 December 1982
Introduced: 1986
Status: In production
Primary users: Russian Air Force Antonov Airlines Volga-Dnepr Airlines
Number built: 58
Unit cost: US$70-100 million
Developed into: Antonov An-225

The Antonov An-124 Ruslan (NATO reporting name: Condor) is strategic airlift jet airplane. It was designed by the Soviet Union's Antonov design bureau. It is the world's largest ever serially manufactured cargo airplane and world's second largest operating cargo aircraft. During development it was known as Izdeliye 400 in house, and An-40 in the West. First flown in 1982, civil certification was issued on 30 December 1992. Over forty are in service (26 civilian models with airlines and 10 firm orders as of August 2006) and 20 were in commercial use in 1998 in Ukraine, Russia, the United Arab Emirates and Libya.
Design and development
The An-124 was manufactured in parallel by two plants: the Russian company Aviastar-SP (ex. Ulyanovsk Aviation Industrial Complex) and by the Kyiv Aviation Plant AVIANT, in Ukraine. Series production ceased with the break up of the Soviet Union. The last five unfinished airframes left from the Soviet times were completed in 2001 (1), 2002 (1), and 2004 (3).
Externally, the An-124 is similar to the American Lockheed C-5 Galaxy, but has a 25% larger payload, and instead of the Galaxy's T-tail, the An-124 uses a conventional empennage, similar in design to that of the Boeing 747. The An-124 has been used to carry locomotives, yachts, aircraft fuselages, and a variety of other oversized cargoes. The airlift is able to kneel to allow easier front loading. Up to 150 tonnes of cargo can be carried in a military An-124; it can also carry 88 passengers in an upper deck behind the wing centre section. The cargo compartment of An-124 is 36 m x 6.4 m x 4.4 m, slightly larger than the main cargo compartment of C-5 Galaxy, which is 36.91 m x 5.79 m x 4.09 m. However, due to limited pressurization in the main cargo compartment (3.57 psi), it seldom carries paratroopers.
It has an on-board overhead crane capable of lifting up to 30 tons of cargo, and items up to 120 tons can be winched on board. Some planes have a limit of 20 tons for the crane.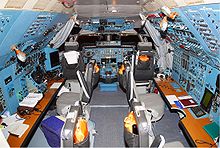 Picture - Cockpit of a Polet An-124
Since the type was initially designed for only occasional military use, original An-124s were built with a projected service life of 7,500 flight hours with possibility for extension. However many airframes have flown more than 15,000 flight hours. In response to complaints by commercial users, the An-124-100 version has been built since 2000 with an improved service life of 24,000 hours. Older airframes are being upgraded to this standard. Additional retrofiting is being performed to extend its service life to 40,000 flight hours. The Kyiv Aviation Plant AVIANT offers upgrades to the –źN-124-100–ú-150 version.
Russia and Ukraine agreed to resume the production in the Q3 2008. In May 2008 it was reported that a new variant, to be known as the An-124-150, would have several improvements including a maximum lift capacity of 150 tonnes. However, in May 2009, Antonov's partner, United Aircraft Corporation announced it did not plan production of An-124s in the period 2009 - 2012. In late 2009, it was reported that Russian President Dmitry Medvedev ordered production of the aircraft resumed. It is expected that Russia will purchase 20 new aircraft.
Operational history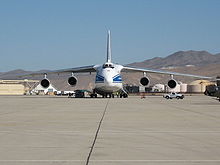 Picture - A Volga-Dnepr An-124 at Southern California Logistics Airport in Victorville, California
Germany led the recent effort to lease An-124s for NATO strategic airlift requirements. Two aircraft are leased from SALIS GmbH as a stopgap until the Airbus A400M is available. Under NATO SALIS programme NAMSA is chartering six An-124-100 transport aircraft. According to the contract An-124-100s of Antonov Airlines and Volga-Dnepr are used within the limits of NATO SALIS programme to transport cargo by requests of 18 countries: Belgium, Hungary, Greece, Denmark, Canada, Luxemburg, Netherlands, Norway, United Kingdom, Poland, Portugal, Slovakia, Slovenia, Finland, France, Germany, Czech Republic and Sweden. Two An-124-100s are constantly based on full-time charter in the airport of Leipzig/Halle, but in case of necessity two more aircraft are to be provided on six days notice and another two on nine days notice. The current contract is valid until 31 December 2010. The aircraft proved extremely useful for NATO especially with ongoing operations in Iraq and Afghanistan.
Russian cargo company Volga-Dnepr has contracts with Boeing to ship outsize aircraft components to their Everett plant. The An-124 is used for airlifting (in fully assembled form) the massive General Electric GE90 turbofan engines used in the Boeing 777 airliner.
United Launch Alliance contracts the An-124 to transport the Atlas V launch vehicle from its facilities near Denver to Cape Canaveral. Two flights are required to transfer each launch vehicle (one for the Atlas V main booster stage and another for the Centaur upper stage).
Space Systems Loral contracts the An-124 to transport satellites from Palo Alto, CA to the Arianespace spaceport in Kourou, French Guiana.
Rolls-Royce contracts the Antonov An-124 to transport the Trent family engines to and from their test facilities worldwide.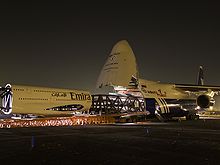 Picture - Polet Airlines An-124 being loaded with 1/3 model of an Airbus A380 centre fuselage section in Emirates Airline livery.
Airbus Transport International has selected another Russian cargo company, Polet Airlines as "designated carrier" to the company. Polet expects its three An-124-100s will transport astronautic equipment manufactured by EADS, which is Airbus' parent company, and full-size components of a model of the Airbus A380 superjumbo. As the Rolls-Royce Trent 900 is the only A380 engine that can be transported whole in a Boeing 747F, the competing Engine Alliance GP7200 needs a larger aircraft, like the An-124, if it is to be shipped in one piece.
Significant activities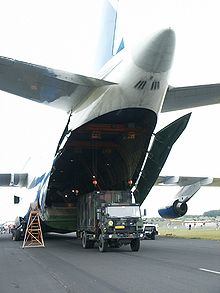 Picture - Container being lifted into the belly of an Antonov An-124
On May 1987, an An-124 set a world record, covering the distance of 20,151 km (10,881 nmi) without refuelling. The flight took 25 hours and 30 minutes; the takeoff weight was 455,000 kg. The previous record was held by a Boeing B-52H Stratofortress (18,245 km).
In July 1985, an An-124 took 171,219 kg (377,473 lb) of cargo to an altitude of 2,000 m and 170,000 kg to an altitude of 10,750 m (35,270 ft).
An An-124 was used to transport the Obelisk of Axum back to its native homeland of Ethiopia from Rome in April 2005. The shipment was made in three trips, each carrying a third of the monument's 160 tons and 24-metre (78 ft) length. The airstrip at Axum was modified to accommodate such a large aircraft.
An An-124 was used to transport an EP-3E Aries II electronic intelligence aircraft from Hainan Island, China on 4 July 2001 during the Hainan Island incident.
An An-124 transported the first of IxČ's new 201 Class (JT42HCW) locomotives from Canada to Ireland in June 1994.
A Volga-Dnepr An-124 delivered a whale from Nice (France) to Japan; another flight was to deliver an elephant from Moscow to Taiwan.

Picture - An American Mobile Air Traffic Control Tower is loaded onto an An-124 for a relief mission to Haiti following the 2010 Haiti earthquake
On 9 September 2003, an Antonov An-124 carried an 85-ton vessel head to Harrisburg International Airport in Pennsylvania, for use at the nearby Three Mile Island Unit One nuclear power plant.
The Air Launch Aerospace Corporation (ALAC) in Russia will develop a space transportation system for near-earth orbit using a space launch vehicle ejected from the An-124-100AL aircraft.
The An-124s provided by Ruslan International, a specialist transport company based at Stansted UK, has been used on several occasions by BAE Systems to transport airframes as part of their Nimrod refurbishment programme.
In April 2008, an An-124 provided by Antonov Airlines was used to transport the Pilatus PC-21 to RAAF Base Pearce as part of the Republic of Singapore Air Force S211 to PC-21 transition program.
In January 2008, an An-124 provided by Antonov Airlines was used to transport military vehicles, weapons, ammunition, water, medical supplies and gear for the Irish Army Rangers for the Mission to Chad.
An An-124 was used in the James Bond film Die Another Day, though the interior shots appear to be that of an Ilyushin Il-76.
Variants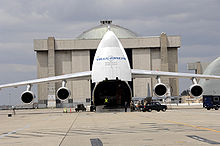 An-124 Ruslan
Strategic heavy airlift transport aircraft
An-124-100
Commercial transport aircraft
An-124-100M-150
Commercial transport version fitted with Western avionics
An-124-102
Commercial transport version with an EFIS flight deck
An-124-130
Proposed version
An-124-135

Picture - An-124 at Moffett Federal Airfield transporting USAF helicopters to Afghanistan

Picture - An-124-100 kneeling with front ramp down (note tilt of aircraft fuselage and retraction of front wheels)
Variant with one seat in the rear and the rest of the cargo area (approx. 1,800 square feet) dedicated to freight
An-124-150
New variant with several new features
An-124-200
Proposed version with General Electric CF6-80C2 engines, each rated 59,200 lbf (263 kN)
An-124-210
Joint proposal with Air Foyle to meet UK's Short Term Strategic Airlifter (STSA) requirement, with Rolls-Royce RB211-524H-T engines, each rated 60,600 lbf (264 kN) and Honeywell avionics-STSA competition abandoned in August 1999, reinstated, and won by the Boeing C-17A.
Operators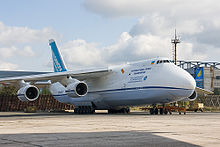 Picture - Ukrainian An-124
Military
Russia
Russian Air Force (25)

Civil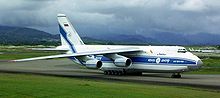 Picture - A Volga-Dnepr An-124-100
In September 2009 a total of 28 Antonov An-124 aircraft remain in airline service, with a further 10 firm orders.
Libya
Libyan Arab Air Cargo (2)

Russia
Volga-Dnepr (10)+ 5 on order.
Polet Airlines (8)+ 5 on order.

Ukraine
Antonov Airlines (7)

United Arab Emirates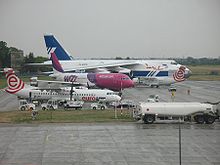 Picture - Polet Airlines An-124 behind an Airbus A320 and an ATR-72 at WrocŇāaw-Strachowice airport
Maximus Air Cargo (1)

Bulgaria
AirCargo Bulgaria (1)
Russian Cargo (1)

Former operators
Russia
Aeroflot Russian International Airlines
Ayaks
Russian State Transport Company
Transaero Airlines

Soviet Union
Aeroflot Soviet Airlines

United Kingdom
Air Foyle (in partnership with Antonov Design Bureau)
HeavyLift Cargo Airlines (in partnership with Volga-Dnepr Airlines)
Antonov AirTrack
Titan Cargo
TransCharter Titan Cargo

Former military operators
Soviet Union
Soviet Air Force

Notable incidents
As of 2010, four An-124 hull-loss accidents have been recorded, with a total of 97 fatalities:
SSSR-82002, operated by Antonov Airlines crashed near Kiev, Ukraine on 13 October 1992 during flight testing. 8 fatalities.
RA-82071, Operated by Aviastar Airlines crashed into a mountain at 11,000 feet (3,400 m) while in a holding pattern at Kerman, Iran on 15 November 1993. 17 fatalities.
RA-82069, owned by Aeroflot but operated by Ajax, crashed at San Francesco al Campo, Italy, during a go-around on 8 October 1996. 4 fatalities.
RA-82005, operated by the Russian Air Force, crashed in a residential area after take-off in Irkutsk, Russia, on 5 December 1997. 68 fatalities.

Specifications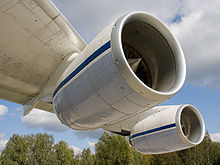 Picture - Two Ivchenko Progress D-18T Series 4S powerplants
Data from antonov.com
General characteristics
Crew: 6
Capacity: 88 passengers or the hold can take an additional 350 on a palletised seating system
Payload: 150,000 kg (330,000 lb)
Length: 68.96 m (226 ft 3 in)
Wingspan: 73.3 m (240 ft 5 in)
Height: 20.78 m (68 ft 2 in)
Wing area: 628 m≤ (6,760 sq ft)
Empty weight: 175,000 kg (385,000 lb)
Loaded weight: 405,000 kg (893,000 lb)
Useful load: 230,000 kg (508,000 lb)
Max takeoff weight: 405,000 kg (893,000 lb)
Powerplant: 4xó Ivchenko Progress D-18T turbofans, 229.5 kN (51,600 lbf) each

Performance
Maximum speed: 865 km/h (467 kn (537 mph))
Cruise speed: 800-850 km/h (430 kn (490 mph))
Range: 5,400 km (2,900 nm, 3,360 mi (5,410 km))
Service ceiling: 12,000 m (35,000 ft)
Wing loading: 365 kg/m≤ (74.7 lb/sq ft)
Thrust/weight: 0.23

Flight range
An-124-100
0 tons of cargo = 15,000 km (8,100 nmi)
10 tons of cargo = 14,100 km (7,613 nmi)
20 tons of cargo = 13,250 km (7,154 nmi)
30 tons of cargo = 12,300 km (6,641 nmi)
40 tons of cargo = 11,500 km (6,210 nmi)
72 tons of cargo = 8,700 km (4,698 nmi)
90 tons of cargo = 7,100 km (3,834 nmi)
97 tons of cargo = 6,500 km (3,510 nmi)
104 tons of cargo = 5,900 km (3,186 nmi)
108 tons of cargo = 5,550 km (2,997 nmi)
120 tons of cargo = 4,500 km (2,430 nmi)
122 tons of cargo = 4,300 km (2,322 nmi)

–źn-124-100–ú-150
40 tons of cargo = 11,900 km (6,425 nmi)
92 tons of cargo = 7,500 km (4,050 nmi)
113 tons of cargo = 5,900 km (3,186 nmi)
120 tons of cargo = 5,400 km (2,916 nmi)
122 tons of cargo = 5,200 km (2,808 nmi)
150 tons of cargo = 3,200 km (1,728 nmi)

Related development
Antonov An-225

Comparable aircraft
Airbus A380
Boeing 747-8F
C-5 Galaxy
Sukhoi KR-860

Living Warbirds: The best warbirds DVD series.
Source: WikiPedia