Antonov An-70 Video - First An-70 Rollout
Antonov An-70 Video - Crash and rollout of new airplane
Antonov An-70 Aircraft Information
Antonov An-70
An-70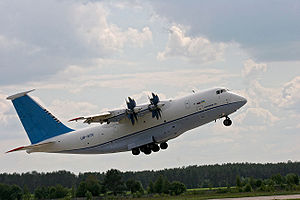 Role: Transport
Manufacturer: Antonov/Aviant
First flight: 16 December 1994
Status: Coming to the end of flight and certification tests, programme.
Number built: 2 prototypes
Unit cost: US$ 50-55 million 60-70 million (export)

The Antonov An-70 is a next-generation four-engine medium-range transport aircraft, and the first large aircraft to be powered by propfan engines. It is being developed by Ukraine's Antonov design bureau to replace the obsolete An-12 military transport planes.
The maiden flight of the first prototype took place on December 16, 1994 in Kiev, Ukraine.
Design and development
Work on the An-70 began in Soviet Union in the early 1990s. There were plans to establish serial production of the model in both Kiev and Samara, Russia, guaranteeing employment of about 80,000 people in the two countries. The Russian government had shown interest in purchasing 160 planes for its military. As of 2002, Russia and Ukraine had agreed on a 50-50 risk-sharing deal on production There was a brief flirtation with the German government, as a "westernised" An-70 was proposed to replace the then-troubled FLA/Airbus A-400M military transport.
The first prototype was lost in 1995 in a mid-air collision with a chase plane. The second prototype suffered damage in a 2001 emergency landing during cold-weather testing in Omsk Russia, but was repaired. Soon after the first crash, Russian authorities started to question the An-70's abilities and demanded further development.
In May 2005, senior Russian Air Force officials claimed that bilateral development and further testing of the An-70 would continue. Inside sources (Piotr Butowski) reported that the An-70 was rapidly losing ground to the upgraded Il-76MF, with the Tu-330 and Il-214 gaining support. In November 2005, Ukraine's Defence Ministry announced plans to buy five An-70s for the Ukrainian Air Force. In December 2005, Antonov maintained that production of the aircraft remains a priority.
In April 2006, Russia announced its complete withdrawal from the project. The head of the Russian Air Force, Vladimir Mikhaylov, claimed that the An-70 has grown into a heavy, expensive cargo plane. The Russian military plans to use the Ilyushin Il-76MF, which reportedly costs half as much as the An-70. After the Orange Revolution in late 2004, and with Ukraine openly aiming for NATO membership, political will for the project evaporated. Russia has provided around 60 percent of the estimated $5 billion invested in the project to date.
As of 2008, testing of the An-70 continues. Serial production could begin in a year and a half. A turbofan-powered larger variant is also under co-development with China, reportedly to be named An-70-600.
Fully fly-by-wire, the An-70 features a glass cockpit with all electronic instruments, and uses composite materials throughout. The size of the cargo compartment is 19.1 meter (22.4 meter with the ramp) x 4 meter x 4.1 meter. In addition to the 47 ton maximum cargo carried, the aircraft also carries a maximum of 38 tons of fuel. Powered by four Progress D-27 propfan engines, each turning a pair of contra-rotating scimitar propellers it can reach 90% efficiency in cruise at jet speeds.
The project to create the An-70 plane will be completed, although Russia's $60 million debts on the plane were not being repaid in November 2009.
It has recently been revealed that Russia will continue its funding for the Antonov An-70 and this deal was agreed on August 18, 2009. In December 2009, Russia provide $11million for the plane's development and shall commit another $16million by the end of August. By the end of 2012, Russia will commit a further $96million and also place firm orders for the Russian Air Force. Originally, Russia had intended to order 160 aircraft while Ukraine received 60, but even if development is finally concluded any orders received are likely to be considerably smaller.
In August 2010, it was reported that user testing was taking place, and that the Ukrainian Air Force expected to take deliver of the first An-70 in 2011. Volga-Dnepr Airlines signed an agreement for a possible purchase of up to five An-70T aircraft.
Variants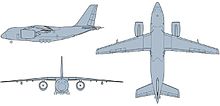 Picture - the proposed An-112KC variant
An-70T
An-112KC A proposed aerial refueling version of the An-70, except with two jet engines from the team of U.S. Aerospace and Antonov for the U.S. Air Force's KC-X program. The USAF has rejected the proposal.
Operators
Ukraine
Ukrainian Air Force - 2 deliveries expected in 2011 and 2012.

Russia
Russian Air Force - 40 ordered. On 24 June 2010 Lt. Gen. Vladimir Shamanov stated that he had ordered 40 An-70s for his service in accordance with the new rearmament program for 2011-2020. He stated that Russia planned to receive the first batch for testing sometime hopefully in early 2012.
Volga-Dnepr Airlines - possible order of up to five aircraft.

Specifications (An-70)
Data from
General characteristics
Crew: 3-5
Capacity: 300 troops or 206 wounded
Payload: 47,000 kg (103,620 lb) of cargo
Length: 40.7 m (133 ft 6 in)
Wingspan: 44.06 m (144 ft 7 in)
Height: 16.38 m (53 ft 9 in)
Empty weight: 66,230 kg (146,000 lb)
Loaded weight: 108,860 kg (240,000 lb)
Max takeoff weight: 145,000 kg (319,670 lb)
Powerplant: 4x— Progress D-27 propfans, 10,350 kW (13,880 hp) each

Performance
Maximum speed: 780 km/h (421 knots, 485 mph)
Cruise speed: 729 km/h (394 knots, 453 mph)
Stall speed: 113 km/h (61 knots, 70 mph)
Range: 6600 km (3564 nm) with 20 tonnes of cargo
Ferry range: 8,000 km (4,320 nm, 4,971 mi)
Service ceiling: 12,000 m (39,370 ft)
Rate of climb: 24.9 m/s (81.7 ft/s)

Comparable aircraft
Airbus A400M
Ilyushin Il-76

Jackson, Paul. Jane's All The World's Aircraft 2003-2004. Coulsdon, UK: Jane's Information Group, 2003. ISBN 0-7106-2537-5.

Living Warbirds: The best warbirds DVD series.
Source: WikiPedia