Arado Ar 199 Video - Picture
Arado Ar 199 Warbird Information
Arado Ar 199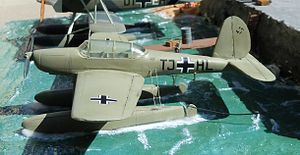 Aircraft Picture - Model of an Ar 199
Role: Trainer prototype
National origin: Germany
Manufacturer: Arado Flugzeugwerke
First flight: 1939
Primary user: Luftwaffe
Number built: 2

The Arado Ar 199 was a floatplane aircraft built by Arado Flugzeugwerke. It was a low-wing monoplane, designed in 1938 to be launched from a catapult and operated over water. The enclosed cockpit had two side-by-side seats for instructor and student, and a third rear seat for a trainee navigator or radio operator.
Two prototypes were built, but the Luftwaffe's requirements changed and no production aircraft were built. The two prototypes, D-IFRB and D-ISBC did serve as trainers and were used for air-sea rescue operations from Northern Norway.
Specifications)
Data from Smith and Kay 1972, p.34.
General characteristics
Crew: 3
Length: 10.57 m (34 ft 8.125 in)
Wingspan: 12.7 m (41 ft 8 in)
Height: 4.36 m (14 ft 4.25 in)
Wing area: 30.4 m (327.1 ft)
Empty weight: 1,675 kg (3,693 lb)
Gross weight: 2,075 kg (4,575 lb)
Powerplant: 1 x— Argus As 410C, 336 kW (450 hp)

Performance
Maximum speed: 260 km/h (161 mph)
Cruising speed: 212 km/h (132 mph)
Range: 740 km (460 miles)
Service ceiling: 6,500 m (21,320 ft)
Rate of climb: 4.5 m/s (895 ft/min)

Bibliography
Smith, J R; Kay, Antony L. (1972). German Aircraft of the Second World War. London: Putnam. ISBN 85177 836 4.

Arado Ar 199 Pictures
More airplane video.
Source: WikiPedia