Arado Ar 96 Video - Picture
Arado Ar 96 Warbird Information
Arado Ar 96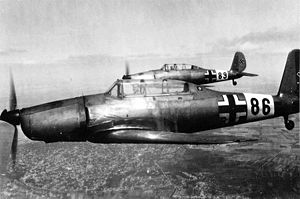 Aircraft Picture - Arado Ar 96Bs in echelon flight
Role: Military Trainer
Manufacturer: Arado Flugzeugwerke
Designer: Walter Blume
First flight: 1938
Introduction: 1939
Primary users: Luftwaffe Czechoslovakian Air Force Hungarian Air Force Romanian Air Force
Number built: ~ 3,500

Arado Ar 96 was a German single-engine, low-wing monoplane of all-metal construction produced by Arado Flugzeugwerke. It was the Luftwaffe's standard advanced trainer during World War II.
Design and development
Designed by Walter Blume as the result of a 1936 Reich Air Ministry tender, the prototype, powered by a 179 kW (240 hp) Argus As 10c engine, first flew in 1938. In 1939, an initial batch of Ar 96A aircraft was produced. This was followed by the major production series, the more powerful Ar 96B, fitted with the Argus As 410 engine.
Operational history
The Ar 96 was used for advanced, night and instrument flying training.
Shadow production was undertaken by Letov and the Avia factory in occupied Czechoslovakia, where manufacturing continued for some years after the war, being designated C-2. A wooden version known as the Ar 396 was built in France and was designated SIPA SS.11. Further developments were the SIPA 111 (armed version), and SIPA S-12, a metal version. 58 Machines were produced until 1958. The S.11 was operated with some success in Algeria carrying machine guns, rockets and light bombs.
Variants
Ar 96A
Two-seat advanced trainer aircraft. Initial production version.
Ar 96B
Improved version. Main production version.
C.2B
Czech production version of the Ar 96B. Czech designation C.2B. 228 built by Avia and 182 by Letov between 1945 and 1950.
Ar 96B-1
Unarmed pilot trainer version.
Ar 96B-2
Ar 96C
Ar 396
Ar 396A-1
Single-seat gunnery trainer version.
Ar 396A-2
Unarmed instrument trainer version.
SIPA S.10
French production version of Ar 396, 28 produced.
SIPA S.11
Modified version of S.10,powered by Renault 12S (French built Argus As 411), 50 built for the French Air Force.
SIPA S.12
All metal version of S.11, 52 built for the French Air Force.
SIPA S.121
Modified version of S.12, 58 built for the French Air Force.
Production figures up to 1945
Operators
Bulgaria
Bulgaria received two Avia C.2s in 1948.

Czechoslovakia
Czechoslovakian Air Force operated Avia C-2 variant postwar.

Germany
Luftwaffe

Hungary
Hungarian Air Force

Romania
Romanian Air Force

Slovakia
Slovenské vzdušné zbrane

Survivors
Arado Ar 96 B-1 - Deutsche Technikmuseum. Berlin, Germany.
Arado Ar 96 B-1 - Flyhistorisk Museum. Sola, Norway.

Specifications (Arado Ar 96B-2)
Data from
General characteristics
Crew: 2
Length: 9.10 m (29 ft 10¼ in)
Wingspan: 11.00 m (36 ft 1 in)
Height: 2.60 m (8 ft 6¼ in)
Wing area: 17.10 m² (184.07 ft²)
Empty weight: 1,295 kg (2,854 lb)
Max takeoff weight: 1,700 kg (3,748 lb)
Powerplant: 1 x— Argus As 410A-1 12-cylinder inverted-Vee piston engine, 347 kW (465 hp)

Performance
Maximum speed: 330 km/h (205 mph)
Cruise speed: 295 km/h (183 mph)
Range: 990 km (615 mi)
Service ceiling: 7,100 m (23,295 ft)

Armament
1 x— 7.92 mm (0.312 in) MG 17 machine gun

Comparable aircraft
Miles Master
North American Harvard

Bibliography
Green, William. Warplanes of the Third Reich. London: Macdonald and Jane's Publishers Ltd., 1970 (fourth impression 1979). ISBN 0-356-02382-6.
Kranzhoff, Jx¶rg Armin. Arado Ar 96 Varianten (Flugzeug Profile Nr. 43) (in German). Stengelheim, Germany: Unitec-Medienvertrieb, e.K., 2006.
Kudlicka, Bohumir. "An Arado By Other Names". Air Enthusiast, No. 111, May/June 2004. Stamford, UK:Key Publishing. pp. 45-49.
Mondey, David. The Concise Guide to Axis Aircraft of World War II. London: Chancellor, 1996. ISBN 1-85152-966-7.
Smith J. R. and Kay, Anthony. German Aircraft of the Second World War. London: Putnam & Company Ltd., 1972. ISBN 0-370-00024-2.

Arado Ar 96 Pictures
More airplane video.
Source: WikiPedia