Artur de Sacadura Cabral - Picture
Artur de Sacadura Cabral Information
Artur de Sacadura Cabral
Artur de Sacadura Freire Cabral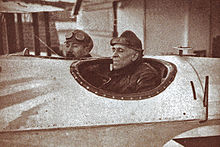 Born: 23 April 1881 Celorico da Beira, Portugal
Died: 15 November 1924 Northern Sea
Cause of death: Plane crash
Occupation: Portuguese Navy officer
Parents: Artur de Sacadura Freire Cabral Maria Augusta da Silva Esteves de Vasconcelos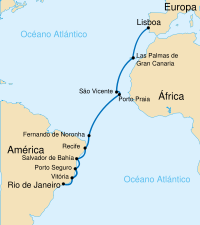 Picture - Journey of Sacadura Cabral and Gago Coutinho in the South Atlantic Ocean
Artur de Sacadura Freire Cabral, GCTE (23 May 1881 - 15 November 1924), known simply as Sacadura Cabral (Portuguese pronunciation: [sɐkɐˈduɾɐ kɐˈbɾaÉ«]), was a Portuguese aviation pioneer who in 1922, together with Gago Coutinho (1869-1959), conducted the first flight across the South Atlantic Ocean, and also the first using astronomical navigation only, from Lisbon, Portugal, to Rio de Janeiro, Brazil. He disappeared on 15 November 1924 while flying over the English Channel, along with his co-pilot, Mechanical Corporal José Correia, due to fog and his shortening eyesight (which never kept him from flying). The remains of the plane were found four days later, but there was no sign of the bodies.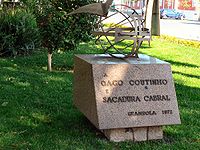 Picture - Monument to Sacadura Cabral and Gago Coutinho in Grx¢ndola (Portugal)
A statue dedicated to these brave men is located in Lisbon. Decedents of Sacadura Cabral can still be found in aviation, including an American flight medic in the U.S. Air Force.
He was the granduncle of Portuguese politicians Miguel Portas and Paulo Portas.
More airplanes.
Source: WikiPedia