Aurel Vlaicu Information
Aurel Vlaicu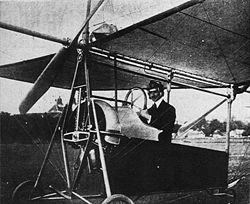 Picture - Aurel Vlaicu at the controls of Vlaicu II airplane
Aurel Vlaicu (Romanian pronunciation: [a.uˈrel ˈvlajku]; November 19, 1882 - September 13, 1913) was a Romanian engineer, inventor, airplane constructor and early pilot.
Biography
Aurel Vlaicu was born in BinÅ£inÅ£i (now renamed Aurel Vlaicu), Geoagiu, Transylvania. He attended Calvinist High School in Orăştie (renamed "Liceul Aurel Vlaicu" in his honour in 1919) and took his Baccalaureate in Sibiu in 1902. He furthered his studies at Technical University of Budapest and Technische Hochschule Mx¼nchen in Germany, earning his engineer's diploma in 1907.
After working at Opel car factory in Rx¼sselsheim, he returned to BinÅ£inÅ£i and built a glider he flew in the summer of 1909. Later that year, he moved to Bucharest, in the Kingdom of Romania, where he began the construction of Vlaicu I airplane; it flew for the first time on June 17, 1910.
With his Vlaicu II model, built in 1911, Aurel Vlaicu won several prizes summing 7,500 Austro-Hungarian krone (for precise landing, projectile throwing and tight flying around a pole) in 1912 at Aspern Air Show near Vienna, where he competed against 42 other aviators of the day, including Roland Garros.
Aurel Vlaicu died in 1913 near Cx¢mpina while attempting to cross in flight the Carpathian Mountains in his aged Vlaicu II airplane. He is buried at the Bellu cemetery, in Bucharest.
Legacy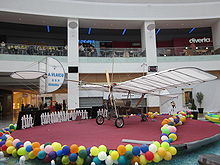 Picture - Modern Replica of the plane
During his short career he built three original, arrow-shaped airplanes, with flight controls in front, two coaxial propellers, NACA-like ring around the engine, and independent suspension-tricycle-landing-gear with brakes. At the time of his death, a two-seated monoplane Vlaicu III, ordered by Marconi Company for experiments with aerial wireless radio, was only partially built. After Vlaicu's death the plane was completed by friends, and several short experimental flights were made during 1914. Further tests were hindered by the unusual controls of the airplane, no other pilot was familiar with.
In 1916, during the German occupation of Bucharest, Vlaicu III was seized and shipped to Germany. The airplane was last seen in a 1942 aviation exhibition in Berlin.
Vlaicu was posthumously elected to the Romanian Academy in 1948.
Bucharest City Airport in Băneasa was named after him.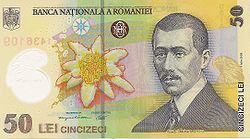 Picture - Aurel Vlaicu on the 50 Romanian lei bill
More airplanes.
Source: WikiPedia