Avia BH-6 Aircraft Information
Avia BH-6
BH-6
Manufacturer: Avia
Designed by: Pavel Beneš and Miroslav Hajn
First flight: 1923
Number built: 1

The Avia BH-6 was a prototype fighter aircraft built in Czechoslovakia in 1923. It was a single-bay biplane of unusual configuration developed in tandem with the BH-7, which shared its fuselage and tail design. The BH-6 had wings of unequal span, but unusually, the top wing was the shorter of the two; and while it was braced to the bottom wing with a single I-strut on either side, these sloped inwards from bottom to top. Finally, the top wing was attached to the fuselage not by a set of cabane struts, but by a single large pylon.
The BH-6 crashed early in its test programme, and when the related BH-7 did as well, both implementations of this design were abandoned.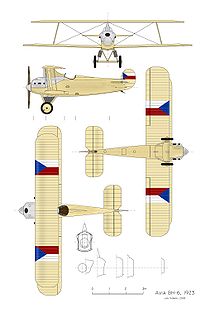 Specifications
General characteristics
Crew: one pilot
Length: 6.47 m (21 ft 3 in)
Wingspan: 9.98 m (32 ft 9 in)
Height: 2.88 m (9 ft 5 in)
Wing area: 22.6 m˛ (243 ft˛)
Empty weight: 878 kg (1,936 lb)
Gross weight: 1,180 kg (2,601 lb)
Powerplant: 1 x— Skoda licence-built Hispano-Suiza 8Fb Vee-8, 310 kW (231 hp)

Performance
Maximum speed: 220 km/h (137 mph)
Endurance: 2 hours
Service ceiling: 7,000 m (23,000 ft)

Armament
2 x— fixed, forward-firing .303 Vickers machine guns

Related development BH-7 - BH-8 - BH-17
Taylor, Michael J. H. (1989). Jane's Encyclopedia of Aviation. London: Studio Editions. pp.86.
World Aircraft Information Files. London: Bright Star Publishing. pp.File 889 Sheet 86.
NÄ›meÄŤek, V. (1968). ÄŚeskoslovenskxˇ letadla. Praha: Naše Vojsko.
airwar.ru

Living Warbirds: The best warbirds DVD series.
Source: WikiPedia