Avia BH-7 Video and Picture
Avia BH-7 Aircraft Information
Avia BH-7
BH-7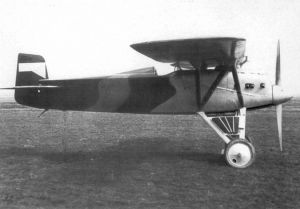 Role: Fighter
Manufacturer: Avia
Designed by: Pavel Beneš and Miroslav Hajn
First flight: 1923
Number built: 2

The Avia BH-7 was a prototype fighter aircraft built in Czechoslovakia in 1923. It was a parasol-wing monoplane developed in tandem with and as an alternative to the BH-6, which shared its fuselage and tail design. Like the BH-6, the BH-7 was involved in a number of serious crashes during its test programme, which led to its abandonment as a fighter. Undaunted, however, Avia used the design as the basis for a racing aircraft, shortening the wingspan by 1.4m (4ft 7in) and fairing it directly into the top of the fuselage and dispensing with the cabane struts. This revised version was designated BH-7B and the fighter (retrospectively) as the BH-7A. When the design proved no more successful as a racer it was finally put to rest.
Specifications
General characteristics
Crew: one pilot
Length: 6.84 m (22 ft 5 in)
Wingspan: 10.40 m (34 ft 1 in)
Height: 2.83 m (9 ft 3 in)
Wing area: 18.2 m˛ (195 ft˛)
Empty weight: 855 kg (1,885 lb)
Gross weight: 1,150 kg (2,537 lb)
Powerplant: 1 x— Skoda licence-built Hispano-Suiza 8Fb Vee-8, 310 kW (231 hp)

Performance
Maximum speed: 240 km/h (149 mph)
Range: 480 km (300 miles)
Service ceiling: 8,000 m (26,200 ft)
Rate of climb: 6.7 m/s (1,312 ft/min)

Armament
2 x— fixed, forward-firing .303 Vickers machine guns

Related development BH-6
Taylor, Michael J. H. (1989). Jane's Encyclopedia of Aviation. London: Studio Editions. pp.86.
World Aircraft Information Files. London: Bright Star Publishing. pp.File 889 Sheet 86.
NÄ›meÄŤek, V. (1968). ÄŚeskoslovenskxˇ letadla. Praha: Naše Vojsko.
airwar.ru

Living Warbirds: The best warbirds DVD series.
Source: WikiPedia