Avia BH-9 Aircraft Information
Avia BH-9
BH-9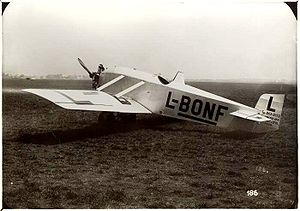 Role: Sports plane
Manufacturer: Avia
Designed by: Pavel Beneš and Miroslav Hajn
Introduced: 1923
Number built: 11

The Avia BH-9 was a one-seat sport aircraft built in Czechoslovakia in 1923, based on the BH-5. As with other developments in the BH-1 lineage, the BH-9 was a low-wing braced monoplane that accommodated the pilot and passenger in tandem, open cockpits. The BH-9's structure was strengthened to allow for the use of a higher-power engine than in its predecessors, and for the first time, this was a domestically-produced powerplant.
The Czechoslovakian Army showed interest in it as a trainer and liaison aircraft, and ordered 10 examples under the designation B.9.
A B.9 won the 1925 Coppa d'Italia air race, and the following year, one was flown on a 1,800km (1,100mi) circuit Prague-Paris-Prague with an average speed of 131.2km/h (82mph).
Specifications
General characteristics
Crew: one pilot
Capacity: 1 passenger
Length: 6.64 m (21 ft 10 in)
Wingspan: 9.72 m (31 ft 11 in)
Height: 2.53 m (8 ft 3 in)
Wing area: 13.6 m² (146 ft²)
Empty weight: 345 kg (761 lb)
Gross weight: 550 kg (1,213 lb)
Powerplant: 1 x— Walter NZ 60 radial, 45 kW (60 hp)

Performance
Maximum speed: 158 km/h (98 mph)
Range: 470 km (290 miles)
Service ceiling: 4,500 m (14,800 ft)

Related development BH-5 - BH-10 - BH-11 - BH-12
Taylor, Michael J. H. (1989). Jane's Encyclopedia of Aviation. London: Studio Editions. pp.86.
World Aircraft Information Files. London: Bright Star Publishing. pp.File 889 Sheet 86.
Němeček, V. (1968). Československx¡ letadla. Praha: Naše Vojsko.
airwar.ru

Living Warbirds: The best warbirds DVD series.
Source: WikiPedia