Hawker Siddeley HS 748 Video -
Hawker Siddeley HS 748 Video - In Canada
Hawker Siddeley HS 748 Aircraft Information
Hawker Siddeley HS 748
HS 748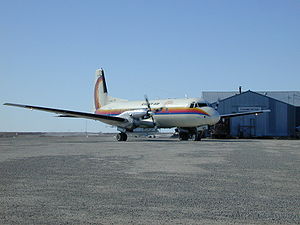 Picture - Avro 748 (C-GBFA) registered to First Air at Cambridge Bay Airport, Nunavut, Canada.
Role: Airliner
Manufacturer: Avro Hawker Siddeley Hindustan Aeronautics
First flight: 24 June 1960
Primary users: Indian Air Force, VARIG Indian Airlines Corporation
Number built: 380
Variants: Hawker Siddeley Andover BAe ATP

The Hawker Siddeley HS 748 is a medium-sized turboprop airliner originally designed by the British firm Avro in the late 1950s as a replacement for the now-aged DC-3s then in widespread service as feederliners. Avro concentrated on performance, notably for STOL operations, and found a dedicated market. 380 aircraft were built by Hawker Siddeley. A larger development, the BAe ATP, attempted to compete with the de Havilland Canada Dash 8 but saw a limited production run.
Development
The original 748 design started in 1958 after the infamous Duncan Sandys 1957 Defence White Paper ended most military manned aircraft development in the UK, and Avro decided to re-enter the civilian market. The Vickers Viscount had the large end of the short-haul market neatly wrapped up, so Avro decided to design to a smaller regional airliner design to replace the many DC-3 Dakotas that were now reaching the end of their lifespan. Avro was not the only company to see the potential for a DC-3 replacement, and by this point the Fokker F27 Friendship was well advanced. Avro decided to compete by producing a design with better short-field performance, allowing it to operate from smaller airports.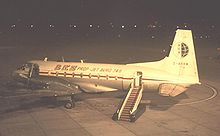 Picture - BKS Air Transport Avro 748 Series 1 at Manchester in 1964
The first aircraft flew from Avro's Woodford plant on 24 June 1960, and two prototypes quickly proved the type's short field performance. 18 Avro 748 Series 1 aircraft were produced, the first for Skyways Coach-Air, but the majority for Aerolx­neas Argentinas. By this point, Avro's individual identity within the Hawker Siddeley Group had ended and the design was known as the HS 748.
The 748 Series 1 and Series 2 was licence-produced in India by Hindustan Aeronautics as the HAL-748. HAL built 89 aircraft in India, 72 for the Indian Air Force and 17 for the Indian Airlines Corporation.
The ICAO designator as used in flight plans is A748.
Media appearance
The BAe (successor company to Hawker Siddeley) company demonstrator HS 748 appears in the first episode of the 1978 Yorkshire Television TV series The Sandbaggers, where it is used to drop agents into the Kola Peninsula.
Variants
748 Series 1 -
748 Series 2 - The Series 2 entered production in 1961 with a higher take-off weight, and were 198 were built, making it one of the most popular post-war British designs.
748 Series 2a - The more powerful Series 2A followed with another 71 built.
748 Series 2b - The main production model after Hawker-Siddeley was absorbed by British Aerospace, 25 built.
Super 748 - Fitted with hush kits on the Rolls-Royce Dart engines
Hawker Siddeley HS780 Andover - Fitted with kneeling undercarriage, raised tail unit and rear loading ramp

Coastguarder - A maritime patrol version.
748 Andover - Military passenger transport versions of the 748.
HAL 748 - Licence production by Hindustan Aeronautics Limited at Bangalore India. Indian aircraft were later modified for a variety of roles including a trials aircraft for an Airborne Early Warning version fitted with a large radome, known as the Airborne Surveillance Platform (ASP). A total of 89 HAL 748's were built.
HAL 748 Series 2M - Production for the Indian Air Force (the last 20 built) were Series 2M aircraft with a Large Freight Door.

Accidents and incidents
There have been 20 notable accidents involving the 748:
On 4 February 1970, Aerolx­neas Argentinas Flight 707, an Avro 748-105 crashed into the ground after the pilots lost control of the aircraft. The aircraft crashed at Loma Alta, Argentina and killed all 37 passengers and crew on board.
22 August 1979 - An aircraft mechanic (a former non-commissioned officer of the Colombian Air Force) stole a military HS 748 (FAC-1101) from a military hangar at the Eldorado International Airport in Bogotx¡, Colombia. According to the news, this person stole the plane with the intention of crashing it against his parents' house. After some minutes in the air, the plane ran out of fuel and crashed, killing the impromptu pilot and three more people on the ground.
On 19 August 1981, Indian Airlines Flight 557, operated by HAL 748 VT-DXF overshot the runway at Mangalore-Bajpe Airport in wet weather. The aircraft came to a halt just beyond the runway edge. While there were no fatalities the aircraft damaged beyond repair and was written off. One of the passengers on board was Veerappa Moily current Cabinet Minister for Law, Justice and Company Affairs in the Government of India.
27 June 1987 - Philippine Airlines Flight 206 crashed onto a mountain after poor visibility hampered the pilot's attempt to land at Loakan Airport in Baguio City, Philippines. All 50 passengers and crew died in the crash.
28 April 1995 - A Sri Lanka Air Force HS 748 was hit with an SA-7 while on approach to Palaly/KKS/Jaffna. The transport crashed outside the base perimeter, killing 43, mostly SLAF personnel. Only few hours later, another HS 748 was hit by an SA-7 only a few kilometres before landing in Palaly. This time 52 crewmembers and passengers were killed, again most of these SLAF personnel.
1 June 2002 - Former South African cricket captain Hansie Cronje's scheduled flight home from Bloemfontein to George had been grounded, so he hitched a ride as the only passenger on a cargo flight in an HS 748. Near George airport, the pilots lost visibility in cloud, and were unable to land, partly due to unserviceable navigational equipment. While circling, the plane crashed into the Outeniqua mountains northeast of the airport. Cronje, aged 32, and the two pilots were killed instantly. An inquest by South Africa's High Court reached the conclusion that "the death of the deceased Wessel Johannes (Hansie) Cronje was brought about by an act or omission prima facie amounting to an offence on the part of pilots." However, with Cronje's involvement in match-fixing, theories that Cronje was murdered on the orders of a cricket betting syndicate have flourished since his death.

Operators
Civil operators
In January 2010 a total of 44 Avro 748 aircraft (all variants) remain in airline service. Current operators are:
Bangladesh
Bismillah Airlines (2) [S2-ADW & S2-AEE]
Z Airways (1)

Brazil
Varig (11) [one Avro 748 Series 2 prototype and 10 production aircraft]

Canada
Air Creebec (3)
Air Inuit (4)
Air North (4)
Calm Air (2)
First Air (2)
Wasaya Airways (5)

Democratic Republic of the Congo
International Trans Air Business (1)

Guinea
Guinee Air Cargo (1)

Mexico
Aerocaribe (1) (Bought From Atlantic Airlines de Honduras)

Indonesia
Bali Air (4)

Kenya
748 Air Services (3)
African Commuter Services (1)

Norway
Fred. Olsens Flyselskap (1)

South Africa
Executive Aerospace (4)
Stars Away Aviation (2)

Sri Lanka
Aero Lanka (1)

United Kingdom
Janes Aviation (2)

Military operators
Australia
Royal Australian Air Force
School of Air Navigation RAAF/No. 32 Squadron RAAF - aircraft operated in navigation trainer configuration between 1968-2004
No. 34 Squadron RAAF - aircraft operated in VIP configuration between 1967-1996
Royal Australian Navy
Fleet Air Arm (RAN) - operated between 1973-2000
No. 723 Squadron RAN
No. 851 Squadron RAN

Belgium
Belgian Air Force (Three operated from 1976, sold in 2001-2002 to Benin and replaced by four Embraer Regional Jets)
21 Squadron

Benin
Military of Benin

Brazil
Brazilian Air Force
Twelve aircrafts operated between 1962-2005.

Brunei
Royal Brunei Air Force

Burkina Faso
Military of Burkina Faso

Colombia
Colombian Air Force

Ecuador
Ecuadorian Air Force

India
Indian Air Force

Madagascar
Military of Madagascar

Nepal
Nepalese Army Air Service

South Korea
Republic of Korea Air Force: First introduction Time : April, 1974.

Sri Lanka
Sri Lankan Air Force

Tanzania
Tanzania People's Defence Force

Thailand
Royal Thai Air Force

United Kingdom
Royal Air Force

Venezuela
Venezuelan Air Force

Zambia
Zambian Defence Force

Specifications (Super 748)
Data from Jane's Civil and Military Aircraft Upgrades, 1994-95
General characteristics
Crew: Three (two pilots + one passenger attendant)
Capacity: 40-58 passengers
Payload: 11,323 lb (5,136 kg)
Length: 67 ft 0 in (20.42 m)
Wingspan: 102 ft 5½ in (31.23 m)
Height: 24 ft 10 in (7.57 m)
Wing area: 829 ft² (77 m²)
Empty weight: 27,126 lb (12,327 kg)
Max takeoff weight: 46,500 lb (21,092 kg)
Powerplant: 2x— Rolls-Royce Dart RDa.7 Mk 536-2 turboprop, 2,280 ehp (1,700 kW) each

Performance
Cruise speed: 281 mph (244 kn, 452 km/h)
Range: 1,066 mi (926 nmi, 1,715 km) (with max payload)
Service ceiling: 25,000 ft (7,620 m)
Wing loading: 56.1 lb/ft² (274 kg/m²)
Power/mass: 0.0981 hp/lb (0.161 kW/kg)

List of civil aircraft

Related development
Hawker Siddeley Andover
BAe ATP

Comparable aircraft
Fokker F27
Handley Page Herald
NAMC YS-11

Hawker Siddeley HS 748 Pictures and Hawker Siddeley HS 748 for Sale.
Living Warbirds: The best warbirds DVD series.
Source: WikiPedia