Avro Anson Video - Newsreel - Landing after mid-air collision - Sept 29, 1940
Avro Anson Aircraft Information
Avro Anson
Avro Anson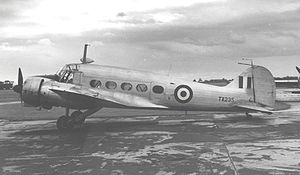 Picture - RAF Avro Anson C.19 at Manchester in 1955
Role: Multirole aircraft, primarily a trainer
Manufacturer: Avro
First flight: 24 March 1935
Introduced: 1936
Retired: 28 June 1968 (RAF)
Primary users: Royal Air Force Fleet Air Arm
Produced: 1930s-1952
Number built: 11,020

The Avro Anson is a British twin-engine, multi-role aircraft that served with the Royal Air Force, Fleet Air Arm and numerous other air forces prior to, during, and after the Second World War. Named for British Admiral George Anson, it was originally designed for maritime reconnaissance, but was soon rendered obsolete in that role. However, it was rescued from obscurity by its suitability as a multi-engine air crew trainer, becoming the mainstay of the British Commonwealth Air Training Plan. By the end of production in 1952, the Anson spanned nine variants and a total of 8,138 were built in Britain by Avro. From 1941, a further 2,882 were built by Canadian Federal Aircraft Ltd.
Design and development
The Anson was derived from the commercial six-seat 652 and the militarised version, which first flew on 24 March 1935, was built to Air Ministry Specification 18/35. It was the first RAF monoplane with a retractable undercarriage. Avro allotted the type number 652A to the Anson. The first production run resulted in 174 Anson Mk I aircraft for service with Coastal Command. No. 48 Squadron RAF was the first to be equipped in March 1936.
A distinctive feature of the Anson I was its landing gear retraction mechanism which required no less than 140 turns of the hand crank by the pilot. To forgo this laborious process, early model Ansons often made short flights with the landing gear extended at the expense of 30 mph (50 km/h) of cruise speed.
A total of 11,020 Ansons were built by the end of production in 1952, making it the second-most-numerous (after the Vickers Wellington) British multi-engine aircraft of the war.
Operational history
At the start of the Second World War, there were 26 RAF squadrons operating the Anson I: 10 with Coastal Command and 16 with Bomber Command. However, by this time, the Anson was obsolete in the roles of bombing and coastal patrol and was being superseded by the Armstrong Whitworth Whitley and Lockheed Hudson.
Limited numbers of Ansons continued to serve in operational roles such as coastal patrols and air/sea rescue. Early in the war, an Anson scored a probable hit on a German U-boat. In June 1940, a flight of three Ansons was attacked by nine Luftwaffe Messerschmitt Bf 109s. Remarkably, the Ansons downed two German aircraft "and damaging a third before the 'dogfight' ended" , without losing any of their own. The aircraft's true role, however, was to train pilots for flying multi-engine bombers such as the Avro Lancaster. The Anson was also used to train the other members of a bomber's air crew, such as navigators, wireless operators, bomb aimers and air gunners. Postwar, the Anson continued in the training role and light transport roles. The last Ansons were withdrawn from RAF service with communications units on 28 June 1968.
The Royal Australian Air Force operated 1,028 Ansons, mainly Mk Is, until 1955. The Royal Canadian Air Force and Royal Canadian Navy operated Ansons until 1952. The USAAF employed 50 Canadian-built Ansons, designated as the AT-20.
The Royal New Zealand Air Force operated 23 Ansons as navigation trainers in the Second World War, (alongside the more numerous Airspeed Oxford), and acquired more Ansons as communication aircraft immediately after the war. A preserved navigation trainer is in the Royal New Zealand Air Force Museum at Wigram.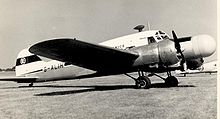 Picture - Avro Anson 11 G-ALIH of Ekco Electronics at Blackbushe, Hants, in September 1955.
The Egyptian Air Force operated Ansons in communications and VIP duties. A specially outfitted Anson was gifted to the then King by the Royal Air Force. The Royal Afghan Air Force obtained 13 Anson 18 aircraft for various duties from 1948. These aircraft survived through 1972.
Postwar civil use
After the war, Ansons continued in production by Avro at Woodford for civilian use as light transports by small charter airlines and as executive aircraft for industrial and other companies. Countries which saw civilian operations with Ansons included Great Britain, Canada, Australia and Denmark.
Railway Air Services operated Ansons on scheduled services from London's Croydon Airport via Manchester to Belfast (Nutts Corner) during 1946-1947. Sivewright Airways operated three Avro XIX aircraft from their Manchester Airport base on charter flights as far as Johannesburg and on scheduled flights to Ronaldsway Airport in the Isle of Man until 1951. Finglands Airways operated an ex-RAF Anson I on inclusive tour flights and on scheduled flights to Newquay Airport until 1952.
India ordered twelve new Anson 18Cs in 1948 for use by the Directorate of Civil Aviation as trainers and communications aircraft, and these were delivered from Woodford in spring 1949.
Avro Ansons continued to be used by the RAF in the role of Station Communications Aircraft, well into the 1960's.
Variants
The main Anson variant was the Mk I, of which 6,704 were built in Britain. The other variants were mainly distinguished by their powerplant with Canadian-built Ansons using local engines. To overcome steel shortages, the 1,051 Canadian-built Mk V Ansons featured a plywood fuselage.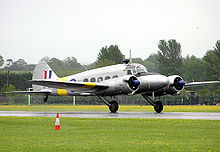 Picture - WD413, Air Atlantique Classic Flight Avro Anson
Mk I
6,688 Mk Is were built. Powered by two 350 hp (261 kW) Armstrong Siddeley Cheetah IX or 395 hp (295 kW) XIX engines.
Mk II
1,822 Mk IIs were built in Canada; powered by two 330 hp (246 kW) Jacobs L-6MB R-915 engines and fitted with hydraulic landing gear retraction rather than the manual system used on the Anson I.
Mk III
Powered by two 330 hp (250 kW) L-6MB R-915 engines; British-built.
Mk IV
Powered by two Wright Whirlwind engines; British-built.
Mk V
1,069 Mk Vs were built in Canada for navigator training; powered by two 450 hp (340 kW) Pratt & Whitney Wasp Junior R-985 engines.
Mk VI
One aircraft was built in Canada for bombing and gunnery training; powered by two 450 hp (340 kW) Wasp Junior engines.
Mk X
104 Anson Mk Is were converted into Mk Xs
Mk 11
90 Anson Mk Is were converted into Mk 11s
Mk 12
20 Anson Mk Is were converted into Mk 12s, plus 221 new Mk 12 aircraft were built.
Mk XIII
Gunnery trainer powered by two Cheetah XI or XIX engines; never built.
Mk XIV
Gunnery trainer powered by two Cheetah XV engines; never built.
Mk XVI
Navigation trainer; never built.
Mk XV
Bombing trainer; never built.
C 19
264 were built for the RAF; used as communications and transport aircraft.
T 20
60 aircraft were built for the RAF; used for bombing and navigation training in Southern Rhodesia.
T 21
Navigation trainers for the RAF; 252 aircraft were built.
T 22
Radio trainers for the RAF; 54 aircraft were built.
Anson 18
Developed from the Avro Nineteen; 12 aircraft were sold to the Royal Afghan Air Force for use as communications, police patrol and aerial survey aircraft.
Anson 18C
13 aircraft were built for the Indian government; used for training civil aircrews.
Avro Nineteen
(Also known as the Anson XIX): Civil transport version; 56 aircraft were built in two series.
AT-20
United States military designation for Canadian-built Anson IIs used by the United States Army Air Force, 50 built.
Operators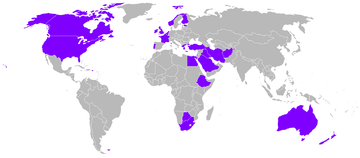 Picture - Military Anson operators
Afghanistan Royal Afghan Air Force - 13 Anson 18 aircraft were delivered to the Afghan Air Force from 1948 and retired by 1972 Argentina At least one, LV-FBR, in use in 1960. Australia Royal Australian Air Force - 1,028 Ansons were operated by the Royal Australian Air Force, retiring in 1955 Belgium
Belgian Air Force (15 x Anson I, 2 x Anson 12 operated 1946 to 1954)

Botswana Canada Royal Canadian Air Force and Royal Canadian Navy Ansons were retired in 1952 Cuba three Canadian-built Ansons were transported to Cuba, operated by ANSA-Aerolx­neas del Norte S.A., a regional airline from 1947 through the mid-1950s Egypt Egyptian Air Force Estonia Estonian Air Force Ethiopia Finland Finnish Air Force France Greece Hellenic Royal Air Force Iran Imperial Iranian Air Force Iraq Ireland Irish Air Corps Israel Israeli Air Force Netherlands Royal Netherlands Air Force New Zealand Royal New Zealand Air Force Norway Paraguay Paraguayan Air Arm 1 Mk.V bought in Argentina in 1947. Portugal Portuguese Air Force Rhodesia Royal Rhodesian Air Force Saudi Arabia South Africa South African Air Force Southern Rhodesia Southern Rhodesian Air Force Turkey United Kingdom Royal Air Force and Royal Navy United States 50 Canadian built Ansons were delivered to the United States Air Force as the AT-20.
Specifications (Mk I)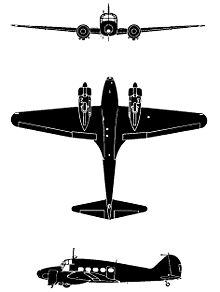 Picture - Avro Anson T20
Data from , David. The Hamlyn Concise Guide to British Aircraft of World War II
General characteristics
Crew: 3-4
Length: 42 ft 3 in (12.88 m)
Wingspan: 56 ft 6 in (17.22 m)
Height: 13 ft 1 in (3.99 m)
Wing area: 463 ft² (43.1 m²)
Empty weight: 5,512 lb (2,500 kg)
Loaded weight: 7,955 lb (3,608 kg)
Max takeoff weight: 8,500 lb (3,900 kg)
Powerplant: 2x— Armstrong Siddeley Cheetah IX radial engines, 355 hp (260 kW) each

Performance
Maximum speed: 188 mph (163 kn, 303 km/h) at 7,000 ft (2,100 m)
Range: 790 mi (690 nmi, 1,300 km)
Service ceiling: 19,000 ft (5,791 m)
Rate of climb: 750 ft/min (3.8 m/s)
Wing loading: 17.2 lb/ft² (83.9 kg/m²)
Power/mass: 0.088 hp/lb (140 W/kg)

Armament
Guns:
1 x— .303 in (7.7 mm) machine gun in front fuselage
1 x— .303 in (7.7 mm) Vickers K machine gun in dorsal turret
Bombs: 360 lb (163 kg)

Related development
Avro 652

Comparable aircraft
Airspeed Oxford

Bibliography
Donald, David and Jon Lake, eds. Encyclopedia of World Military Aircraft. London: AIRtime Publishing, 1996. ISBN 1-880588-24-2.
Gunston, Bill. Classic World War II Aircraft Cutaways. London: Osprey, 1995. ISBN 1-85532-526-8.
Jackson, A.J. Avro Aircraft since 1908, 2nd edition. London: Putnam Aeronautical Books, 1990. ISBN 0-85177-834-8.
Hall, Alan W. Avro Anson Mks. 1-22 (Warpaint Series No. 53). Blechley, Buckinghamshire, UK: Warpaint Books Ltd., 2006. ISBN 0-0530-9999-X.
Hall, Alan W. and Eric Taylor. Avro Anson Marks I, III, IV & X. London: Almark Publishing Co. Ltd., 1972. ISBN 0-85524-064-4.
Holmes, Harry. Avro Anson (Images of Aviation). London: Tempus Publishing Ltd., 2000. ISBN 0-752417-38-X.
Mondey, David. The Hamlyn Concise Guide to British Aircraft of World War II. London: Chancellor Press. 1994. ISBN 1-85152-668-4.
Sturtivant, Ray C. The Anson File. London: Air-Britain (Historians) Ltd., 1988. ISBN 0-85130-156-8.

Avro Anson Pictures and Avro Anson for Sale.
Living Warbirds: The best warbirds DVD series.
Source: WikiPedia