Avro Avenger Video - Picture
Avro Avenger Aircraft Information
Avro Avenger
566 Avenger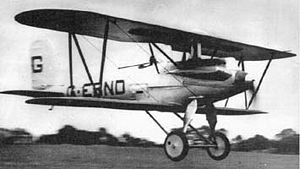 Picture - Avro Type 566
Role: Fighter
Manufacturer: Avro
Designed by: Roy Chadwick
First flight: 26 June 1926
Retired: 1931
Status: Cancelled
Primary user: RAF (intended)
Number built: 1

The Avro 566 Avenger was a prototype British fighter of the 1920s, designed and built by Avro. It was a single-seat, single-engine biplane of wood and fabric construction. Although it was a streamlined and advanced design, it never entered production.
Development
The Avenger was designed as a private venture and Roy Chadwick penned a machine of great aerodynamic cleanliness for its time. As originally built, it was powered by a 525 hp (391 kW) Napier Lion VIII and it first flew on 26 June 1926, but no order was forthcoming; this was partly because by the time it was evaluated, the Air Ministry did not favour the Lion as a fighter engine.
In May 1928, the machine was modified as a racer, with equi-span wings of 28 ft (8.53 m) and revised struts and ailerons; it was fitted with a 553 hp (412 kW) Lion. The machine was subsequently redesignated Avro 567 Avenger II.
The Avenger ended its days as an instructional airframe.
Specifications (Avenger)
Data from The Complete Book of Fighters
General characteristics
Crew: 1
Length: 25 ft 6 in (7.77 m)
Wingspan: 32 ft (9.75 m)
Height: 10 ft 3 in (3.12 m)
Wing area: 244 ft² (22.7 m²)
Empty weight: 2,368 lb (1,074 kg)
Loaded weight: 3,220 lb (1,460 kg)
Powerplant: 1x— Napier Lion VIII or IX, 525/553 hp (391/412 kW)

Performance
Maximum speed: 180 mph (290 km/h)
Cruise speed: 130 mph (209 km/h)
Service ceiling: 22,000 ft (6,700 m)
Rate of climb: 2,100 ft/min (10.67 m/s)

Armament
None fitted

Avro Avenger Pictures and Avro Avenger for Sale.
Living Warbirds: The best warbirds DVD series.
Source: WikiPedia