Avro Avian Video - Picture
Avro Avian Aircraft Information
Avro Avian
Avian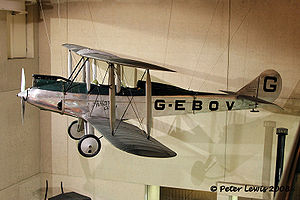 Picture - Bert Hinkler's Avro Avian displayed at the Queensland Museum in Brisbane, Australia
Role: Tourer/Trainer
Manufacturer: Avro
Designed by: Roy Chadwick
First flight: 1926
Introduced: 1927
Primary users: Royal Canadian Air Force South African Air Force Chinese Naval Air Service Estonian Air Force
Produced: 1926-1928
Number built: 405

The Avro Avian was a series of British light aircraft designed and built by Avro in the 1920s and '30s. While the various versions of the Avian were sound aircraft, they were comprehensively outsold by the de Havilland Moth and its descendants.
Design and development
The Avro 581 Avian prototype was designed and built to compete in the Lympne light aircraft trials at Lympne Aerodrome in September 1926. Its wooden fuselage was based on that of the Avro 576 autogyro, but it was fitted with conventional biplane wings and powered by a 70 hp (50 kW) Armstrong Siddeley Genet engine. After these trials, where it was eliminated due to engine failure, it was re-engined with an 85 hp (63 kW) ADC Cirrus engine and sold (as the Avro 581E) to Bert Hinkler, who used it for a series of long-distance flights, culminating in a 15½-day solo flight from Croydon, UK to Darwin, Australia. In 1998 Lang Kidby recreated this flight in a 1927 Type 594 Avian VH-UFZ (ex G-AUFZ)
Production aircraft were designated Type 594 and were built in a number of versions, mainly powered by Cirrus engines. A version with a welded steel tube fuselage was produced in 1929 as the Avro 616 Avian IVM to meet overseas requirements for an easier-to-repair structure. This version was built in the largest numbers, with approximately 190 built
Operational history
While outsold by the de Havilland Moth and its derivatives, which first flew more than a year earlier than the Avain, the Avian was used extensively as a civil tourer or trainer, with many being sold overseas, Avians being built (or assembed) by the Whittesley Manufacturing Co., Bridgeport, Connecticut, USA, and the Ottawa Car Manufacturing Co., Canada, as well as by Avro itself.
Avro Avian 594 Avian III, SN: R3/AV/101, was owned by Lady Mary Heath and Amelia Earhart. The Avian Amelia flew had an 84 hp (63 kW) Cirrus Mk II engine. It was originally registered to Lady Heath on 29 October 1927 and given the UK aircraft marking G-EBUG. When Amelia brought it to the United States it was assigned "unlicensed aircraft identification mark" 7083; aircraft not officially certificated in the United States were allowed to be flown as unlicensed but identified aircraft. Avian 7083 was used on Earhart's first long solo flight, which occurred just as Amelia was coming into the national spotlight. By making the trip in August 1928, she became the first woman to fly solo across the North American continent and back. In 2000 Carlene Mendita recreated this flight in the ex-Lang Kidby Type 594 Avian.
An Avian (Red Rose) was used by Bill Lancaster on a successful long distance flight to Australia, and another (Southern Cross Minor) on his final record attempt to South Africa in 1933.
In July 1930, Winifred Brown won the King's Cup Race flying Cirrus III Avian. One Avian, piloted by Sydney Thorn, took part in the Challenge International de Tourisme 1930 with moderate success (16th place).
A single Genet-powered Avian II was bought by the Royal Air Force, while Avians were also bought by the South African Air Force, the Chinese Naval Air Service, the Estonian Air Force and the Royal Canadian Air Force.
Variants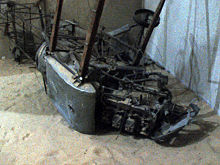 Picture - The wreckage of the Southern Cross Minor recovered from the Sahara Desert and displayed at the Queensland Museum
Avro 581 Avian
First prototype, one 75 hp (56 kW) Armstrong Siddeley Genet.
Avro 581A
Modified first prototype, one 80 hp (60 kW) ADC Cirrus.
Avro 581E
Further modified Avro 581A for long distance flights, with new wings and modified fuselage.
Avro 594 Avian I
Pre production aircraft, two built.
Avro 594 Avian II
Initial production, 85 hp (63 kW) Cirrus II engine, nine built.
Avro 594 Avian III
Modified engine mount and tubular steel struts, 33 built.
Avro 594 Avian IIIA
95 hp (71 kW) Cirrus III engine, 58 built.
Avro 594 Avian IV
Revised undercarriage and ailerons, 90 built.
Avro 605 Avian
Two Avro 594 Avian IIIs were converted into floatplanes.
Avro 616 Avian IVM
Steel tube fuselage. Powered by 105 hp (78 kW) Cirrus Hermes I or 100 hp (75 kW) Armstrong Siddeley Genet Major, approximately 190 built.
Avro 616 Sports Avian
Version for racing with reduced drag, 16 built.
Avro 616 Avian IVA
modified one-off long range version for Charles Kingsford Smith, Southern Cross Junior, 120 hp (90 kW) de Havilland Gipsy II engine, with additional fuel tank and revised wings.
Avro 616 Avian V
Long range single seater again built for Charles Kingsford Smith, Southern Cross Minor. Bill Lancaster would later attempt to fly solo from England to South Africa in this aircraft, and die in the attempt.
Avro 625 Avian Monoplane
Low wing monoplane development, two built.
Operators
Military Operators
Canada
Royal Canadian Air Force
China
Chinese Naval Air Service
Estonia
Estonian Air Force
South Africa
South African Air Force
Spain
Spanish Republican Air Force

United Kingdom
Royal Air Force
Survivors
Two Avro Avians were on the Australian register in 2009. They are currently stored in the Adelaide Soaring Club hangar at Gawler, South Australia. One is registered VH-UQE, and is apparently airframe construction no. 531.
Specifications (Avian IVM)
Data from British Civil Aircraft since 1919 Volume 1
General characteristics
Crew: Two
Length: 24 ft 3 in (7.39 m)
Wingspan: 28 ft 0 in (8.54 m)
Height: 8 ft 6 in (2.59 m)
Wing area: 245 ft² (22.8 m²)
Empty weight: 1,005 lb (457 kg)
Loaded weight: 1,523 lb (692 kg)
Powerplant: 1x— A.D.C Cirrus Hermes I inline piston engine, 105 hp (78 kW)

Performance
Maximum speed: 105 mph (91 kn, 169 km/h)
Cruise speed: 90 mph (78 kn, 145 km/h)
Range: 360 mi (313 nmi, 580 km)
Service ceiling: 12,500 ft (3,800 m)
Rate of climb: 600 ft/min (3.0 m/s)
Wing loading: 6.21 lb/ft² (30.4 kg/m²)
Power/mass: 0.069 hp/lb (0.113 kW/kg)

Wop May "The Race against Death - Nercy flight in an Avian."

Comparable aircraft
de Havilland Moth

Bibliography
Donald, David, ed. The Encyclopedia of World Aircraft. London: Aerospace Publishing, 1997. ISBN 1-85605-375-X.
Jackson, A.J. Avro Aircraft since 1908, 2nd edition. London: Putnam Aeronautical Books, 1990. ISBN 0-85177-834-8.
Jackson, A.J. British Civil Aircraft since 1919, Volume 1. London: Putnam, 1974. ISBN 0-370-10006-9.

Avro Avian Pictures and Avro Avian for Sale.
Living Warbirds: The best warbirds DVD series.
Source: WikiPedia