Avro Duigan 1911 Video - Picture
Avro Duigan 1911 Aircraft Information
Avro Duigan 1911
Duigan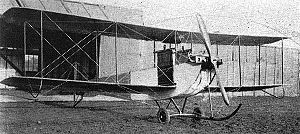 Role: 2 seat biplane
National origin: UK
Manufacturer: A.V Roe & Co
Designed by: A.V. Roe
First flight: March 1912
Number built: 1

The Avro Duigan was built to the order of John Duigan in 1911. A single-engine two-seat biplane, it flew well enough for him to obtain his Aviator's Certificate, but only one was built.
Development
By late 1911, A.V Roe had built five different aircraft of his own design and the Avro (flying) School at Brooklands was well known. After a series of crashes in Australia, when John Duigan decided he needed proper instruction he therefore came to Avro for lessons and for his own aeroplane.
The Avro Duigan was a two-seat tandem dual-control tractor biplane. It had similarities to the Avro Type D, but had a square rather than triangular cross section fuselage. Since the occupants' heads were raised only a little above the elliptical cockpit edge, celluloid windows were provided in the floor for better landing vision. The fuselage was fabric-covered ash, carrying a steel framed, braced tailplane and rather rectangular rudder. The wire-braced two-bay wings had ash spars, poplar ribs and cane, rounded wing tips, all canvas covered. Wing warping was used instead of ailerons. The main undercarriage was a single axle arrangement with a large central skid to prevent nosing over, a design carried forward to later Avro aircraft.
The aircraft was initially powered by a 40 hp (30 kW) two-cylinder horizontally opposed Alvaston but soon replaced by a 35 hp (26 kW) E.N.V. V-8 motor. Both were water-cooled engines, with pairs of large coiled tube radiators positioned parallel to the fuselage on either side of the front cockpit, an unusual arrangement that Avro had tried before on an ENV engined type D.
Operational history
Trials with the Alvaston engine at Huntingdon race course were not successful, the aircraft refusing to fly. On his return to Brooklands, the E.N.V motor was fitted and on 10th March 1912 Duigan, flying solo managed some long, straight flights in his too-evidently underpowered machine. Some intensive engine tuning, together with a new propeller resulted in more success that April, with solo circuits, figures of eight, and an hour long series of circuits at about 500 ft (150 m).
The dual controls were never put to much use, as the aircraft lacked power to do more than straight flights with the extra weight of a second pilot. Nonetheless, Duigan won his Aviator's Certificate and returned to Australia. His aircraft, engine removed was sold to the Lakes Aircraft Co. who rebuilt it in October 1912 as the Lakes Sea Bird, a significantly more successful aeroplane.
Specifications
Data from Jackson 1965, pp. 37
General characteristics
Crew: 2
Wingspan: 34 ft 0 in (10.36 m)
Powerplant: 1 x— E.N.V. type D, 35 hp (26 kW)

Performance
Maximum speed: 40 mph (65 km/h)

Jackson, A.J. (1965). Avro Aircraft since 1908. London: Putnam Publishing.

Avro Duigan 1911 Pictures and Avro Duigan 1911 for Sale.
Living Warbirds: The best warbirds DVD series.
Source: WikiPedia