Avro Shackleton Video - Overview
Avro Shackleton Aircraft Information
Avro Shackleton
Shackleton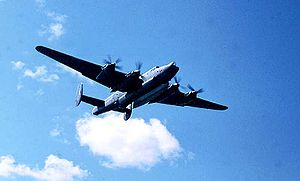 Role: Maritime patrol aircraft
Manufacturer: Avro
First flight: 9 March 1949
Introduced: April 1951
Retired: 1990
Primary users: Royal Air Force South African Air Force
Produced: 1951-1958
Number built: 185
Developed from: Avro Lincoln

The Avro Shackleton was a British long-range maritime patrol aircraft for use by the Royal Air Force. It was developed by Avro from the Avro Lincoln bomber with a new fuselage. It was originally used primarily in the anti-submarine warfare (ASW) and maritime patrol aircraft (MPA) roles, and was later adapted for airborne early warning (AEW), search and rescue (SAR) and other roles from 1951 until 1990. It also served in the South African Air Force from 1957 to 1984. The type is named after the polar explorer Sir Ernest Shackleton.
Design and development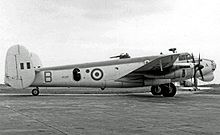 Picture - RAF Coastal Command Shackleton MR.1 of 269 Squadron in 1953
The aircraft was designed by Roy Chadwick as the Avro Type 696. It was based on the Lincoln, itself a derivative of the successful wartime Lancaster heavy bomber, one of Chadwick's earlier designs which was the then current ASW aircraft. The design took the Lincoln's wings and landing gear and mated them with a new fuselage, and was initially referred to during development as the Lincoln ASR.3. The engines were Rolls-Royce Griffons with 13 ft (4 m)-diameter contra-rotating propellors, creating a distinctive engine noise and adding high-tone deafness to the hazards of the pilots. The first test flight of the MR.1 was on 9 March 1949 at the hands of Avro's Chief Test Pilot J.H. ("Jimmy") Orrell. In the ASW role, the Shackleton carried both types of sonobuoy, ESM, an Autolycus (diesel fume detection system) and for a short time an unreliable magnetic anomaly detector (MAD) system. Weapons were nine bombs, or three torpedoes or depth-charges, and 20 mm cannon.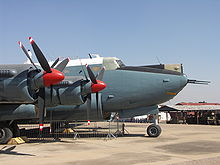 Picture - Contra-rotating propellers
The MR.2 was improved with feedback from operations and is considered by aficionados to be the definitive type. The radome was moved from the nose to a ventral position, to improve all-round coverage and minimise the risk of bird-strikes. Both the nose and tail sections were lengthened, the tailplanes were redesigned and the undercarriage was strengthened.
The MR.3 was another redesign in response to crew complaints. A new tricycle undercarriage was introduced, the fuselage was increased in all main dimensions and had new wings with better ailerons and tip tanks. As a sop to the crews on fifteen hour flights, the sound deadening was improved and a proper galley and sleeping space were included. Due to these upgrades the take-off weight of the RAF's MR.3s had risen by over 30,000 lb (13,600 kg) (Ph. III) and assistance from Armstrong Siddeley Viper Mk.203 turbojets was needed on take-off (JATO). This extra strain took a toll on the airframe, and flight life of the RAF MR.3s was sufficiently reduced that they were outlived by the MR.2s. Due to the arms embargo against South Africa the SAAF's MR.3s never received these upgrades but were maintained independently by the SAAF.
Operational history
A total of 185 Shackletons were built from 1951 to 1958: around 12 are still believed to be intact, with one still airworthy (SAAF 1722 based at AFB Ysterplaat) but not flying due to a lack of qualified crew members.
Royal Air Force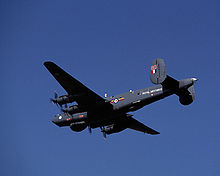 Picture - 8 Sqn RAF flew the Shackleton AEW2 from 1973 to 1991
Front line MR.1 aircraft were delivered to Coastal Command in April 1951 with their operational debut during the Suez Crisis.
All marks suffered from using the Griffon engines - thirsty for fuel and oil, noisy and temperamental with high-maintenance needs. In 1961, MR.2's engines needed top overhauls every 400 hours and went through a spate of ejecting spark plugs from their cylinder heads. It was not unusual to see an engine changed every day in a unit of six aircraft. They were constantly on the cusp of being replaced, but the potentially beneficial Napier Nomad re-engine did not happen.
The need to replace the Shackleton was first raised in the early 1960s. The arrival of the Hawker-Siddeley Nimrod in 1969 was the end for the Shackleton in most roles but it continued as the main SAR aircraft until 1972. The intention to retire the aircraft was then thwarted by the need for AEW coverage in the North Sea and northern Atlantic following the retirement of the Fairey Gannet. With a new design not due until the late 1970s the existing AN/APS-20 radar was installed in Mk. IIs as an interim measure, the AEW.2, from 1972. The Nimrod AEW replacement programme dragged on and the eventual successor to the Shackleton did not arrive until the RAF finally abandoned the Nimrod AEW and purchased the E-3 Sentry in 1991.
South African Air Force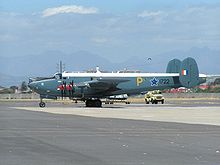 Picture - SAAF 1722, the last flying Shackleton.
After evaluating four RAF MR.2s in 1953, the South African Air Force ordered 8 aircraft to replace the Short Sunderland in maritime patrol duties. Some minor modifications were required for South African conditions and the resulting aircraft became the MR.3. These Shackletons remained in maritime patrol service with 35 Squadron SAAF up to November 1984. The aircraft received SAAF designations 1716 to 1723.
Although the joke has been applied to several aircraft, the Shackleton has been described as "a hundred thousand rivets flying in close formation."
Variants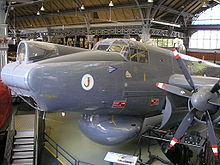 Picture - A Shackleton AEW.2 on display at the Museum of Science and Industry in Manchester
Shackleton GR.1 The first production model for the RAF, later redesignated Shackleton MR.1. Shackleton MR.1A Version powered by four Griffon 57A V12 piston engines, equipped with a chin mount radome; in service from April 1951. Shackleton MR.2 Version with longer nose and radome moved to the ventral position. Shackleton MR.2C Number of Shackleton MR.2s, fitted with the navigation and offensive equipment of the Shackleton MR.3. Shackleton MR.3 Maritime reconnaissance, anti-shipping aircraft. The tail wheel was replaced by a tricycle undercarriage configuration. Fitted with wingtip tanks. Eight exported to South Africa. Shackleton MR.3 Phase 2 Similar to Shackleton MR.3 but fitted with two Viper turbojet engines for assisted takeoff. Shackleton MR.4 Project of new maritime reconnaissance version, none built. Shackleton AEW.2 Airborne early warning aircraft; MR.2s converted to take ex-Fairey Gannet airborne early warning radar. Shackleton T.4 Navigation trainer conversion.
Operators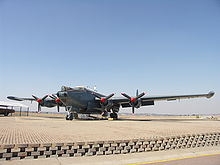 Picture - Retired Mk 3, SAAF 1721, on permanent display at Swartkop
South Africa
South African Air Force
35 Squadron SAAF received 8 aircraft.

United Kingdom
Royal Air Force (Coastal Command)
No. 8 Squadron RAF
No. 37 Squadron RAF
No. 38 Squadron RAF
No. 42 Squadron RAF
No. 52 Squadron RAF - Two Shackletons used for transport duties.
No. 120 Squadron RAF
No. 201 Squadron RAF
No. 203 Squadron RAF
No. 204 Squadron RAF
No. 205 Squadron RAF
No. 206 Squadron RAF
No. 210 Squadron RAF
No. 220 Squadron RAF
No. 224 Squadron RAF
No. 228 Squadron RAF
No. 240 Squadron RAF
No. 269 Squadron RAF
No. 236 Operational Conversion Unit, RAF
Maritime Operational Training Unit, RAF
Air Sea Warfare Development Unit, RAF

Survivors
Flying
SAAF 1722 is the only remaining flying Shackleton. The aircraft is owned and operated by the South African Air Force Museum based at AFB Ysterplaat. It was one of eight Shackletons operated by the South African Air Force from 1957 to 1984, and is currently used only for occasional flight demonstrations.

Static display
MR2C WL795 on display at RAF St. Mawgan, England.
MR2 WR963 In the care of the "Shackleton Preservation Trust", Live aircraft and Capable of Fast Taxiing, Coventry Airport, England.
AEW2 WR960 on display at the Museum of Science and Industry in Manchester, England.
MR3 WR971 on display at the Fenland & West Norfolk Aviation Museum, Wisbech, England.
MR3 WR974 on display at the Gatwick Aviation Museum, England; the engines on this aircraft can be run
MR3 WR977 on display at the Newark Air Museum, England.
MR3 WR982 on display at the Gatwick Aviation Museum, England.
MR3 WR985 privately owned at Long Marston, England.
AEW2 WL747 standing abandoned at the western end of RWY 11/29 at Paphos Airport, Cyprus.
AEW2 WL757 standing abandoned at the western end of RWY 11/29 at Paphos Airport, Cyprus.
AEW2 WL790 on display at the Pima Air & Space Museum, Tucson Arizona USA
SAAF 1716 ('Pelican 16') was restored to flight in 1994, but later that year, while on its way to the UK, it crash landed in the Sahara desert (22°37′50″N 13°14′15″W / 22.6305°N 13.2375°W / 22.6305; -13.2375 (SAAF Avro Shackleton 1716 Crash site)) after a double engine failure. The crash did not result in any casualties, but the aircraft was abandoned in the desert.
SAAF 1717 is on static display at the Transport museum in Stanger
SAAF 1720 is on static display at AFB Ysterplaat.
SAAF 1721 is on static display at the South African Air Force Museum in Swartkop.
SAAF 1723 is on static display at the Vic's Viking Garage, next to the N1 highway in Soweto, Johannesburg.
MR3 XF708 on display at the Imperial War Museum, Duxford, England

Specifications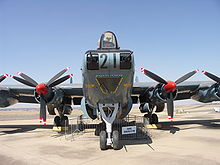 Picture - Armed with two 20 mm Hispano cannon in the nose
Data from
General characteristics
Crew: 10
Length: 87 ft 4 in (26.61 m)
Wingspan: 120 ft (36.58 m)
Height: 17 ft 6 in (5.33 m)
Wing area: 1,421 ft² (132 m²)
Airfoil: modified NACA 23018 at root, NACA 23012 at wingtip
Empty weight: 51,400 lb (23,300 kg)
Max takeoff weight: 86,000 lb (39,000 kg
Fuel capacity: 4,258 imperial gallons (19,360 L))
Powerplant: 4x— Rolls-Royce Griffon 57 liquid-cooled V12 engine, 1,960 hp (1,460 kW) each
Propellers: contra-rotating propeller, 2 per engine
Propeller diameter: 13 ft (4 m)

Performance
Maximum speed: 260 kn (300 mph, 480 km/h)
Range: 1,950 nmi (2,250 mi, 3,620 km)
Service ceiling: 20,200 ft (6,200 m)
Max wing loading: 61 lb/ft² (300 kg/m²)
Minimum power/mass: 91 hp/lb (150 W/kg)
Endurance: 14.6 hr

Armament
Guns: 2 x— 20 mm Hispano Mark V cannon in the nose
Bombs: 10,000 lb (4,536 kg) of bombs, torpedoes or mines

Related development
Avro Lancaster
Avro Lincoln

Comparable aircraft
Breguet Atlantic
Canadair CL-28
Lockheed P-2 Neptune
Lockheed P-3 Orion
Tupolev Tu-95

Bibliography
Harlin, E.A. and G.A. Jenks. Avro: An Aircraft Album. Shepperton, Middlesex, UK: Ian Allen, 1973. ISBN 0-7710-0342-4.
Holmes, Harry. Avro: The History of an Aircraft Company. Wiltshire, UK: The Crowood Press, 2004. ISBN 1-86126-651-0.
Howard, Peter J. "Avro (Hawker Siddeley) Shackleton Mks. 1 to 4". Aircraft in Profile, Volume 13. Windsor, Berkshire, UK: Profile Publications Ltd., 1973, pp. 193-217. ISBN 0-85383-022-3.
Jackson, Aubrey J. Avro Aircraft since 1908. London: Putnam, 1965. ISBN 0-85177-797-X.

Avro Shackleton Pictures and Avro Shackleton for Sale.
Living Warbirds: The best warbirds DVD series.
Source: WikiPedia