Avro 531 Spider Video - Picture
Avro 531 Spider Aircraft Information
Avro 531 Spider
531 Spider and 538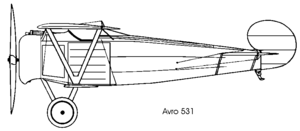 Role: Fighter
Manufacturer: Avro
First flight: April 1918
Number built: 2

The Avro 531 Spider was a British fighter aircraft built by Avro during the First World War. It did not proceed past the prototype stage.
Design and development
The Spider was a sesquiplane with a largely conventional configuration, but it used Warren truss-type interplane struts, hence the appellation "Spider". In tests, the aircraft demonstrated exceptional performance, handling, and pilot visibility. By the time it flew, the War Office had already selected the Sopwith Snipe for mass production.
A second, refined version, the 531A was apparently never completed, but some of its components seem to have been used to build a derivative design, the 538. This had standard interplane struts and was intended as a racing aircraft. It was never used for this purpose, however, since it was discovered that it had a faulty wing spar, so the Avro firm used it as a hack instead.
Specifications (531)
Data from Avro Aircraft since 1908
General characteristics
Crew: one pilot
Length: 20 ft 6 in (6.25 m)
Wingspan: 28 ft 6 in (8.69 m)
Height: 7 ft 10 in (2.39 m)
Wing area: 189 ft² (17.6 m²)
Empty weight: 963 lb (437 kg)
Gross weight: 1,517 lb (688 kg)
Powerplant: 1 x— Clerget rotary, 130 hp (97 kW)

Performance
Maximum speed: 120 mph (193 km/h)
Range: 250 miles (400 km)
Service ceiling: 19,000 ft (5,970 m)
Rate of climb: 1,250 ft/min (6.4 m/s)

Armament
1 x— fixed, forward-firing .303 in (7.7 mm) Vickers machine gun

Bibliography
Jackson, A.J. Avro Aircraft since 1908. London: Putnam Aeronautical Books, 1990. ISBN 0-85177-834-8.
Taylor, Michael J. H. Jane's Encyclopedia of Aviation. London: Studio Editions, 1989, p. 93.
World Aircraft Information Files. London: Bright Star Publishing, File 889, Sheet 94.

Avro 531 Spider Pictures and Avro 531 Spider for Sale.
Living Warbirds: The best warbirds DVD series.
Source: WikiPedia