Avro Type F Video - Picture
Avro Type F Aircraft Information
Avro Type F
Type F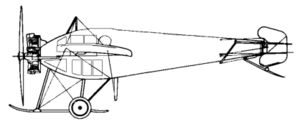 Role: Experimental aircraft
Manufacturer: A.V.Roe and Company
First flight: 1 May 1912
Number built: 1

The Avro Type F was an early single seat British aircraft from Avro and the first aircraft in the world to feature a completely enclosed cabin.
Design and development
It was a wire-braced mid-wing monoplane of conventional configuration with a tailskid undercarriage. The fuselage itself was teardrop-shaped with flat sides and "glazed" with celluloid windows around the cabin. Two circular windows at the pilot's head level could be opened for the pilot's head to protrude when flying under poor visibility. Ingress and egress was via a trapdoor in the fuselage top. The cabin was quite cramped - at its widest point only 2 ft (60 cm) across.
The Type F made a few test flights in mid 1912 until damaged beyond repair in a hard landing on 13 September after which it was not repaired. Its Viale 35 hp engine is on display at the Science Museum in London.
Specifications
General characteristics
Crew: one pilot
Length: 23 ft 0 in (7.01 m)
Wingspan: 29 ft 0 in (8.84 m)
Height: 7 ft 6 in (2.29 m)
Wing area: 158 ft² (14.7 m²)
Empty weight: 550 lb (250 kg)
Gross weight: 800 lb (360 kg)
Powerplant: 1 x— Viale 35 hp 5-cylinder radial, 35 hp (26 kW)

Performance
Maximum speed: 65 mph (105 km/h)
Rate of climb: 300 ft/min (1.5 m/s)

Taylor, Michael J. H. (1989). Jane's Encyclopedia of Aviation. London: Studio Editions. pp. 91.
World Aircraft Information Files. London: Bright Star Publishing. pp. File 889 Sheet 92-93.
britishaircraft.co.uk

Avro Type F Pictures and Avro Type F for Sale.
Living Warbirds: The best warbirds DVD series.
Source: WikiPedia