Avro Vulcan XM655 Video -
Avro Vulcan XM655 Video -
Avro Vulcan XM655 Aircraft Information
Avro Vulcan XM655
Avro Vulcan XM655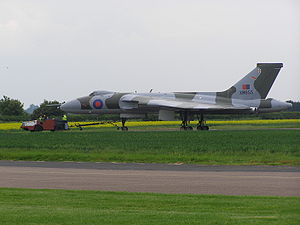 Picture - Avro Vulcan XM655 preserved at Wellesbourne Mountford Airfield
Type: B2 Avro Vulcan
Manufacturer: Avro
Registration: G-VULC N655AV
Serial: XM655
First flight: 1964
Last flight: 1984-02-11
Total hours: 5744
Fate: Taxiable condition
Preserved at: Wellesbourne Mountford Airfield, England

Avro Vulcan XM655 is one of two remaining taxiable Avro Vulcans. XM655 is currently owned and maintained by the 655 Maintenance & Preservation Society who keep the plane in a taxiable condition.
History
XM655 was the last Vulcan bar two to be built, and is the youngest surviving example. XM655 initially flew with No.9 Squadron of the RAF, and then alternated between Nos. 44 and 50 Squadrons. In 1984, XM655 was sold off to Roy Jacobsen who intended to keep her airworthy, but the costs proved prohibitive, and XM655 was left to deteriorate. Title of XM655 then passed onto John Littler, owner of Wellesbourne Mountford Airfield, who intended to get her to a taxiable condition, but not airworthy.
Taxi runs
After restoration work, XM655 made her first public taxi run at Wellesbourne Mountford Airfield on 16 February 1997, with another two runs later that year. Since then, XM655 has made a more or less annual public taxi run as part of the Wellesbourne Wings and Wheels show. There were two runs in 1999, and the 2007 show was cancelled. The 2009 event took place on 21 June, accompanied by both the Red Arrows and Avro Vulcan XH558 flypast as it returned from the Netherlands.
Future
Operators
United Kingdom
Royal Air Force
No. 9 Squadron RAF
No. 44 Squadron RAF
No. 50 Squadron RAF

655 Maintenance & Preservation Society

Avro Vulcan XH558, the only airworthy Vulcan Vulcan Restoration Trust operators of XL426, the only other taxiable Vulcan.
Avro Vulcan XM655 Pictures and Avro Vulcan XM655 for Sale.
Living Warbirds: The best warbirds DVD series.
Source: WikiPedia