BAE Hawk Aircraft Information
BAE Hawk
Hawk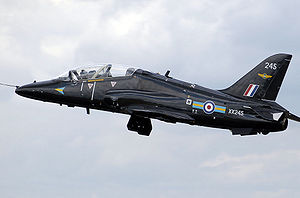 Picture - RAF BAE Hawk T1 trainer
Role: Military trainer aircraft
Manufacturer: Hawker Siddeley (1974-1977) British Aerospace (1977-1999) BAE Systems MAS division
First flight: 21 August 1974
Introduced: 1976
Status: In service, in production
Primary users: Royal Air Force Royal Australian Air Force Finnish Air Force Indian Air Force
Number built: 900+
Unit cost: £18 million (2003)
Developed into: T-45 Goshawk

The BAE Systems Hawk is a British single engine, advanced jet trainer aircraft. It first flew in 1974 as the Hawker Siddeley Hawk. The Hawk is used by the Royal Air Force, and other air forces, as either a trainer or a low-cost combat aircraft. The Hawk is still in production with over 900 Hawks sold to 18 customers around the world.
Development
In 1964 the Royal Air Force specified a requirement (Air Staff Target (AST) 362) for a new fast jet trainer to replace the Folland Gnat. The SEPECAT Jaguar was originally intended for this role, but it was soon realised that it would be too complex an aircraft for fast jet training and only a small number of two-seat versions were purchased. Accordingly, in 1968, Hawker Siddeley Aviation (HSA) began studies for a simpler aircraft, initially as special project (SP) 117. This project was funded by the company as a private venture, in anticipation of possible RAF interest. The design was conceived of as having tandem seating and a combat capability in addition to training, as it was felt the latter would improve export sales potential. Through 1969 the project was first renamed P.1182, then HS.1182. By the end of the year HSA had submitted a proposal to the Ministry of Defence based on the design concept, and in early 1970 the RAF issued Air Staff Target (AST) 397 which formalised the requirement for new trainers of this type. The RAF selected the HS.1182 for their requirement on 1 October 1971 and the principal contract, for 175 aircraft, was signed in March 1972.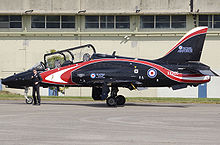 Picture - A Royal Air Force Hawk T1A at Kemble Airport, Gloucestershire, with its pilot.
Renamed "Hawk" following an employee naming competition (the name "Tercel", a male hawk, was the actual winning name, but the RAF preferred the more common and simpler name), the aircraft first flew on 21 August 1974. In 1977 Hawker Siddeley merged with other British aircraft companies to form the nationalised British Aerospace (BAe), which subsequently became BAE Systems upon merger with Marconi Electronic Systems in 1999.
Design
The Hawk is a tandem two-seat aircraft and has a low-mounted cantilever monoplane wing and is powered by a non-augmented turbofan engine. The low-positioned one-piece wing was designed to allow a wide landing gear track and to enable easier maintenance access. The wing is fitted with wide-span, double-slotted, trailing-edge flaps for low-speed performance. Integral to the wing is 836 litre (184 imp gal) fuel tank and room for the retractable main landing gear legs. Designed to take a +8/-4 g load, the original requirement was for two stores hardpoints but it was designed to fit four hardpoints by Hawker Siddeley.
The fuselage design was led by the need to get a height differential between the two tandem cockpits, this enabled increased visibility for the instructor in the rear seat. Each cockpit is fitted with a Martin-Baker Mk 10B zero-zero rocket assisted ejection seat. The centre fuselage has an 823 litre (181 Imp Gal) flexible fuel tank. The two-shaft turbofan Rolls-Royce Turbomeca Adour engine is fitted in the rear-fuselage with inlets on each side above the forward wing roots. A ram air turbine is fitted just in front of the single fin as well as a gas turbine auxiliary power unit above the engine. The forward retracting nose landing gear leg is fitted in the nose.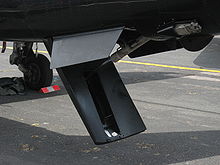 Picture - The air brake, located under the rear fuselage.
Performance
The Hawk was designed to be manoeuvrable and can reach Mach 0.88 in level flight, and Mach 1.15 in a dive, thus allowing trainees to experience transonic flight before advancing to a supersonic trainer. Its airframe is very durable and strong, stressed for +9 g, but the normal service limit in RAF service is +7.5/-4 g.
Armament
The Hawk is designed to carry a centreline gun pod (normally a 30 mm ADEN cannon) and two under-wing pylons. Most Hawks use the two hardpoints but the aircraft is designed to carry four. The RAF has used the under-wing pylons to carry Sidewinder air-to-air missiles.
Operational history
United Kingdom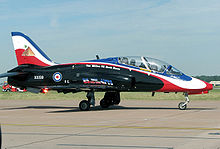 Picture - Hawk T1A of the RAF, marking the 85th anniversary of No. 4 Flight Training School
The Hawk entered RAF service in April 1976, replacing the Folland Gnat and Hawker Hunter in the advanced training and weapons training roles respectively. The Hawk T1 ("Trainer Mark 1") was the original version used by the RAF, deliveries commencing in November 1976, with 176 being ordered.
From 1983 to 1986, some Hawks were equipped as the short-range interceptor aircraft for point defence. 88 T1s were modified to carry two AIM-9L Sidewinder air-to-air missiles (AAMs) in addition to the centreline gun pod carrying a single 30 mm ADEN cannon. These aircraft were designated Hawk T1A. In the event of war, they would have worked in collaboration with Tornado F3 aircraft, which would use their Foxhunter search radars to vector the radarless Hawks against enemy targets. Such missions would have been flown by instructor pilots. Conversions were completed in 1986. With the fall of the Soviet Union and the end of the Cold War, RAF Hawks are no longer tasked with this role. Hawks were used also as "aggressors", simulating air combat with Tornado ADVs.
The most famous RAF operator of the Hawk is the Red Arrows aerobatic team, which adopted the plane in 1979.
The Hawk subsequently replaced the English Electric Canberra in the target towing role.
The Royal Navy acquired a dozen Hawk T1/1As from the RAF, for use as aerial targets for the training of ships' gunners and radar operators.
Eighty Hawk T1/1A aircraft have been upgraded under the Fuselage Replacement Programme (FRP), which involves the replacement of the aft, centre and rear fuselage sections, using new build sections derived from the Mk. 60.
In 2009, the RAF began receiving the first Hawk T2 aircraft, which will replace the T1 in the advanced trainer role.
Finland
The Finnish Air Force purchased fifty Hawk Mk. 51s in 1980. The aircraft were built in Finland under licence by Valtion lentokonetehdas.
As a legacy of the WWII peace treaty conditions, the Finnish Air Force was not allowed to possess more than 60 first-line fighter aircraft. By acquiring Hawks, which did not count as such, but as trainers, the FAF could effectively improve its operational capacity. These conditions were nullified at the break-up of the Soviet Union.
Seven additional Mk. 51As were delivered in 1993-94 to make up for losses. In June 2007, Finland purchased 18 Hawk Mk. 66s from the Swiss Air Force for 41 million euros to expand the lifespan of the Hawk fleet up until 2017-2019. They are to be delivered in 2009-2010. Finnish Hawks were sometimes seen armed with Russian Molniya R-60/AA-8. The Finnish Mk. 51s have recently been upgraded with new software and the Patria Cockpit 2000 glass-cockpit kit. The Mk. 66s are to be upgraded similarly.
The Finnish Air Force aerobatics team, the Midnight Hawks, also uses the aircraft.
Indonesia
The Indonesian Air Force received 38 Hawks in the 1980s and 1990s, including 32 Hawk 200, single-seat, combat aircraft. Allegations of their use against Timorese, pro-independence groups during the Indonesian occupation of East Timor created controversy in the United Kingdom. In January 1996, four protesters broke into a BAe factory and caused £1.5 million worth of damage to an Indonesia-bound aircraft. The four were subsequently tried, but acquitted; the jury accepted their argument they had used "reasonable force to prevent a crime".
Zimbabwe
The No.2 Squadron of the Air Force of Zimbabwe was equipped with 12 BAE Hawk T.Mk. 60/60As, acquired in 1980 and 1992 and employed in the strike fighter role. These were equipped with AIM-9B Sidewinder AAMs, Mk. 82-series bombs, and Hunting BL.755 cluster-bomber units (CBUs), as well as launchers for unguided rockets. The Hawks supported the Congolese Army against Rwandan, Ugandan and rebel forces in 1998.
Variants
Hawk T1
The Hawk T1 (Trainer Mark 1) was the original version of the Hawk used by the RAF, deliveries commencing in November 1976. The UK ordered 176 T1s.
Hawk T1A
The Hawk T1A is a modified Hawk T1, which was intended to replace the Hawker Hunter in the RAF's Tactical Weapons Units. A total of 89 aircraft were converted to carry two underwing AIM-9L Sidewinder air-to-air missiles and a centreline gun pod. During the 1980s, the RAF began using TWU Hawks in the Mixed Fighter Force (MFF) concept; the intention was to attach three of four Hawks to a Phantom or Tornado interceptor, which would guide them using its powerful radar onto enemy targets.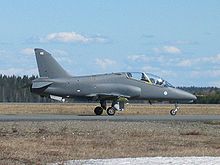 Picture - Finnish Air Force Hawk 51 in Rissala AB
Hawk 50
The Hawk 50 was the original export trainer version, and offered a limited attack capability. Finland, Indonesia and Kenya ordered 89 of this variant.
Hawk 51 - Export version for the Finnish Air Force.
Hawk 51A - Seven Hawks were sold to Finland as part of a follow-on order.
Hawk 52 - Export version for the Kenyan Air Force.
Hawk 53 - Export version for the Indonesian Air Force.

Hawk 60
Another export version, replacing the Hawk 50, intended for conversion and weapons training. Weapons carriage is increased. It is a two-seater, has uprated Rolls-Royce Adour 861 engines, and is capable of a level speed at altitude of 555 knots (1028 km/h) or Mach 0.84. The T-45 Goshawk was derived from this version.
Hawk 60 - Export version for the Air Force of Zimbabwe. Eight Hawks were sold to Zimbabwe, they were delivered between July and October 1982.
Hawk 60A - Five Hawks were sold to Zimbabwe as part of a follow-on order. The aircraft were delivered between June and September 1992.
Hawk 61 - Export version for Dubai, United Arab Emirates Air Force
Hawk 63 - Export version for Abu Dhabi, United Arab Emirates Air Force.
Hawk 63A - 15 Hawk 63s were upgraded to this standard.
Hawk 63C - Four aircraft were sold to Abu Dhabi as part of a follow-on order.
Hawk 64 - Export version for the Kuwait Air Force.
Hawk 65 - Export version for the Royal Saudi Air Force.
Hawk 65A - 20 were sold to Saudi Arabia as part of a follow-on order.
Hawk 66 - Export version for the Swiss Air Force.
Hawk 67 - Export version for the South Korean Air Force.

Hawk 100
A two-seat advanced weapons trainer with additional avionics, including forward looking infrared (optional, fitted to Malaysian aircraft), a redesigned wing and HOTAS.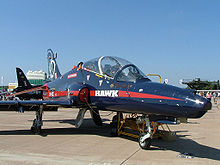 Picture - BAE Systems Hawk 120D at RIAT 2005
Hawk 102 - Export version for Abu Dhabi, United Arab Emirates Air Force.
Hawk 103 - Export version for the Royal Air Force of Oman.
Hawk 108 - Export version for the Royal Malaysian Air Force. (10)
Hawk 109 - Export version for the Indonesian Air Force. (8)
Hawk 115 - Export version for the Canadian Forces, designated 'CT-155 Hawk' in Canadian service.
Hawk 129 - Export version for Bahrain. (6)

Hawk 120/LIFT
The Hawk Lead-in Fighter Trainer (LIFT) is the version selected by the South African Air Force in December 1999. This variant is powered by the Adour 951. The LIFT benefits from development carried out for the Australian Mk. 127.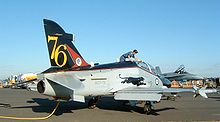 Picture - Hawk 127 of No. 76 Squadron RAAF in special "cougar" colour scheme.
The next generation Hawks (120, 127 and 128) feature a new wing, forward and centre fuselage, fin and tailplane. The aircraft have only 10% commonality with the existing first generation aircraft. The new variants also have four times the fatigue life of the original aircraft. 24 aircraft will be delivered.
Hawk 127
The Royal Australian Air Force ordered 33 Hawk 127 Lead-in Fighters (LIFs) in June 1997, 12 of which were produced in the UK and 21 in Australia. This variant is also powered by the Adour 871. The Hawk 127 is operated by the RAAF's No. 76 Squadron and No. 79 Squadron which are based at RAAF Base Williamtown and RAAF Base Pearce respectively.
Hawk 128 (Hawk T2)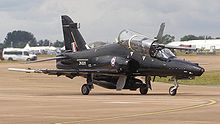 Picture - A Hawk T2 of the Royal Air Force in 2009
The Hawk 128 is the new Advanced Jet Trainer (AJT) for the RAF and Royal Navy. The Mk. 128 includes modern LCD displays instead of conventional instrumentation, and allows preparation for flying modern fighter aircraft, particularly the all "glass" Typhoon. It uses the Rolls-Royce Adour 951 engine. The UK Ministry of Defence awarded a Design and Development Contract to BAE Systems on 22 Dec 2004, building on the design of the Australian Mk. 127 and the South African Mk. 120s. A £450 million contract was signed in October 2006 for the production of 28 Hawk 128s. The MoD had originally announced its intention to order 20 aircraft with options for 24 more. The aircraft's maiden flight occurred on 27 July 2005 from BAE Systems' Warton Aerodrome and lasted for 1 hour 18 minutes.
Hawk 132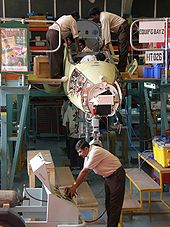 Picture - Production line of the Hawk 132 at HAL, Bangalore
The Hawk Mk. 132 is the latest export variant of the Hawk and was previously known as the Mk. 115Y. The Mk. 132 formally entered service with the Indian Air Force (IAF) on 23 February 2008 after one of the most protracted procurement processes in India's history, with two decades having elapsed between the initial interest and the contract signing on 26 March 2004. The IAF was to receive 24 aircraft directly from BAE Systems, with deliveries beginning in November 2007, and the remaining 42 to be assembled by Hindustan Aeronautics Limited between 2008 and 2011. BAE Systems has delivered the 24th and final UK built Indian Hawk in November 2009. HAL handed over the first locally-built Hawk 132 to the IAF on 14 August 2008. These aircraft will be powered by Rolls Royce Mk 871 turbo fan engine.
In February 2008, India planned to order 57 more Hawks, with 40 going to the Indian Air Force and the remaining 17 to the Indian Navy,. For a time it looked as if the order had been shelved. There were reports that the IAF was unhappy with the spares supply situation. However in July 2010 it was announced that the IAF and the Navy would receive the additional 57 aircraft. The deal was finally signed on 29 July 2010 during PM David Cameron's visit to India.The aircraft, 40 of which will go to the Indian air force and the other 17 to the country's navy, will be built in India by Hindustan Aeronautics (HAL), under licence from BAE. On 10 February 2011, Hindustan Aeronautics Limited and GE Aviation signed a contract that makes GE Aviation responsible for 30 years of maintenance.
Hawk 200
The Hawk 200 is a single seat, lightweight multirole combat fighter with emphasis on air defence, air superiority, anti-shipping, air-denial, long-range interdiction, short-range close air support and ground attack. The aircraft is fitted with the AN/APG-66H, an advanced version of the F-16A APG-66 radar with multimode systems. The aircraft is able to be equipped with the AIM-9 Sidewinder and AGM-65 Maverick. The Malaysian aircraft has the most extensive modification to the aircraft with illumination "slime" lights, wingtip AAMs and inflight refuelling. Its aircraft have been involved in major long-range deployments to areas such as Sabah and the Spratly Islands. Indonesia, Malaysia and Oman have ordered 62 aircraft. Brunei have been interested in acquiring this model (and the Hawk 100), but any prospective order has been continually delayed since the mid 1980s.
Hawk 203 - Export version for the Royal Air Force of Oman.
Hawk 205 - Proposed export version for the Royal Saudi Air Force.
Hawk 208 - Export version for the Royal Malaysian Air Force. (18)
Hawk 209 - Export version for the Indonesian Air Force. (32)

T-45 Goshawk
The T-45 Goshawk is a fully carrier-capable aircraft developed from the Hawk 60 for the United States Navy for use in aircraft carrier training.
Operators
Current operators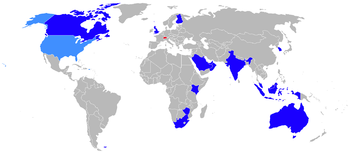 Picture - Current operators of the Hawk are shown in dark blue, former operators in red and operators of the T-45 Goshawk in light blue.
Australia
Royal Australian Air Force - 33 Hawk 127s
No. 76 Squadron/No. 78 Wing at RAAF Base Williamtown
No. 79 Squadron/No. 78 Wing at RAAF Base Pearce

Bahrain
Royal Bahraini Air Force - 6 Hawk 129s
No. 5 Squadron at Shaikh Isa

Canada
Canadian Forces - 17 Hawk 115s
2 Canadian Forces Flying Training School/15 Wing at CFB Moose Jaw
419 Tactical Fighter Training Squadron/4 Wing at CFB Cold Lake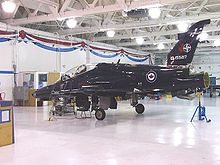 Picture - A CT-155 Hawk in Canadian service undergoes maintenance at CFB Moose Jaw, 3 November 2005
Finland
Finnish Air Force - 75 Hawks (50 Mk.51, 7 Mk.51A, 18 Mk.66)
Fighter Squadron 41 (Hx¤vLLv 41) at Kauhava
Finnish Air Force Display Team Midnight Hawks

India
Indian Air Force - 24 Hawk 132s (Total 123 ordered)
Indian Navy - Reports surfaced in early 2008 that the Indian government has approved a follow-on order of 57 more BAE Systems Hawk Mk 132s, with 17 going to the Indian Navy and the remaining 40 slated for the Indian Air Force. Those plans were temporarily shelved, but a renewed go-ahead was given in July 2010.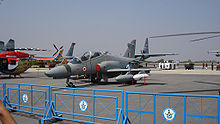 Picture - BAE Hawk Mk. 132 of the Indian Air Force at Aero India 2009.
Indonesia
Indonesian Air Force - 38 Hawk 53/109/209s
Skadron Udara 1 "Elang Khatulistiwa" ("Equatorial Eagles"), at Supadio Airport
Skadron Udara 12 "Panther Hitam" ("Black Panthers"), at Pekanbaru/Sultan Syarif Qasim II International Airport
Skadron Udara 15/Wing 3 at Iswahjudi Air Force Base, Madiun

Kenya
Kenya Air Force - 7 Hawk 52s

Kuwait
Kuwait Air Force - 10 Hawk 64s (as of 2008)
No. 12 Training Squadron at Ali AlSalem AB (Flying school)

Malaysia
Royal Malaysian Air Force - 19 Hawk 108/208s
Skuadron 6 Cakra at RMAF Kuantan/Sultan Ahmed Shah
Skuadron 9 at RMAF Labuan (disbanded)
Skuadron 15 Panther at RMAF Butterworth

Oman
Royal Air Force of Oman - 15 Hawk 103/203s
No. 6 Squadron at RAFO Masirah

Saudi Arabia
Royal Saudi Air Force - 45 Hawk 65s
No. 21 Squadron/No. 7 Wing at Tabuk/King Faisal
No. 79 Squadron/No. 7 Wing at Tabuk/King Faisal
No. 88 Squadron/No. 7 Wing at Tabuk/King Faisal

South Africa
South African Air Force - 24 Hawk 120s
85 Combat Flying School at AFB Makhado

South Korea
Republic of Korea Air Force introduced September 1992. 17 in service as of November 2008. The Koreans however want to retire their Hawk fleet and replace them with indigenous KAI KT-1 basic trainers. The Hawks might be sold to Indonesia.
216th Flight Training Squadron/16th Fighter Wing at Yecheon.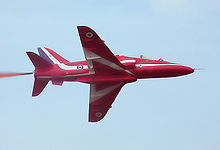 Picture - Royal Air Force Aerobatic Team "Red Arrows" Hawk T1
United Kingdom
Royal Air Force - 81 Hawk T1s
No. 19 (R) Squadron/No. 4 Flying Training School at RAF Valley
No. 100 Squadron at RAF Leeming
No. 208 (R) Squadron/No. 4 Flying Training School at RAF Valley
Joint Forward Air Control Training and Standards Unit (JFACTSU) at RAF Leeming
RAF Aerobatic Team "Red Arrows" at RAF Scampton
RAF Centre of Aviation Medicine at Boscombe Down
No. 6 Flying Training School (not current)
No. 1 Tactical Weapons Unit (not current)
No. 2 Tactical Weapons Unit (not current)
No. 7 Flying Training School RAF (not current)

Royal Navy - 17 Hawk T1s
Fleet Requirements Air Direction Unit (FRADU) at RNAS Culdrose

United Arab Emirates
United Arab Emirates Air Force - 36 Hawk 61/62/102s
No. 63 (Advanced Training) Squadron at Al Ain International (Flying Training School - Khalifa bin Zayed Air College)
No. 102 Squadron at Minhad

Zimbabwe
Air Force of Zimbabwe - 12 Hawk 60s
No. 2 Squadron Cobra at Gweru-Thornhill

Former operators
Switzerland
Swiss Air Force: 20 Hawk Mk. 66s were bought in 1992 but decommissioned in 2002, of which 18 were sold to Finland in June 2007.

Specifications (Hawk 128)
Data from Royal Air Force, BAE Systems, and Air Vectors
General characteristics
Crew: 2: student, instructor
Length: 12.43 m (40 ft 9 in)
Wingspan: 9.94 m (32 ft 7 in)
Height: 3.98 m (13 ft 1 in)
Wing area: 16.70 m² (179.64 ft²)
Empty weight: 4,480 kg (9,880 lb)
Useful load: 3,000 kg (6,600 lb)
Max takeoff weight: 9,100 kg (20,000 lb)
Powerplant: 1x— Rolls-Royce Adour Mk. 951 turbofan with FADEC, 29 kN (6,500 lbf) 29 kN

Performance
Maximum speed: 0.84 Mach (1,028 km/h, 638 mph) at altitude
Range: 2,520 km (1,360 NM, 1,565 mi)
Service ceiling: 13,565 m (44,500 ft)
Rate of climb: 47 m/s (9,300 ft/min)
Thrust/weight: 0.65

Armament
Note: all armament is optional.
1x— 30 mm ADEN cannon, in centreline pod
Up to 6,800 lb (3,085 kg) of weapons on five hardpoints, including:
4x— AIM-9 Sidewinder or ASRAAM on wing pylons and wingtip rails
1,500 lb (680 kg), limited to one centreline and two wing pylons (Hawk T1)

Folland Gnat
SEPECAT Jaguar
Portal:British aircraft since World War II

Related development
T-45 Goshawk

Comparable aircraft
Aermacchi MB-339
Aero L-39 Albatros / Aero L-159 ALCA
AIDC AT-3
Dassault/Dornier Alpha Jet
Kawasaki T-4
G-4 Super Galeb
IAR 99
PZL I-22 Iryda

BAE Hawk Pictures
More aircraft.
Source: WikiPedia