Beriev Be-10 Video - Picture
Beriev Be-10 Aircraft Information
Beriev Be-10
Beriev Be-10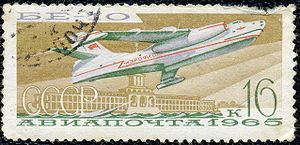 Picture - Soviet stamp showing Beriev Be-10
Role: Patrol bomber
Manufacturer: Beriev Aircraft Company
First flight: 20 June 1956
Status: Retired
Primary user: Soviet Naval Aviation
Produced: 1958-1961
Number built: 28

The Beriev Be-10, (NATO reporting name: Mallow) was built by the Soviet Beriev Aircraft Company in 1961. It was a jet-engined flying-boat patrol bomber of all-metal construction with the engines located beneath the wing roots and with splayed-out tailpipes. The deeply streamlined hull was fitted with a small, single-step sea rudder under the air rudder. Spray fences on either side of the bow protected the engine from water intake. 50° swept wings had a marked anhedral angle, with balanced floats attached by short pylons on the wingtips.
The Be-10 is sometimes referred to as the M-10. This designation is believed to apply only to the modified Be-10 that established 12 FAI world records in 1961, coded '40 Yellow'. The M-10 still holds class records for speed and altitude.
The Be-10 first appeared in public when four Be-10s flew over Tushino in 1961, giving the impression that the Be-10 was already in service. However, Beriev was also developing the turboprop-powered Be-12, which was ultimately preferred. The Be-12 was easier to operate and had better endurance, and only a few Be-10s were built. The Be-10 suffered from metal fatigue due to the stress on the airframe from the high-speed takeoffs and landings, together with corrosion.
Operators
Soviet Union
Soviet Naval Aviation (AV-MF)

Specifications (Be-10)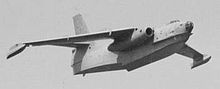 Picture - Beriev Be-10
Data from Beriev's Jet Flying Boats
General characteristics
Crew: 3
Length: 31.45 m (103 ft 2 in)
Wingspan: 28,60 m (93 ft 10 in)
Height: 10.7 m (35 ft 1 in)
Wing area: 130 m² (1,400 ft²)
Empty weight: 27,600 kg (60,900 lb)
Loaded weight: 45,000 kg (99,000 lb)
Max takeoff weight: 48,500 kg (106,900 lb)
Powerplant: 2x— Lyulka AL-7PB non-afterburning turbojets, 71.2 kN (16,000 lbf) each

Performance
Maximum speed: 910 km/h (565 mph)
Cruise speed: 785 km/h (488 mph)
Range: 3,150 km (1,957 mi)
Service ceiling: 12,500 m (41,010 ft)

Armament
Guns: 4 x— 23 mm (0.90 in) Afanas'yev/ Makarov AM-23 cannon. 2 forward firing, and 2 in a radar-controlled tail turret
Missiles: Up to 3 RAT-52 torpedoes.
Bombs: 12 x— FAB-250 250 lb bombs or 1 FAB-3000 3,000 lb bomb.
Plus anti-shipping mines.

Related development
Beriev R-1

Comparable aircraft
P6M SeaMaster

Bibliography
Alexander, Jean (1975). Russian aircraft since 1940. New York, New York: Putnam. pp. 61-63. ISBN 0-370-10025-5.
Yefim Gordon, Andrey Sal'nikov and Aleksandr Zablotskiy (2006) Beriev's Jet Flying Boats. Hinckley, UK: Midland Publishing. ISBN 1-85780-236-5

Beriev Be-10 Pictures
More aircraft.
Source: WikiPedia